Home cooking and a Hudson River rival.  That's all it took for the New Jersey Devils, as they picked up their first victory of the 2013-14 campaign.  A 4-0 shutout over the New York Rangers, at Prudential Center.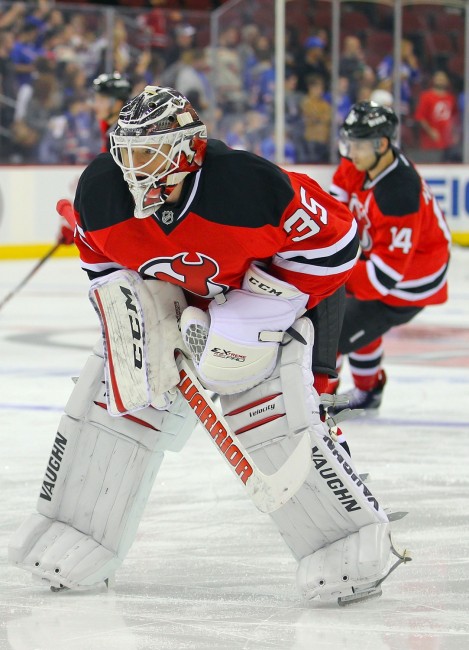 Coming off some rough camping in Canada, the Devils looked rather rejuvenated against their cross river rivals.  Cory Schneider was flawless in net, turning aside all 22 shots sent his way.
In the first period, the Rangers had issues clearing the zone and the Devils cashed in.  Some nifty stick work by Andrei Loktionov and Dainius Zubrus, helped jar the puck out to Anton Volchenkov.  Off a Volchenkov drive, Loktionov was able to bury the rebound in front and beat Henrik Lundqvist for his first tally of the year.  That put New Jersey in front, 1-0.
Later in the frame, Jaromir Jagr worked the puck free in the defensive zone, up to Rostislav Olesz, who chipped the puck along to Adam Henrique.  Gliding in at the left circle, Henrique drilled a slap shot home for his second marker of the year, doubling the Devils lead in the process.
In the second, it was another slapper to key the Devils offense.  This time around it was the New Jersey power play.  As they worked the puck around the top of the zone, Michael Ryder snapped one off from the top of the zone and it was 3-0 Devils.
Placing the finishing touches on the night was Zubrus.  Off a blast from Bryce Salvador at the right point, Zubrus collected a loose puck in front and backhanded his second goal of the season, making it 4-0 New Jersey.
Along with the power play tally, the Devils also found themselves winning a complete game in multiple categories.  New Jersey topped New York in hits (25-24), face off wins (30-29), takeaways (12-3) and blocked shots (9-4).  The victory was also made all the more impressive with Patrik Elias, Damien Brunner and Ryane Clowe all out of the lineup.
http://www.youtube.com/watch?v=aSdyYVy7SWk
It was a complete effort and a big hurdle cleared for the Devils in the early going.  New Jersey will hope to carry that play into a contest with their newest Metropolitan Division rival, the Columbus Blue Jackets.
.

The NHL regular season schedule was released on Friday. Check out our partners at TiqIQ for the best deals on New Jersey Devils tickets for all 2013-14 games.