First impressions are usually lasting ones and although it's only preseason Cory Schneider has made a great first impression for the New Jersey Devils franchise and their fans. In the parts of four-preseason games (10 periods) he appeared in he allowed just one goal on 80 shots faced, including one complete game shutout against the New York Islanders. Despite his nearly flawless performance before the regular season starts he has repeatedly said he still has some things he wants to iron out in his game. Really? If that's the case many of the 'puck pundits' out there may have already written the demise of the Devils a little prematurely.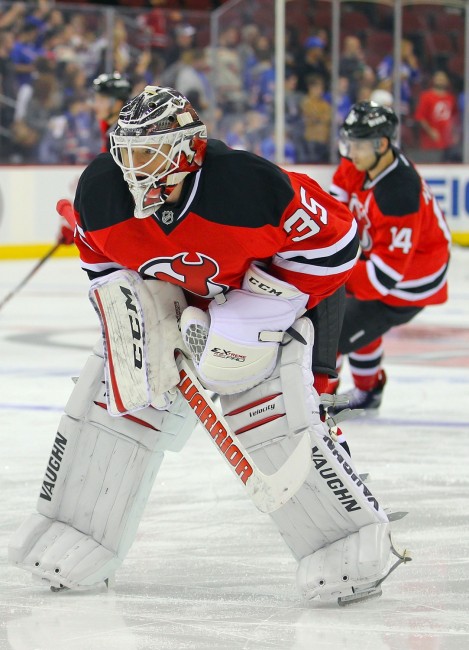 "We knew he was a world-class goaltender when we traded for him," said New Jersey coach Peter DeBoer after his team's final preseason game in which Schneider stopped all nine of the shots he saw from the Philadelphia Flyers in two periods. "His numbers during the preseason are obviously outstanding, I don't know if we could have predicted that. He comes as advertised, we knew he was very good."
His new teammates also knew he was a great goalie and as captain Bryce Salvador told The Hockey Writers, they are happy to have him on their side as they begin their quest for the franchise's fourth Stanley Cup. "Getting Schneids really complements our goaltending; you look at the goaltending in our division and our conference, it's going to be tough. We have a lot of back-to-backs this season (an NHL-high of 22); it's nice to have a 1-2 combo like Marty & Cory. That's definitely a huge strength that our team has now."
In his first taste of the Devils-Rangers rivalry, Schneider robs Brad Richards with a stick save:
In the back of his mind he probably never thought he'd be traded from the Vancouver Canucks with all of the rumors that had been swirling around his net-partner Roberto Luongo there. But Schneider has embraced this new opportunity and tandem with Martin Brodeur in the Devils crease.
"It was good to play as much as I did behind these guys and get a feel for what they like to do and how we like to play as a team," said Schneider. "It's a lot of fun; its fun being here and playing a different system with different guys. Obviously I'm benefiting from it, and hopefully they are too. There are a couple of guys here that I've known and know pretty well actually. Overall it is a really good group of guys who have been really welcoming and it's been easy to fit in."
If he keeps playing the way he has in preseason, and the way his NHL career started in Vancouver, it becomes very possible that the 27-year-old Marblehead, Massachusetts native will be wearing a Devils uniform for a long time. "I was definitely excited (when the trade happened on draft day)," said Salvador. "It's one of those blockbuster moves that happened for our organization. It solves the Marty question…when Marty decides to retire — you have a viable number one option behind him; it sets the franchise up for a long time."
Schneider makes a penalty shot save against the Flyers to bail out Salvador during preseason:
For Schneider though he is still focused on getting better and knows once the season starts what he did during two weeks of preseason games means nothing. "Come October 3, it doesn't matter, it doesn't carry over, doesn't count. Check back in (with me) in a few months and we'll see where we are. (Having said that) it's been nice to go from start to finish (in the preseason) feeling pretty good about things, if I keep it up in practice, that will be the way I feel coming into the season."
Even Salvador agreed that they have some things to work on before opening the season in Pittsburgh on October 3. "I've only been in two games with him, so I think we still have some more communication (to work on) and that's going to grow over the season and during practice," he said before pausing and adding, "This is the NHL, things don't happen that quick (laughs)."
When asked again about his phenomenal preseason, the redheaded goalie could only smile and shake his head because he had such a little amount of work against the Flyers in his final tune-up before the real games start. "Well the way we played tonight I didn't have much of an opportunity to work on many things," he said with a laugh. "We were really good tonight and we really limited their chances, sometimes just moving around in the net, playing the puck, tracking it in the zone…it can feel good and it can feel bad. Tonight it felt pretty good."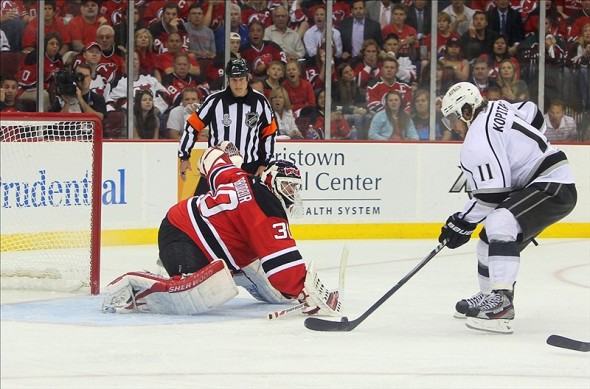 You can bet that the Devils as a team and as an organization are feeling extremely good about acquiring a rising star to eventually take over the goaltending duties that Brodeur has handled over the last two decades.
Dan Rice can be reached via Twitter: @DRdiabloTHW or via Email: drdiablo321@yahoo.com
Dan Rice is in his 9th year of reporting for THW & has covered NJ Devils home games for 15+ years at various websites. He began his journey working for legendary broadcaster/writer Stan Fischler from 2002-04 & completed an internship at the ECHL; he also has been writing features for the NWHL (nwhl.zone) website since 2016.