Over the last several weeks, The Hockey Writers has been bringing you a series of posts detailing some fantasy hockey pickups of lesser-owned players. Despite the fact that some of these player suggestions might not work out, there is still ample reason to scour the depths of your respective free agent pool in hopes of finding that one gem.
This week, THW will look at some players that might be buried in most leagues, but could have an impact in the very near future. While some of the suggestions might be met with skepticism, fantasy managers should note that the players being recommended should be monitored over the next several days as rushing to pick them up and expecting tremendous results from them might be a bit premature.
[Also: Make Money With Your Fantasy Knowledge – Try a Single Day Draft Tonight]
From the "Watch-List" to the Lineup?
Chris Kreider (New York Rangers – C/LW)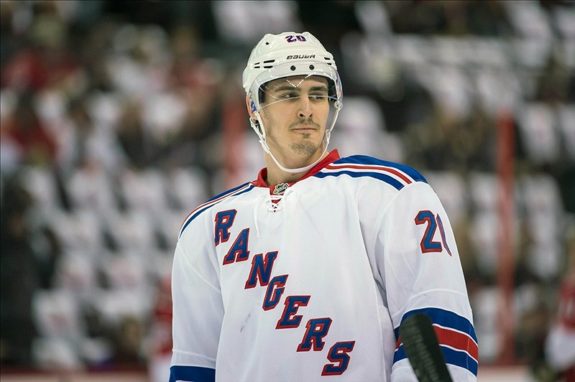 Fantasy managers might have been wondering how, or if, Chris Kreider would fit into the Rangers' system under Alain Vigneault. Some of those thoughts or questions might have been assuaged as the dual-position forward has had quite an impact for New York in ten games this season.
While Kreider was kept off of the scoreboard in his first three games played, the forward has registered eight points (2 Goals, 6 Assists) over his last seven games. More importantly, Kreider is currently receiving top-six minutes for the Rangers – something that could undoubtedly set him up for more points scored, regardless of whether he plays with Derek Stepan and Mats Zuccarello or Brad Richards and Ryan Callahan. There could most certainly be a case made for Kreider's addition to rosters in deeper leagues, but those in shallower leagues might want to take a game-by-game approach on the dual-position forward.
Matt Irwin (San Jose Sharks – D)
Matt Irwin might not have done much to get noticed by fantasy managers this year, but his promotion to playing alongside Dan Boyle on a defensive pairing should give managers reason to keep an eye on the defenseman. Brad Stuart will probably be the player to suffer the most in this scenario as his play hasn't been up to par lately and has resulted in diminished ice-time for the defender.
As long as Irwin provides a solid showing while playing with Dan Boyle, the defenseman should see more responsibility on the Sharks' blueline. Seeing as how Irwin has already registered 40 shots on goal this season, he could serve as a good offensive compliment to Boyle as well. Fantasy managers should continue to track Irwin's play on San Jose's second defensive pairing and should add the defenseman if he provides some steady contributions.
Mark Arcobello (Edmonton Oilers – RW)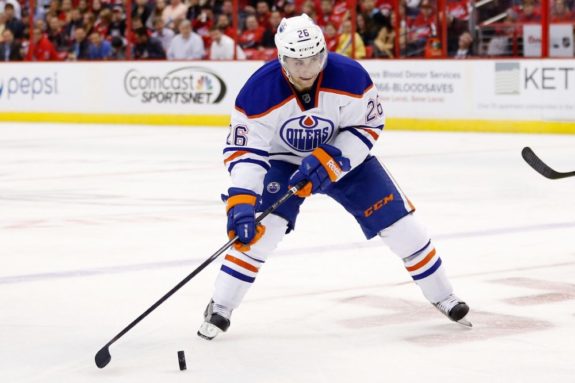 Mark Arcobello made himself known in fantasy circles a few weeks ago when he was playing for the Oilers' top line, but a cold streak might have made him somewhat of a forgotten forward in some leagues. Over his last nine games, Arcobello has only recorded two goals, but centering Ryan Smyth and Nail Yakupov could potentially reinvigorate the forward.
Fantasy managers shouldn't expect Arcobello to light up the score-sheet with a boatload of goals, but the right winger can dish the puck to his open teammates, and his ten assists can certainly attest to his pass-first mentality. Not only has the right winger shown a propensity to rack up his assist totals, he also has the added benefit of contributing to categories such as "Face-Offs Won" since being reinserted into the Oilers' lineup as a center. Since Arcobello has already shown himself to be quite a streaky player, it would be better to keep the winger on a close watch-list instead of adding him in droves if he does find some immediate success alongside Smyth and Yakupov.
Nick Bonino (Anaheim Ducks – C)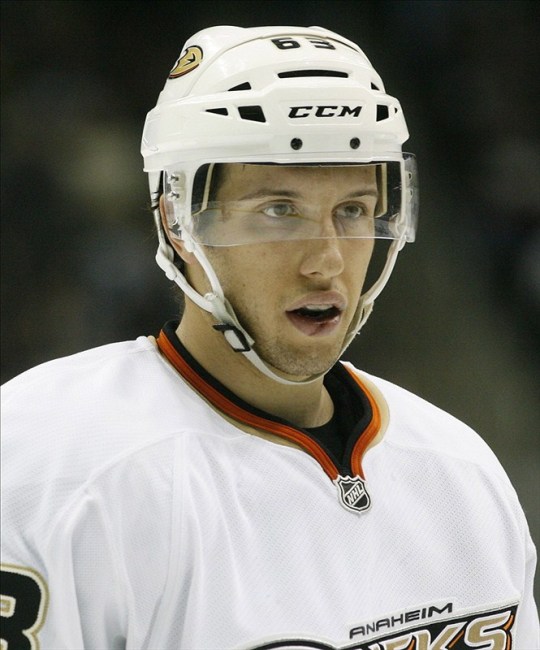 Much like Chris Kreider, Bonino has been getting top-six minutes for his team and has rewarded the faith placed in him by scoring three points in his last three games. Bonino is currently owned in 6% of Yahoo! leagues, and his ownership rate should stay relatively the same for the next several contests (barring some Herculean performances), so fantasy managers will definitely have time to add the centerman to their lineup.
Bonino saw an uptick in terms of time on ice during the later stages of October (25th-31st), but the forward wasn't able to do too much with the added responsibility as he only managed to put up two assists during that span. Over the last five November contests, Bonino has received at least 16:22 of ice-time, and he has responded with a goal and two assists. It is yet to be seen if Bonino can keep up a steady production while playing top-six minutes for the Ducks, but if he does, then fantasy managers should consider adding him to their lineups.