Over the course of the season, depth has been an issue for the Boston Bruins. Below the top six forwards, the Bruins have had trouble consistently producing. Frank Vatrano and Ryan Spooner, who are both known for their offensive games, have had their moments, but as a whole, Boston's bottom six forwards haven't had the consistency that the team has needed.
Don Sweeney and company looked to fix that when they beat the trade deadline buzzer and landed forward Drew Stafford in exchange for a conditional sixth-round pick. So far, he's provided a much-needed boost to the third-line.
Stafford's Debut
Stafford slid right onto the right wing of Boston's third line, alongside Spooner and Vatrano. The trio combined for a couple of very good chances in their first outing against the New Jersey Devils on Saturday, including the beautiful game-winning goal. Frank Vatrano's forced turnover behind the net sent the puck out to Stafford, who found Spooner all alone on the backdoor to seal the deal.
The third line's go-ahead goal in the final frame of Saturday's game displayed the creative and aggressive style that Bruce Cassidy has preached since taking over the Bruins' bench. It was the type of goal that you'd expect to see from a group of players that have developed chemistry over a long period of time, not a group of guys sharing just their third period together; a sign of good things to come.
"At the end of the day you're out there playing hockey, so obviously chemistry comes with time, you know?" said Vatrano, per Eric Russo of nhl.com. "We talked a little bit before the game about some plays that we like to do, but other than that it's just [talk], you just go out there and play hockey and that's what we did tonight and we ended up getting rewarded with that game winner. That was a good reward for us."
Impact on the Third Line
In theory, Stafford is a great addition to the Bruins' third line. Vatrano and Spooner both play high-speed, creative hockey in the offensive zone. Vatrano, in particular, plays a gritty style and puts his fair share of pucks on net. The third line needed a stabilizing, net-front presence to make that next step in terms of production, and that's what Stafford has provided so far.
"(Stafford) is a guy that finishes well, he goes to the net. He can make plays. I think on paper he could be a good fit for that line," said Bruce Cassidy, per the Boston Herald. "If you look at what Vatrano does well with Spoons, they play with speed and force him to keep up, but I think he's a guy who'll finish some plays that those guys will make for him. He'll go to the net, which I think is important."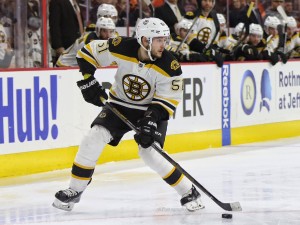 On the flip side, I'd expect Vatrano and Spooner to provide Stafford with a boost as well. The veteran winger tallied 13 points in 40 games before coming to Boston – numbers that weren't bad given his role in Winnipeg, but that could certainly improve. Given how well he fits into Boston's third line, and the style of play that Vatrano and Spooner have worked since Cassidy took over, I'd only expect Stafford's production to increase in black and gold.
There has been a feeling of rejuvenation on the Bruins' third line since Cassidy took over. Spooner and Vatrano have both since come out and expressed that they had poor relationships with former head coach Claude Julien, and the two of them seem much more locked in under Cassidy's leadership. With the addition of Stafford, this line could develop into a very serious threat for the Bruins.
Cam is a Broadcast Journalism student at the University of Maryland. He's the Boston Bruins Beat Writer at The Hockey Writers, and is an avid college hockey fan. Find him on Twitter @CamHasbrouck!