Left wing Carl Hagelin was a model of consistency in his four seasons with the New York Rangers. But over the past two seasons, it's been a roller coaster ride for the forward.
At the beginning of 2015-16, he didn't fit well with the Anaheim Ducks, posting just four goals and 12 points in 43 games. However, Hagelin immediately fit with the Pittsburgh Penguins after they acquired him for David Perron last January. In the final 37 games, he tallied 10 goals and 27 points. During the playoffs, he was part of Pittsburgh's powerful "HBK" line that led the Penguins to the Stanley Cup. Hagelin scored six goals and 16 points in 24 postseason games.
Ironically, six goals are all Hagelin has this season, but he is still playing at a high level. The Swedish forward has found other ways to contribute besides scoring in 2016-17.
Generating Chances
Coach Mike Sullivan has tried Hagelin pretty much on every line this season with little success. Well, that's if one only looks at the stat sheet. Lately, Hagelin has been percolating on a line with Evgeni Malkin.
The trio of Malkin, Hornqvist, and Hagelin is controlling nearly 90% of shot attempts at even strength. That's absurd.

— Mike Necciai (@Michael29Angelo) March 4, 2017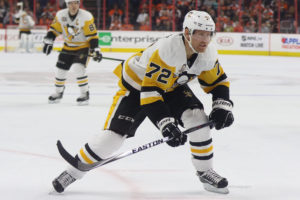 That Tweet was posted about halfway through a game against the Tampa Bay Lightning last Friday. Hagelin only had one shot on goal, but he attempted four others and created a lot of zone time. When he's on the ice, the Penguins are controlling play.
Granted, his Corsi For Percentage is down 3.0 percent from where it was with the Penguins last season, but that doesn't tell the whole story. His Corsi For Relative Percentage has increased from 3.3 to 3.7 percent from last season. Overall, Pittsburgh hasn't been as strong at shot suppression, so the team, in general, has a lower Corsi For Percentage. Compared to the team, Hagelin is the same and maybe a little better than he was in 2015-16.
Among players who have dressed for more than 10 games, Hagelin's 53.3 Corsi For Percentage is second best on the Penguins. The other two players in that category are Malkin and Patrick Hornqvist, a line Sullivan put together that has really created a lot of chances in the last couple of weeks.
Defensive Intangibles
While Hagelin's speed on zone breakouts and hardworking attitude on the boards are wonderful, the Penguins love the 28-year-old's defensive prowess just as much. His speed and hustle can quickly erase mistakes that lead to odd-man rushes, which the Penguins have had far too many of recently.
Hagelin's speed negates a 2on0 for the Sabres. What an asset and backcheck -SK

— Pens Inside Scoop (@PensInsideScoop) March 6, 2017
Hagelin is also a major penalty killer. Last season, the Penguins posted the fifth-best penalty kill percentage. That helped them get passed Washington and San Jose in the playoffs, two of the top five power-play teams in the league last season.
In 2016-17, Pittsburgh is 19th in penalty-kill percentage, but the unit has improved a lot since the start of February. Over the last 15 games, the Penguins have killed 86.4 percent of their penalties, and Hagelin is a big part of the recent success. He's third among all Penguins forwards with an average of 2:13 shorthanded minutes per game.
Scoring Slump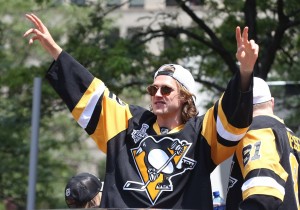 As patient as the Penguins probably want to be with Hagelin, because he's creating chances and doing a lot of other good things, Pittsburgh would still like to see his goalless streak come to an end. He has no goals and three assists in his last 14 contests.
In the middle of that stretch, he missed five games because of a concussion. It might have taken a couple of games for him to regain his form. That said, Hagelin has played eight games since returning and only has two assists in that time. Over the last 21 contests, Hagelin has just one goal and five points.
As great as his puck possession is, if the Penguins are to repeat as champions, they need to find more depth scoring like they did last season. Hagelin re-finding his scoring touch would go a long way.