The Toronto Maple Leafs are making a run for the Stanley Cup Playoffs.
Yes, you read that right.
Despite all odds, the Leafs find themselves in the midst of a heated playoff race, and one that has been aided by the surprisingly weak play of the Atlantic Division. Perennial contenders such as the Tampa Bay Lightning and Detroit Red Wings have failed to play to the elite level of which they have become accustomed, while the Florida Panthers, the 2015-16 Division Champions, have failed to grasp consistency under new Head Coach Tom Rowe.
The under achievement of these teams has opened the door for the Leafs to clinch their sixth playoff berth of the current century, and first since their devastating meltdown against the Boston Bruins in the opening round of the 2012-13 post-season.
Sorry, I just had to reference it.
However, there has, of course, been a great deal more to the Leafs' playoff push than simply the weaker division in which they play, with the most notable factor of which being the play of Toronto's super-rookies. Auston Matthews, Mitch Marner, and William Nylander have consistently sparked the Leafs as a whole, and have been essential in molding the club into one of the NHL's most lethal offenses.
Maple Leafs are now the 6th team in NHL history to have 4 rookies score 15 goals in a season, first since 1992-93 Winnipeg Jets #elias

— Bucci Mane (@Buccigross) February 24, 2017
Further, Morgan Rielly, Jake Gardiner, and Nikita Zaitsev have all been solid on an otherwise thin blue line, and, in combination with the play of Frederik Andersen, have provided the Leafs with an opportunity to win games on a nightly basis.
Opportunity Knocks
As such, with the opportunity within reach, General Manager Lou Lamoriello approached the 2017 NHL trade deadline as a buyer rather than a seller, and in doing so, acquired two players whose presence will surely further the Leafs' playoff drive.
Firstly, the Leafs netted Brian Boyle from the Tampa Bay Lightning – a veteran center whose size and ability in the faceoff dot will immediately address two areas of need for Toronto. Yes, Lamoriello gave up Byron Froese and a second-round selection in the process, however, Froese did not project to be a major contributor long term, and the Leafs retain an additional two second-round selections in this year's Draft.
Brian Boyle says he used to be 6-foot-7. Was at the combine. Now listed at 6-foot-6.

"Gravity," he says.

— James Mirtle (@mirtle) March 2, 2017
Next, Lamoriello found a new home for Frank Corrado, who had been floating in limbo for virtually the entire season. Not viewed as a defenseman who would play a major role for the franchise in the future, Corrado was shipped to the Pittsburgh Penguins in return for Eric Fehr, Steve Oleksy, and a fourth-round selection.
In Fehr, the Leafs grabbed a solid depth forward who can contribute offensively, although not on a consistent basis, who has considerable playoff experience. Having battled injuries, Fehr's specific role with the team is not immediately known, however, his size makes him yet another intimidating force and valuable post-season player.
How many times can Mike Babcock use the word "win" to describe Eric Fehr? pic.twitter.com/sblAJqaVCA

— Sportsnet (@Sportsnet) March 2, 2017
Having out-played any and all expectations this season, the Leafs were more than deserving of the opportunity to make a legitimate postseason push, and acquiring these two veteran forwards was undoubtedly Lamoriello's way of showing his appreciation of the team's efforts.
A Hard Road
Despite all of the discourse surrounding the Leafs' stance ahead of the trade deadline, Toronto was, in fact, a buyer, not a seller, and as such, is strictly invested in pursuing a berth in the 2017 Stanley Cup Playoffs.
Leafs push reset button ahead of playoff sprint. @markhmasters has MORE: https://t.co/krWXpdwRKH pic.twitter.com/fdcnRPELun

— TSN (@TSN_Sports) March 7, 2017
However, although the acquisitions of Boyle and Fehr will surely be of benefit, a significant amount of hard work remains to be done if the Leafs wish to accomplish their substantial if not overwhelming goal. What's more is that despite the incredible efforts of their young players and new-found depth, the road ahead could amount to be more than a young and largely inexperienced Leafs team can handle.
Here's a quick look at Toronto's first ten games following the trade deadline.
| | |
| --- | --- |
| Date | Opponent |
| Mar. 2 | L.A Kings |
| Mar. 3 | Anaheim Ducks |
| Mar. 7 | Detroit Red Wings |
| Mar. 9 | Philadelphia Flyers |
| Mar. 11 | Carolina Hurricanes |
| Mar. 14 | Florida Panthers |
| Mar. 16 | Tampa Bay Lightning |
| Mar. 18 | Chicago Blackhawks |
| Mar. 20 | Boston Bruins |
| Mar. 22 | Columbus Blue Jackets |
Of these games, virtually none can or should be considered sure-wins. With all of these teams either a perennial powerhouse or in the midst of their own playoff push, other than the Carolina Hurricanes, the Leafs will need to be at their very best in order to stay in the race.
What's more is that of the 10 games listed above, four come against divisional foes, with three of which within arms reach of Toronto in standings and very much in the race as a whole.
In fact, nine of the Leafs' final 20 games come within their own division, making every matchup of extreme importance the Toronto's playoff hopes. Further, of those final 20 contests, the Leafs find themselves facing off against the Penguins, Chicago Blackhawks, Washington Capitals and the Nashville Predators, as well as the Columbus Blue Jackets on two separate occasions.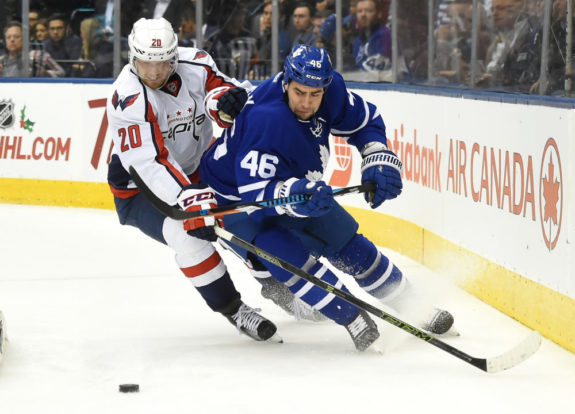 So to say that the Leafs' schedule to end the season is an intimidating and difficult stretch would be a massive understatement. Further, given their opponents, it would be easy to say that Toronto will struggle to win half of their remaining games.
However, let's not forget that this is a Leafs team that is familiar with shattering expectations. At the start of the season, Toronto was projected to be nothing more than a bottom-feeder – a team that would be obliterated on a nightly basis and find themselves in the basement of the NHL standings. Yet, five months later, the franchise remains in the hunt, is a lethal force, and has a proven track record of defeating a number of the league's best in surprising fashion.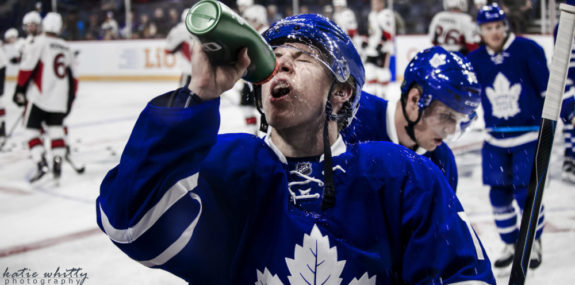 Whether or not the Leafs will have the skill, experience, and resolve to defeat a number of the NHL's best in the midst of a heated playoff race quite clearly remains to be seen, however, it is worth repeating that despite all of the odds they have faced this season, the Leafs have remained persistent, and above all, determined.