They say it's never a good idea to get back with your ex. So far, the Montreal Canadiens have no regrets.
After dumping Michel Therrien on Valentines Day in favour of Claude Julien, the Canadiens have seemed to pull themselves out of the parity party, also known as half of the NHL. After the Canadiens reeled off a 13-1-1 start, they proceeded to go 19-18-7 in their next 44 games. Hardly good enough for a team who's Stanley Cup window is now.
The reunion between Julien and the Canadiens got off to an awkward start. The Habs suffered two losses in their first three games under Julien, but they've hit the ground running ever since. They've reeled off five straight wins, with their latest 4-1 victory over the New York Rangers being the most impressive. They are now 6-2-0 under their new head coach. Alex Galchenyuk and Max Pacioretty are leading the way offensively. Carey Price has a .964 save percentage in his last four starts. Even newcomers Jordie Benn and Steve Ott have chipped in with points early in their Canadiens careers.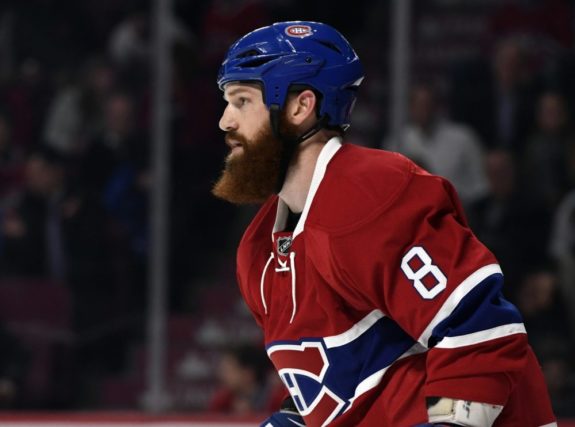 Even though the Vancouver Canucks will need an astonishing month of March to make the playoffs, there is an odd sense of optimism surrounding this team. They won two straight road games against the Los Angeles Kings and Anaheim Ducks with Bo Horvat, Sven Baertschi and Markus Granlund leading the way offensively. The Canucks were shellacked in terms of shots however, and relied heavily on goalies Ryan Miller and Richard Bachman.
After Nikolay Goldobin's game-winning goal against the Kings, there seems to be some cautious optimism about the youth movement in Vancouver. Pure draftists will say the rebuild isn't fully underway until veterans such as the Sedins and Alex Edler are traded. However, this lineup has a heavy emphasis on youth, and many young Canucks seem to be progressing as the season moves on.
Montreal Canadiens at Vancouver Canucks
Tuesday, March 7, Rogers Arena, 7:00 p.m. PST
Broadcast Channels: SNP, RDS, SNE
2016-17 Season Series: Nov. 2 – Canucks 0 – Canadiens 3
Montreal Canadiens: 37-21-8, 82 Points, 5th in Eastern Conference
Hot Players: Alex Galchenyuk (7 points last 5 GP), Max Pacioretty (6 points last 5 GP), Carey Price (Four straight wins, .964 save percentage)
Key Injuries: Alexander Radulov, Thomas Plekanec
Projected Lines
Forwards
Max Pacioretty – Phillip Danault – Brendan Gallagher
Dwight King – Alex Galchenyuk – Artturi Lehkonen
Paul Byron – Andrew Shaw – Torrey Mitchell
Andreas Martinsen – Steve Ott – Brian Flynn
Defence
Andrei Markov – Shea Weber
Brandon Davidson – Jeff Petry
Nathan Beaulieu – Jordie Benn
Starting Goaltender
Carey Price
Vancouver Canucks: 28-30-7, 63 Points, 12th in Western Conference
Hot Players: Ben Hutton (Three-game point streak), Sven Baertschi (3 points last 3 GP), Bo Horvat (5 points last 3 GP)
Key Injuries: Loui Eriksson, Jacob Markstrom, Nikita Tryamkin, Jack Skille, Anton Rodin, Erik Gudbranson, Derek Dorsett
Projected Lines
Forwards
Daniel Sedin – Henrik Sedin – Markus Granlund
Sven Baertschi – Bo Horvat – Nikolay Goldobin
Brendan Gaunce – Brandon Sutter – Jayson Megna
Joseph Cramarossa – Michael Chaput – Reid Boucher
Defence
Alex Edler – Troy Stecher
Luca Sbisa – Chris Tanev
Ben Hutton – Alex Biega
Starting Goaltender
Ryan Miller
Game Notes
[miptheme_dropcap style="normal" color="#222222″ background=""]1)[/miptheme_dropcap] The Canucks haven't had much success against the Canadiens in recent history. They are 3-8-1 against Montreal since February of 2010. Only one of those wins came in regulation, and that was when the Canucks handed the Habs their first loss of the season last year after a 9-0-0 start. Price shined when Montreal beat Vancouver in November. It was a 3-0 win for the Habs, even though the Canucks outshot Montreal 42-21.
[miptheme_dropcap style="normal" color="#222222″ background=""]2)[/miptheme_dropcap] What do these two teams have in common? Both have young number one centres who are both restricted free agents looking to cash in. Bo Horvat and Alex Galchenyuk are both the top centremen on their respective teams in terms of points-per-game. In Horvat's case, he leads the Canucks in points-per-game.
Back in November, I took a look at six centres who are due for big raises in the offseason. Spoiler alert, both Horvat and Galchenyuk made the list. Galcheyuk should command Mark Scheifele money, north of $6 million per season. At the time, I said it would be a win for the Canucks if they were able to sign Horvat at under $5 million per season. After his stellar campaign, that scenario seems extremely unlikely. At this point, Horvat should probably command somewhere in the neighbourhood of $5.5 million per season.
[miptheme_dropcap style="normal" color="#222222″ background=""]3)[/miptheme_dropcap] Brandon Davidson is set to make his Habs debut tonight. The move which sent the unproductive David Desharnais to the Edmonton Oilers gives the Canadiens some extra defensive depth. That is shown by the fact that Alexei Emelin and Nikita Nesterov will likely sit this game out tonight. The 25-year-old has had an injury-plagued season, and only has one assist in 28 games. He should be excited for a fresh start in Montreal.
My story on Brandon Davidson @bdavy3 set to make his #Habs debut Tuesday night vs. #Canucks #HabsIO: https://t.co/1lBWRBtWha pic.twitter.com/WZPmFHGTyi

— Stu Cowan (@StuCowan1) March 7, 2017
[miptheme_dropcap style="normal" color="#222222″ background=""]4)[/miptheme_dropcap] Speaking of young defencemen, Ben Hutton has played some of his best hockey as a Canuck lately. With the Canucks giving up so many shots over the past few games, no player is passing the advanced stats test (except the goalies). However, Hutton has made some great plays offensively and looks rejuvenated after an up-and-down season. He made some fantastic plays to set up Horvat for goals against the San Jose Sharks and Anaheim Ducks. Hutton also made a heads-up pass to set up Nikolay Goldobin for his first goal as a Canuck. With games like this, he's making himself once again look like part of the youth movement in Vancouver.
Eriksson is "a week to two weeks away from returning," said Coach.

— Vancouver #Canucks (@Canucks) March 7, 2017
[miptheme_dropcap style="normal" color="#222222″ background=""]5)[/miptheme_dropcap] The injury to Loui Eriksson against the Ducks has opened up the door for Goldobin. Based on the morning skate, Goldobin will play on a line with Horvat and Baertschi. This is a great opportunity for him to play with two of the hottest Canucks at the moment. The trio had some great flashes after they were put on a line following Eriksson's injury. Goldobin will also play on the Canucks second power play unit with Horvat, Baertschi, Hutton and Troy Stecher Expectations must be tempered with Goldobin, but there is a lot of hype surrounding the Canucks new acquisition.