The Anaheim Ducks' defensive group was porous during the 2022-23 season. The team allowed a league-high 39.1 shots per game and unsurprisingly surrendered the most goals against per game (4.09). The Ducks also permitted the second-most power-play goals against (78). Anaheim struggled at shot suppression in 5-on-5 situations as well, giving up the most scoring chances and the most high-danger scoring chances.
The forwards and defensemen of the Ducks did not do their goaltenders many favors during the 2022-23 campaign. Still, the goaltending situation has been a problem that general manager Pat Verbeek will need to address sooner rather than later. The Ducks could shake things up as early as this offseason with potential trades or free-agent signings. The club may also choose to experiment with some internal options in order to plot the best course of action.
Moving Gibson Could be Mutually Beneficial
John Gibson has not lived up to expectations since signing his eight-year, $51.2 million contract in Aug. 2018. He has posted a .902 save percentage (SV%) and 3.32 goals-against average (GAA) across the past four seasons. He has led the league in losses three times during that span. In 2022-23, Gibson registered the worst goals saved above average (minus-10.1), SV% (.899), and GAA (3.99) of his career. The 29-year-old netminder allowed a whopping 200 goals against in a mere 53 games played. Despite Gibson's regression, NHL insider Pierre LeBrun reported that the Ducks goaltender is still viewed as a difference-maker in some circles. LeBrun believes Gibson would entertain a trade to a contender, and teams could reach out to the Ducks this summer (from 'What's next for the big NHL names not traded at the deadline, from Karlsson to Miller to Gibson?' The Athletic, March 8, 2023).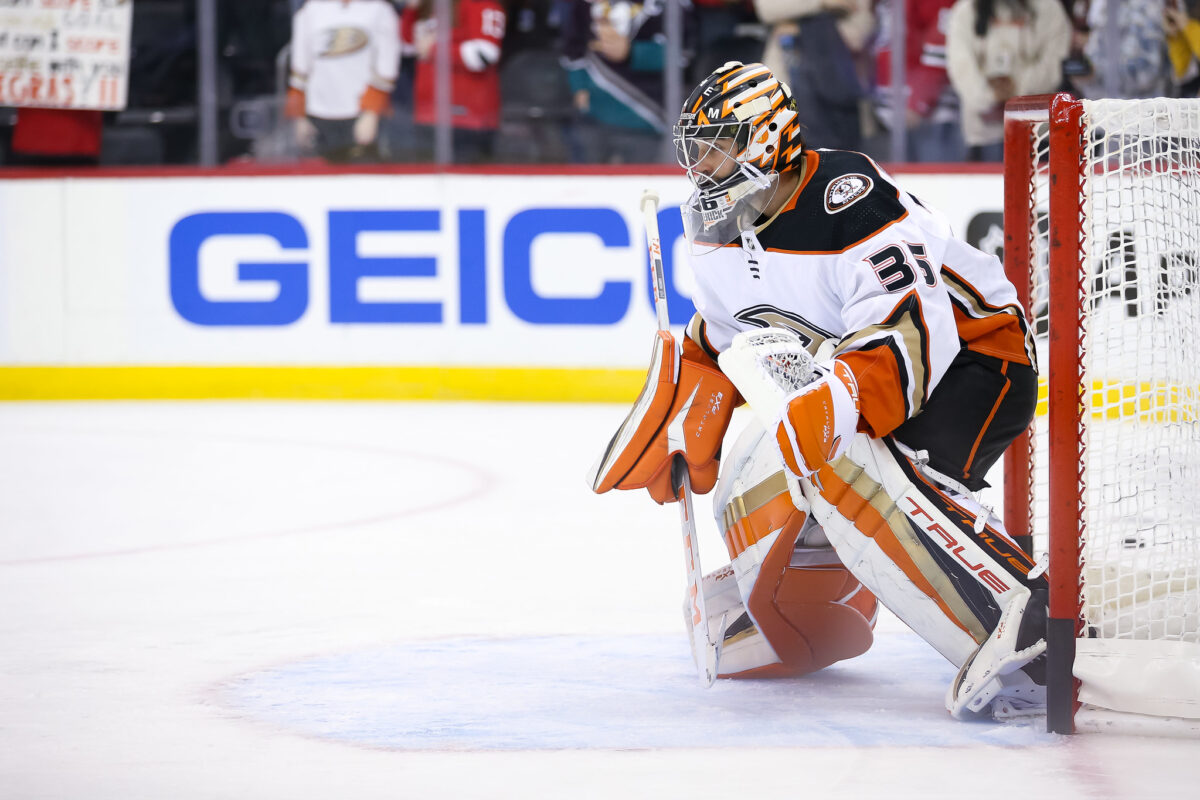 Gibson has been the subject of trade speculation for a while now, and it may be mutually beneficial for the Ducks to finally pull the trigger on a deal. Anaheim is currently not in a position to contend, and it may be time to start looking at other options, especially if the return in a potential trade helps to expedite the rebuild process. A change of scenery and a more competitive team in front of him could help him get back on track.
Dostal Ready for Increased Responsibility 
Lukas Dostal should be primed for a larger role with the Ducks in 2023-24, regardless of what transpires on the Gibson front. Anthony Stolarz is coming off season-ending knee surgery and is a pending unrestricted free agent. With Stolarz unlikely to return next year, the door is wide open for Dostal to attempt to make an impact.
---
Latest News & Highlights
---
Dostal has 23 games of NHL experience, including 19 appearances during the 2022-23 campaign. Dostal's 5-12-3 record with a 3.65 GAA and a .902 save percentage aren't statistics that jump off the page, but he earned a respectable .706 quality start percentage last season. He posted a mark of 2-2-1 with a .925 SV% during a five-game run in December while filling in due to injuries. He displayed flashes of his poise and potential, which should serve him well as the expected future of the team's crease situation. The 22-year-old goalie has also been solid at the American Hockey League (AHL) level despite the team's lack of success over the past two seasons. Dostal has compiled 44 wins with a 2.80 GAA and .915 SV% in 98 career contests with the Gulls. 
Ducks Need to Restock Goalie Pipeline 
Dostal could be a candidate to push Gibson for playing time, or share starts with someone else if Gibson is traded. The Ducks don't have much to work with in terms of prospects outside of Dostal. Olle Eriksson Ek has struggled mightily over the past two AHL campaigns. In 2022-23, the 23-year-old netminder went 2-14-0 with a 4.81 GAA and .852 SV% through 20 games played.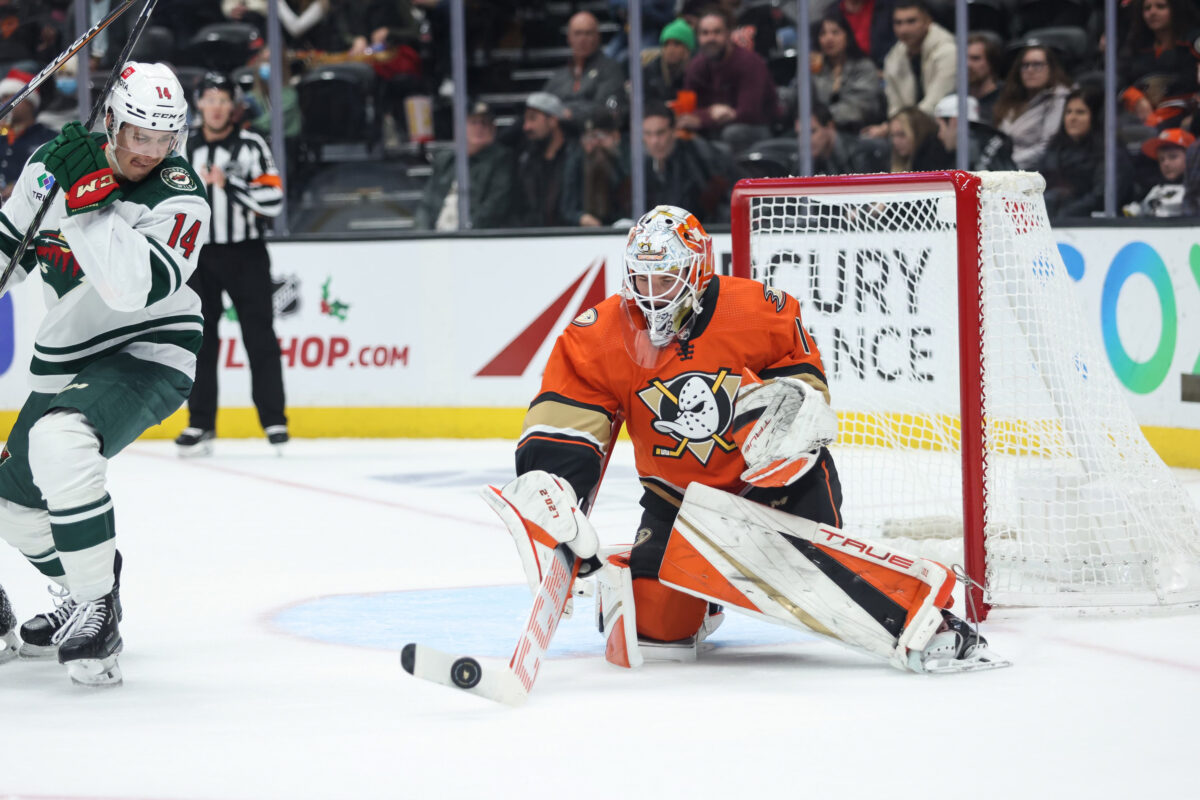 Calle Clang, who is 21 years old and was acquired from the Pittsburgh Penguins as part of the Rickard Rakell trade, is likely ticketed for plenty of action with San Diego in 2023-24 after showcasing some upside playing in Sweden. His development will be worth monitoring, but he shouldn't be expected to be part of the goaltending picture of the Ducks for at least another two or three seasons. Anaheim needs to start replenishing the prospect pool with some goalie talent, either from more trades or from drafting players themselves. 
Plenty of 1A/1B Considerations Out There 
If Gibson is guarding the crease for a different team next year, Anaheim's best option to fill the void is by acquiring another goalie via a trade or signing someone on the free-agent market. Anaheim could look at this scenario as a tryout and take some chances.
Related: 5 Goalies Likely Changing Teams During 2023 Offseason
If the Ducks prioritize someone who can split starts with Dostal, then Alex Lyon, Joonas Korpisalo, Alex Nedeljkovic, or Laurent Brossoit make great sense as potential signings. Lyon played in a career-high 15 games with the Florida Panthers during the 2022-23 campaign, and his 6-0-1 run, along with a .952 SV% down the stretch was a massive reason why the team was able to qualify for the Stanley Cup playoffs. Korpisalo struggled in the postseason with the Los Angeles Kings but performed very well in the regular season while alternating starts with Pheonix Copley following his acquisition from the Columbus Blue Jackets. Nedeljkovic finished third in Calder Trophy voting following the 2020-21 campaign and could be a good reclamation project. Brossoit performed admirably for the Vegas Golden Knights in 2022-23 while battling some injury concerns and could be utilized in a tandem goalie role if he can remain healthy.
Should the Ducks decide that a trade is the more preferable route, Dan Vladar of the Calgary Flames could be a worthwhile consideration. Consistency has been an issue for him, but he has played well in spurts over the past two seasons. The soon-to-be 26-year-old is one year away from unrestricted free agency, which eliminates some of the risks.
Looking to Next Season
It wouldn't be a surprise if the Ducks entered the 2023-24 campaign with Gibson and Dostal as their goalie combination. Trading Gibson makes a great deal of sense for both sides, but rumors have swirled around him before, and nothing has come to fruition. He is seemingly content with his place on the Ducks, and it's not exactly an easy trade to make with four more years remaining on his contract at a salary cap hit of $6.4 million. If Gibson stays, Dostal should be cemented into the backup spot. Getting more experience in the NHL is paramount to the development of the 22-year-old Dostal, who has nothing else to gain from playing in the AHL. Dostal could end up pushing Gibson for playing time or sharing starts with a newcomer.
Team Analytics courtesy of Hockey-Reference. Statistics courtesy of Hockey-Reference.
---
---