An interesting rumor has gotten a lot of attention over the past week. I wouldn't so much suggest it's gained a lot of steam since most of the responses to the rumor have been quick to shoot down the idea that the Edmonton Oilers would be open to trading Ryan Nugent-Hopkins to the Boston Bruins, still, everyone seems to be talking about it.
The suggested trade stems from a post by Jimmy Murphy of Boston Hockey Now, where in that post, he cites more than one source who told him the Bruins might be linked to the Oilers in trade discussions this summer. He suggested the team would need centers if Patrice Bergeron and others departed in the offseason and that Nuge was a good-looking replacement.
Related: 2023 Stanley Cup Final: Do Oilers Fans Back Eichel or Tkachuk?
As I wrote in an article on May 26th, the Bruins are prepared to potentially dangle defenseman Matt Grzelcyk as trade bait. I also wrote that the Oilers should want no part in this deal.
I figured that might be the last time I was going to write about the rumor. But, as more and more outlets also covered the speculation, it seemed worth taking a closer look at how realistic the idea of this trade might actually be. The answer is, while anything is possible, this is not very realistic at all.
Nugent-Hopkins Has a No-Move Clause
Even if the Oilers wanted to make this kind of move, there's one very large hurdle standing in the way. That is, Nugent-Hopkins has a no-move clause that gives him all of the leverage in any potential deal. And, there's a reason he has it… he doesn't want to go anywhere.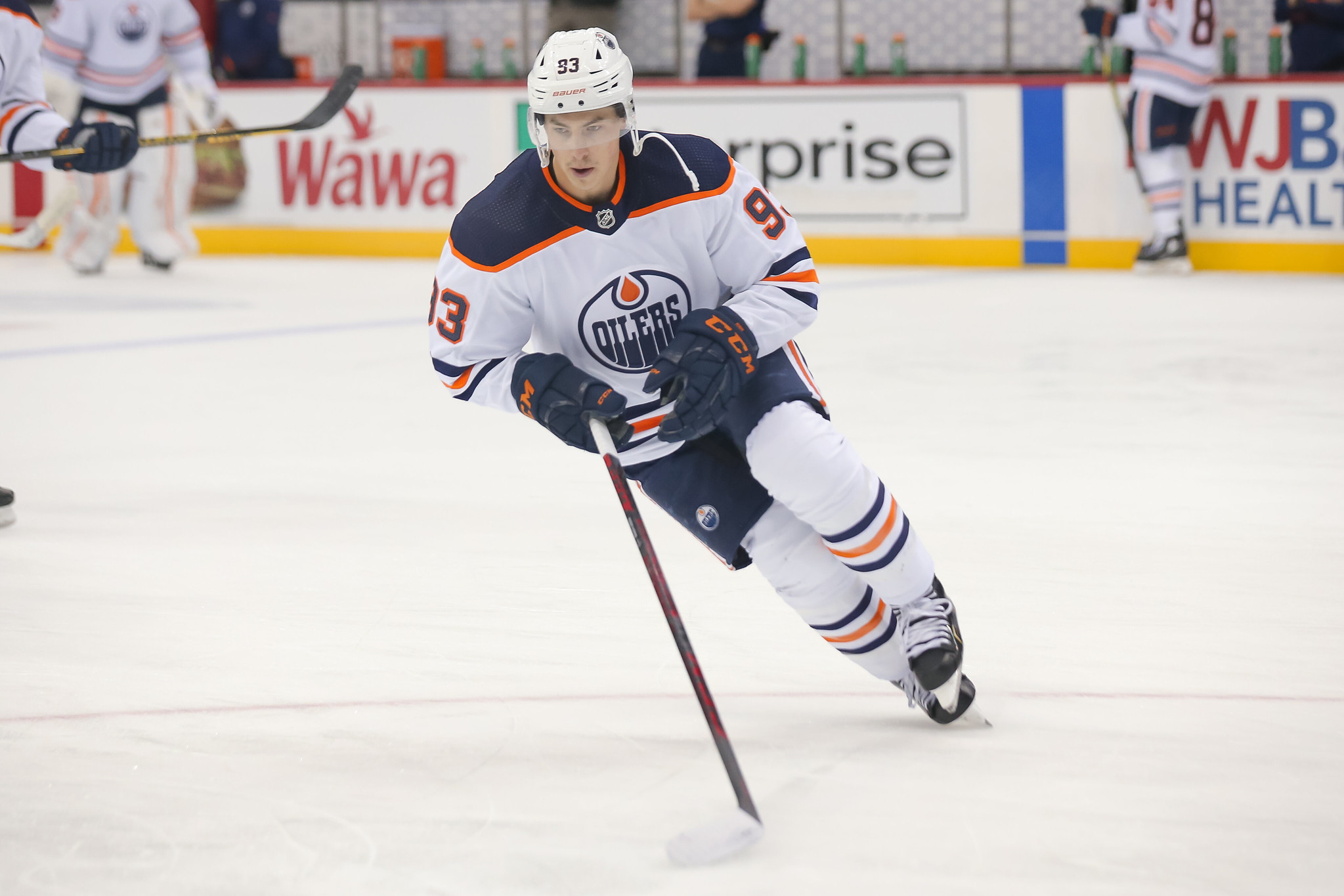 Nugent-Hopkins is coming off a record-breaking season that ended in disappointment. He probably still feels this team has unfinished business and he's the longest-reigning member of the roster. The idea that he would simply give away his spot on the team and leave behind years of hard work and underwhelming seasons to go to a club that also suffered a disappointing playoff exit but could also be overhauling their league-best regular season roster is less than appealing.
Nugent-Hopkins has the final say in any deal. Sources who claim a trade is out there would be wise to remember that.
Nugent-Hopkins Just Had a 104-Point Season
At 30 years old, the forward still has six more seasons on his current deal in Edmonton and he exploded last year for offense, potting 104 points and being a key contributor on the best power play unit in the history of the NHL. He's not bound to have that level of production anywhere else, — and he may never repeat that level of production again — but that doesn't make him a player the Oilers simply move for cap reasons.
---
Latest News & Highlight
---
And, to think that the Oilers would be alright moving Nugent-Hopkins for Grzelcyk, who was made a scratch during this season's playoffs and, at times, didn't look good seems laughable. He's by no means a black hole in this area, but the defenseman doesn't produce a ton of offense, and while he's good on zone exits, it makes no sense for the Oilers to consider this deal, especially when the player they'd be trading for is being deemed as somewhat of a cap casualty cast-off. This isn't to be disrespectful of Grzelcyk, but more to point out that it sounds like the Bruins might be willing to lose the player to keep others and the defenseman is a pending UFA at the end of next season.
Why would Edmonton trade a team-value deal that has term for a player who wasn't a regular in the playoffs and doesn't?
The Bruins Likely Can't Make the Cap Work
Even if both sides agreed to a trade, there's another slight problem here. The Bruins are strained financially when it comes to the cap and Nugent-Hopkins is a $5.125 million cap hit and Boston has just under $5 million in projected cap space with 15 players signed to contracts for next season. They have eight pending UFAs this summer and a lot of their own problems to take care of. Adding Nugent-Hopkins simply isn't feasible without other major roster changes.
And, even if the Bruins were open to trading much more than that rumor suggests, Nugent-Hopkins can simply say, 'Thanks, but no thanks.'