Antoine Vermette made a bone-headed decision during the third period of the Anaheim Ducks' 1-0 win over the Minnesota Wild Tuesday. After losing a second straight faceoff cleanly, he gave linesman Shandor Alphonso a mild slash to the back of his legs.
The officials immediately stopped play and sent Vermette to the locker room with a game misconduct for abuse of officials, as they should have. For his actions, Vermette received a 10-game suspension. The suspension is spot-on and the rules leave no room for discussion about the length of the suspension.
NHL Rule 40.3
The NHL rules are clear as to how to handle this type of incident. Rule 40.3 reads:
Automatic Suspension – Category II – Any player who deliberately applies physical force to an official in any manner (excluding actions as set out in Category I), which physical force is applied without intent to injure, or who spits on an official, shall be automatically suspended for not less than ten (10) games.
This rule is so clearly written that it makes the California Penal Code jealous. His actions are condemned by the text of the rule and there is no need to infer anything.
"Any player" applies to Vermette.
The video shows that he clearly "deliberately applie[d] physical force" to linesman Shandor Alphonso, who is obviously considered "an official."
"In any manner" leaves no wiggle room for even the most innocent tap.
The NHL is not overstating Vermette's actions as they clearly acknowledge that the physical force was applied "without intent to injure."
Finally, as if the door needs to be slammed shut any further, the phrase "automatically suspended" leaves both the NHL and Vermette without any alternative options.
He is asking for trouble by appealing the suspension, and Anaheim Ducks fans should be praying that the team can convince him to reconsider, apologize, and take his medicine.
[irp]
Why, Antoine, Why?
As one might assume, there was an ongoing issue between Vermette and the linesman. Alphonso had thrown Vermette out of several faceoffs during the game. My educated guess is that he was right to toss Vermette from the circle on most of those occasions.
Vermette, like all other centers who are great in the faceoff circle, does whatever he can get away with to gain a competitive edge. As good as these guys are, you simply can't win 62.44% of your faceoffs in the NHL, as Vermette has this season, without jumping the puck-drop on occasion.
The gripe doesn't end there either. As can be seen in the video from the slashing incident, Vermette completely mistimed the puck-drop and lost the draw in an embarrassingly clean fashion. Just prior to this, he lost a draw in the defensive zone in a similar fashion.
His faceoff percentages tell the story. He went 0-for-2 on draws in the offensive zone, 1-for-4 in the neutral zone, and 2-for-5 in the defensive zone when the teams were at even-strength. Shorthanded, Vermette was 3-6, with all draws taking place in the defensive zone. He finished the game with a paltry 35% success rate in the dot. Suffice it to say someone was a bit cranky.
Where He Went Wrong
Vermette took it personally. I am fortunate enough to work with NHL officiating managers quite often, the vast majority of whom are former on-ice officials who have hung up the skates. Most fans will not ever understand how professional these guys are. They take their job very seriously, and I would put my own reputation on the line to defend the integrity of any one of them, including Shandor Alphonso.
Bad calls happen and faceoffs get dropped wrong or the drop is timed poorly all the time. I officiate men's league games and while I'm not proud of it, I can admit that I've dropped my whistle along with the puck during a faceoff once before. Okay, twice, but this isn't about me.
These things are unavoidable and they happen. They are unintentional human errors, not calculated maneuvers by an individual with some ulterior motive. Vermette's response to a perceived injustice implies that he felt it was done intentionally. It most certainly was not.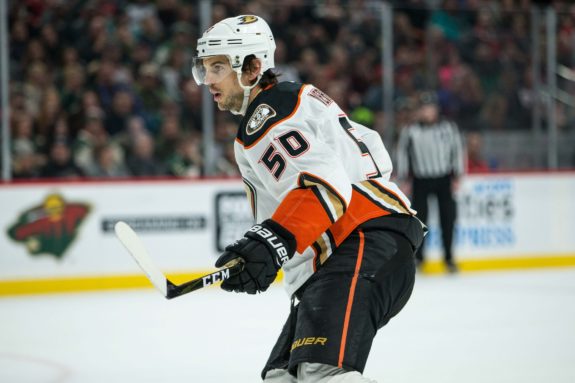 There is nothing that NHL officials want more than, as NHL officiating supervisor, officiating manager at the 2014 Sochi Olympics, and veteran referee of 1,321 NHL games Rob Shick once told me; "to provide these guys a professional environment to practice their trade that makes both sides happy." Vermette should know that he deserved to be tossed and should alter his approach just enough to right the faceoff ship, so to speak.
Vermette's slash is also counterproductive. Slashing officials isn't going to earn you an opportunity to plead your case about what you feel the official is doing wrong. Likewise, doing something that earns you an automatic 10-game suspension is far from the best way to improve your faceoff percentages. Vermette was sent to the locker room for his actions, permanently etching his 6-for-17 faceoff performance in the history books.
[irp]
Use Your Big Boy Words
NHL officials don't glide around the rink like graceful Eric Cartmans shouting "respect my authority." Vermette could have very easily approached Alphonso and said "hey man, you're killing me in the dot" and he would've likely gotten somewhere. He decided that a mild slash would best communicate his feelings.
That decision was a poor one and he was appropriately punished. Hockey is intense, but forgetting to keep your cool has consequences. In this case, the consequence for the Ducks is the loss of the league's best player in the faceoff circle and for Vermette, it means the loss of $97,222.23 and a seat in the press box for the next 10 games.