The March 1 trade deadline is quickly approaching. The New York Rangers find themselves in an interesting position, as they have a great record and look to be a contender on paper. In reality, however, the Rangers are too thin on the blue line to really challenge elite teams like the Pittsburgh Penguins or Washington Capitals over a seven-game series.
Upsets are always possible, but the Rangers, who have been heavy buyers in recent years and as such have not had a first-round draft pick since Brady Skjei in 2012, need to retain their young assets and high draft picks. Still though, with plenty of depth at forward, they will have some opportunities to make some moves that could help both immediately and in the future.
The upcoming expansion draft for the Vegas Golden Knights might also force the Rangers to jettison players they would otherwise retain. Rather than expose them in the draft and risk losing them for nothing, they could at least look to get some value in return by trading such players.
With these factors in mind, here are the top five players on the Rangers' current NHL roster (i.e., prospects are not included) who could be on the move by March 1.
1. Brandon Pirri
The Rangers signed shoot-first forward and power-play specialist Brandon Pirri to a low-risk one-year contract worth $1.1 million late in the offseason. It seemed like a shrewd move for the club, as they added more depth, youth, and scoring punch to their lineup.
Pirri's early returns were strong validation for the signing, but after that, he cooled off and has not returned to that early-season form. He has just three goals since the beginning of December. As a result, Pirri has fallen out of favor with head coach Alain Vigneault, having become a regular healthy scratch. He has not dressed for the Blueshirts since Jan. 31, with Oscar Lindberg and Matt Puempel having passed him on the depth chart.
Something has to give with Pirri, and a trade seems like a strong possibility. Despite his struggles, he could still provide value to a team looking for more scoring depth, for the same reasons the Rangers originally signed him. He might thrive on a team without as much forward depth as the Rangers.
Pirri was traded at the deadline just a year ago, with the Anaheim Ducks acquiring him from the Florida Panthers for a low price (a sixth-round pick). Even so, the Rangers could conceivably get more value back for Pirri in what is truly a seller's market, despite what Vancouver Canucks general manager Jim Benning believes. Perhaps they can acquire a mid-to-high-round draft pick or a cost-effective right-handed defenseman if Pirri is part of a bigger package. In any event, if the Rangers don't envision the 25-year-old Pirri as part of their long-term plans, they might as well try to obtain some value for him.
2. Oscar Lindberg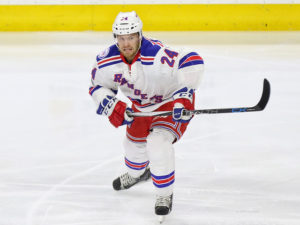 Similar to Pirri, Lindberg is another young, solid forward on the Rangers' roster who could be expendable because of the team's depth. He seems to have found his game after returning earlier in the year from hip surgery he underwent in the offseason.
Lindberg, a center, plays a sound game at both ends of the rink, as he is defensively responsible but has shown some flashes of scoring ability at the NHL level (he had 13 goals in 68 games last season). That and his improved play recently could be shining the light on him as a valuable trade commodity.
Again, since the Rangers have enough pieces at forward where Lindberg isn't a critical piece and likely won't be in the coming years, perhaps they will look to dangle him as part of a package to improve their defense for both the stretch run and future years. They could also just load up on draft picks, as their cupboard is still reeling from the buy-now trades of the past few seasons.
3. Jesper Fast
Like Lindberg, winger Jesper Fast represents a depth forward that the Rangers can afford to part with in order to bolster areas where they need more help (i.e., defense and draft picks).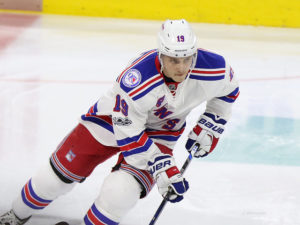 The two big differences with Fast are: A) he will be eligible for the expansion draft for the Golden Knights, and B) Vigneault tends to show favoritism toward Fast, as he has sometimes illogically put him in the top-six.
Fast's eligibility for the expansion draft means that the Rangers will either have to expose him to a potential selection by the Golden Knights or use one of their seven forward slots to protect him. Given the other forwards on the roster that need to be protected, the latter seems unlikely. That makes the idea of trading Fast for some value more enticing, as it would surely be better than losing him for nothing.
Vigneault's liking of the 25-year-old Swede, however, might keep the Rangers from moving him. If that's the case, though, there is a chance Fast could be playing in Las Vegas next season.
4. Michael Grabner
Besides Fast, perhaps the player on the Rangers' roster that the club faces the biggest risk of losing is Michael Grabner. The 29-year-old Austrian speedster has been a revelation for the Rangers this season after they signed him to a bargain of a contract in the offseason (two years with an annual cap hit of $1.65 million).
Grabner leads the club in goals with 26 (as of Feb. 18) and has added a vital speed element to their penalty kill that they have missed since losing Carl Hagelin after the 2014-15 season. Trading him now after he's been such a huge part of their success this season would be unforeseeable in almost any other year. However, the expansion draft will force the Rangers and other teams into difficult situations.
Right now, assuming that the Rangers don't retain pending-RFA Pirri beyond this season, the team would have to expose two of the following forwards in the expansion draft: Grabner, Derek Stepan, Mats Zuccarello, Chris Kreider, Kevin Hayes, J.T. Miller, Mika Zibanejad, and Fast. Rick Nash is automatically protected because of his no-movement clause, leaving just six slots for the eight forwards listed.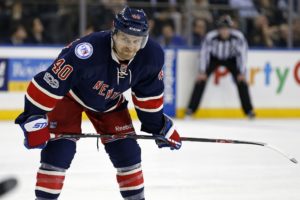 If Fast isn't traded, he is almost certain to be exposed. That leaves Grabner, as the other six players listed are more important to the Rangers' young core, despite Grabner's incredible play this season. The risk of losing Grabner, who would undoubtedly be a very attractive piece for the Golden Knights, might make the Rangers consider selling high on him at the deadline. At this point, given his production, he is probably worth a first-round pick.
Nevertheless, it would sting to not be able to keep Grabner, who is signed for another year at a great price. Of course, there are other options for the Rangers…
5. Rick Nash
One of those other options is Rick Nash. Despite not having scored at an elite clip over the past couple of seasons, the 32-year-old Nash is still a highly effective player for the Rangers in all three zones. That being said, because of his age, he is not as critical to the Rangers' long-term plans.
Nash is signed through next season at an annual cap hit of $7.8 million, a number that would be great for the Rangers to clear as they try to lock up their young players long-term and bolster their defense going forward. Since the Rangers now cannot expose Nash in the expansion draft, it would not be a bad idea to explore the trade market for him.
Other Possibilities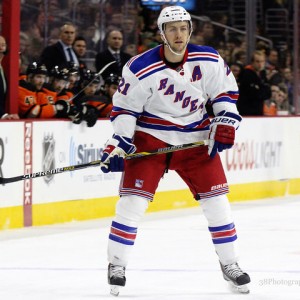 Stepan, who is signed for another four years after this one at an average annual value of $6.5 million, is another big-name player the Rangers could also consider dangling in the trade market for similar reasons, but his younger age (26) makes him more valuable to the Blueshirts. Of course, that also might give him more value than Nash in a theoretical trade, but it's more difficult to imagine the Rangers moving Stepan than Nash.
Looking again at depth players, Puempel is another one who could be moved as a result of the numbers game with Pirri, Lindberg, and Fast, but the fact that the Rangers claimed him off waivers earlier in the year, coupled with his flashes of offensive skill (six goals in 19 games as of Feb. 18), seems to point to the idea of the Rangers wanting more time to see what they have in him.
The Rangers need to think both about the short-term and long-term in any trades they make, but the expansion draft opens up the idea that they could look to be buyers in some situations and sellers in others. It should be very interesting to see how they and other teams approach a trade deadline that has this unique wrinkle.
Tom has been with The Hockey Writers for almost four years. After previously covering the LA Kings and the New York Rangers, Tom now covers the Anaheim Ducks.
While in college at Clemson University, the 2016 college football national champions, Tom wrote game summaries and feature articles for the official team website of the Greenville Drive, a Class-A minor-league baseball team and affiliate of the Boston Red Sox. Tom is happy to be able to continue to fulfill his passions for sports and writing with THW.