Coaches vow that consistent play equal success.
For this forgettable season, the Arizona Coyotes have been far from a consistent team. Buried among the worst achieving clubs in the NHL, the Coyotes seem to be skating uphill every night. As the season winds down to the final seven weeks, lessons learned should be taken seriously.
Yet, the strong play every night and the kind of consistency needed to grind out wins have faded like a brilliant sunset in the American southwest.
Whether the Coyotes fall behind early, as was the case in most of their home games, or allow an outrageous amount of shots from the opposition, their inability to string standing points together caused their collective dilemma. In most cases, it's been the Coyotes' failure to complete a play, play an entire 200-foot game or finish plays dwarf any results in the standings.
Stop The Broken Record
"(The San Jose Sharks) spent a great deal of time keeping us away," captain Shane Doan told The Hockey Writers after the Sharks defeated Arizona, 4-1 Saturday night. "We had a difficult time getting shots to the net. Their forwards spent too much time in our end."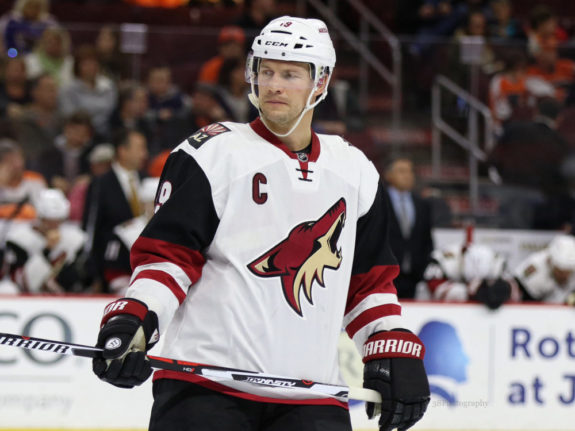 Doan's comments read like a broken record for this team. All season, the Coyotes seem to tread water or spin the wheel like a gerbil. There's energy spent but that hardly leads to positive results.
As with many games, this defeat to the Pacific Division-rival Sharks was a microcosm of the season. Quickly, the Coyotes fell behind and crashed into a familiar pattern. In most games this season, the Coyotes seem to dig a hole which turns into an abyss.
Falling behind 3-0 early in the second period against the Sharks, the path to their latest demise was familiar to coach Dave Tippett. Telling listeners this season that "we have lots of fight," that energy rarely turned into wins and positives on the ice.
"They capitalized on their chances and we did not," Tippett lamented after the San Jose game. "Once you get down, you chase the game. When that happens, you get many one and dones and we had had too many one and done."
The Incentive
This could be one argument in the debate whether a player is considered "a team player" or selfishly out for themselves.
In the loss to the Sharks, center Martin Hanzal scored the Coyotes' only goal.
The tally was Hanzal's team-leading 15th of the season, and he scored five goals in his last five games, including a two-goal effort against Pittsburgh on Feb. 9.
Asked about the reason for his recent scoring efficiency, Hanzal just smiled and said, "I'm playing for my future."
After this season, Hanzal is an unrestricted free agent. If continues to scores and remains injury-free (back issues plagued his career), Hanzal could command attention this summer.