The NHL regular season is drawing to a close and the Anaheim Ducks are beginning to look more and more like contenders rather than pretenders. As is usually the case, contributions by the front office and coaching staff are overlooked. When a team begins to under-perform, critics usually chastise both general manager and coach. On the other hand, only rarely do these integral parts of a successful season receive the credit they deserve. In my opinion, it's about time we take notice of Ducks general manager Bob Murray's genius.
Cap Saving Yo-Yo
Murray has been moving players up and down between the big league and the Ducks' AHL affiliate in San Diego. This nickel and dime strategy has saved cap money over the course of the season. However, Murray hasn't lost sight of the Ducks' Stanley Cup aspirations in the process.
He has kept Cam Fowler, Sami Vatanen, Hampus Lindholm, and Josh Manson on their toes by rotating in Shea Theodore and Brandon Montour. Their ability to compete at the NHL level reminds Fowler and crew that there is always someone waiting to take your spot if your play drops off. Perhaps the biggest benefactor of Murray's strategy has been Kevin Bieksa, who appears to have a jump in his step of late.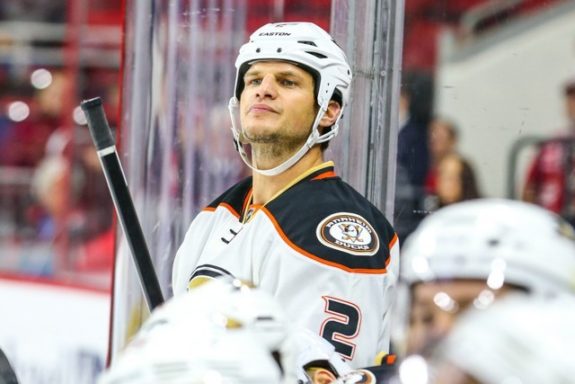 Opportunity and Experience
Brandon Montour is a very talented young man. It wasn't until I crossed paths with Montour in street clothes outside Honda Center that I could comprehend how young the kid is. Fresh legs can do wonders for a club during a deep run in the playoffs, especially when they can provide an offensive spark as Montour can. However, the bright lights and extreme physicality of playoff hockey can expose players.
Murray has given Montour the opportunity to play in several consecutive games on more than one occasion. The one-and-done call-up can be toxic for a young player's confidence and Murray has done well by giving Montour extended opportunities to play at the NHL level.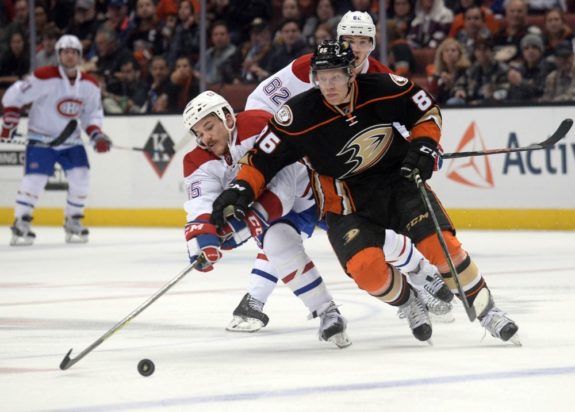 The same can be said for Ondrej Kase, who became the obvious bubble-boy when the Ducks acquired Patrick Eaves at the trade deadline. He logged a lot of playing time prior to the acquisition of Eaves and is likely eager to get back into NHL action now that he's been recalled. The kid does have a pretty sweet set of mitts and you can see that he wants to score every time he has the puck.
Silencing the Critics
Many criticized Murray's lack of movement at the trade deadline, some even going so far as to predict that Eaves would disappoint the Ducks' faithful. However, he has been far from a disappointment. Even Joe Thornton and Brent Burns of the San Jose Sharks have nothing but good things to say about Eaves.
Eaves and Ryan Getzlaf have already developed quite a bit of chemistry, in just a month of playing together. More importantly, Eaves has shown a knack for scoring timely goals. Murray deserves some credit for this acquisition as Eaves has a microscopic $1 million cap hit, much of which is on the books of his former team, the Dallas Stars. The Ducks had virtually no cap space to work with and got the offensive help they needed for a bargain basement price.
Compare the cap dollars per goal scored price tag of Eaves at $35,714.29, to that of Sidney Crosby at $207,142.86. The bang for your buck factor is off the charts. As for Eaves' impact on his new team, he has arguably been the most impactful forward acquired at the trade deadline this season.
| | | | | | | | |
| --- | --- | --- | --- | --- | --- | --- | --- |
| | GP | G | A | P | Plus-Minus | PIM | GWG |
| Patrick Eaves | 15 | 7 | 2 | 9 | 7 | 4 | 1 |
| Alex Burrows | 15 | 4 | 3 | 7 | 4 | 7 | 1 |
| Drew Stafford | 13 | 2 | 3 | 5 | 4 | 10 | 1 |
| Martin Hanzal | 15 | 2 | 8 | 10 | -2 | 8 | 0 |
| Thomas Vanek | 15 | 1 | 7 | 8 | -7 | 4 | 0 |
A quick look at the record of the aforementioned players' new teams in March tells the story.
| | | | | | |
| --- | --- | --- | --- | --- | --- |
| | Team | W | L | OTL | PTS |
| Patrick Eaves | Anaheim Ducks | 10 | 2 | 2 | 22 |
| Alex Burrows | Ottawa Senators | 8 | 3 | 3 | 19 |
| Drew Stafford | Boston Bruins | 8 | 6 | 0 | 16 |
| Martin Hanzal | Minnesota Wild | 4 | 10 | 2 | 10 |
| Thomas Vanek | Florida Panthers | 4 | 10 | 1 | 9 |
Sticking to the Plan
I believe the strongest contribution that Murray has made to the Anaheim Ducks as general manager is his ability to stick to the plan and avoid overreacting to the ups and downs of professional competition. He could have pulled the trigger on a deal which would have seen Cam Fowler's departure from Anaheim several times, but he refused to lower the price tag on Fowler. That decision parlayed into Fowler's emergence as an NHL All-Star this season. He has had to make tough decisions, but has stuck to the plan he has in place for the Ducks even when the team isn't playing well. While the Ducks have yet to reach the Stanley Cup Finals with Murray at the helm, they have been regular challengers for the greatest prize in professional sports and for that Ducks fans should be thankful.
John lives on California's central coast and covers the Anaheim Ducks.