Imagine for a minute the teams that will take part in this season's Stanley Cup Playoffs. You will see teams like the Washington Capitals, Chicago Blackhawks and Pittsburgh Penguins among others who have been to the dance before. These teams have years of playoff experience behind them. They know what to expect. They know what it takes to win.
Then there are teams who have limited experience in the playoffs. Enter the Columbus Blue Jackets.
This April will mark just the third time in franchise history that the Blue Jackets will play in the playoffs. To put this in perspective for you, when the Penguins won the Cup last season, they won 16 games, just as all Cup winners do in today's game. The Blue Jackets in their franchise history have played in a total of 10 playoff games. They are the new kids on the playoff block.
Tortorella Addresses a Concern
Friday night in Chicago, coach John Tortorella addressed this topic with his team and the media before their game against the Blackhawks. Do the Blue Jackets belong here?
"It's a really important point for us here where I thought in the Washington game, when we were in Washington, it looked a little bit to me like we didn't think we belonged there.", Tortorella said. "There were times where it's like are we supposed to be here? We're supposed to be here. We've been a good team all year long. They have put themselves through a process of becoming one of the top teams in this league and I think they should play that way every night."
Tortorella clearly wanted his team to embrace the moment. He later went on to say that he wanted the Blue Jackets to play with a certain arrogance. He also said he didn't want them thinking they were the "second-class citizen."
Although the Blue Jackets didn't get the result they wanted, a 3-1 loss to the Blackhawks, they were generally happy with the way things worked out.
"I thought we played a good hockey game,", Tortorella said. "I thought we played a hard game, a much better game than we played last night (against Carolina). We don't get the result, but as I've told you before at this time of year, I just want us trying to play the right way. We played the right way tonight."
Tortorella hit the nail on the head. The Blue Jackets played a good game all things considered against one of the best teams in the league in their building. It was also the second half of back-to-back for the Blue Jackets. They kept themselves in the game until the end.
Recapping the Night
Things didn't start well. Just 28 seconds into the game, Brandon Dubinsky lands in the penalty box. The Blackhawks score just four seconds later to make it 1-0. How would the team respond to this kind of start? This is where things got encouraging for the Blue Jackets.
The team settled in after that. They were physical. They played with purpose knowing who their opponent was. Towards the end of the first period, the Blue Jackets tied the score thanks to a lucky break. Niklas Hjalmarsson fell which caused Jonathan Toews to turn the puck over. Jack Johnson got the puck to Sam Gagner who fed Nick Foligno in front of the net. Foligno beat Corey Crawford to make it 1-1.
Speaking of Foligno, Friday night was one of his better games in recent memory. Tortorella made a change in the lines, switching Foligno and Boone Jenner. Foligno played with Brandon Dubinsky and Cam Atkinson. I asked Foligno if this switch was what prompted his better game.
"Yeah, I talked about it last game how my offense needs to be there for this club.", Foligno said. "I wanted to bring it a little more so I had to get energy tonight in playing with Dubi and Cam. I like playing with those two guys. Cam loves playing in tight spaces and Dubi is a worker. We just found we weren't playing around too much. We were getting it out (the puck) and going down to their end and making some plays."
The Blue Jackets need the Foligno from Friday night to enjoy playoff success.
After Foligno tied it, the Blackhawks converted a Blue Jackets turnover into a Marian Hossa tap-in goal to make it 2-1. Patrick Kane led the rush and make a perfect pass to Hossa. Once the pass got through, nobody was stopping it. The goal happened 22 seconds after Foligno's goal. Was Chicago ready to take the game over again?
To their credit, the Blue Jackets dug in and played a solid game from that moment on. They didn't score again, but they accomplished something much more important than the result of the game. At least for one night in downtown Chicago, the Blue Jackets proved that they belonged with the best.
Are there issues with this team now? Yes. They need to finish their scoring chances. They need to find their missing power play. Other top players need to start producing.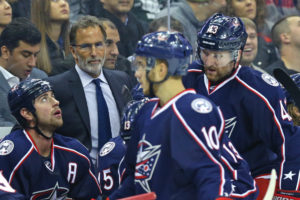 They'll Be Ready
This game in Chicago wasn't about picking the team apart. It's about them showing that they could stay with one of the best teams in hockey. It was an entertaining game that saw both teams get good scoring chances. Both goalies played well. The Blue Jackets were not outclassed. The key now is to turn this into a consistent outcome.
The Blue Jackets play their next two games against the top of the Metropolitan division. They get two more chances to show that they belong with the best. They passed the test in Chicago. Can they continue what they started? That's what will play out on Sunday and Tuesday.
Give Tortorella credit. He saw a team who thought they were inferior and immediately addressed it. Friday night in Chicago was a good first step knowing they have more work to do to get where they want to go. Sunday against the Capitals is another step in the process.
These last five games will afford the Blue Jackets the chance to work things out before the real season begins. They should have no issue being ready for Sunday with the Capitals in town or for Tuesday when they're in Pittsburgh. But after that, they need to focus on being ready for puck drop in game one of the playoffs. That's it.
With Tortorella in charge, that is one thing you can count on. This team will be ready. They belong with the best in the league.