The Anaheim Ducks are having a surprisingly difficult season. Many thought Anaheim would be at the top of the Pacific Division and Western Conference. Instead the Ducks started the season 1-7-2 tying a franchise worst start of 1996-97.
Since the first 10 games of the season, the Ducks have played better(16-10-5) and are now in the playoff hunt in the weak Pacific Division. Anaheim's penalty kill has been ranked first or second for most of the season and is currently 89.7% efficient while short-handed. The Ducks are also playing improved defensive only allowing 27.4 shots per game. The team also ranks eighth in goals against per game, giving up an average of 2.37 goals per game.
The emergence of John Gibson has helped the Ducks cause. Gibson has a record of 9-6-2 posting a 1.84 GAA and .926 SV%. He is currently the Ducks' number one goalie and was named the NHL Rookie of the Month for December. Anaheim also has quality goalie Frederik Andersen, but recently the Ducks made a move sending Max Friberg to Montreal in exchange for Dustin Tokarski. The move sparked further trade talks as the Ducks already have Anton Khudobin and Matt Hackett playing in net with Anaheim's AHL affiliate team the San Diego Gulls.
Who Could the Anaheim Ducks Pursue?
One of the names that comes up is Jonathan Drouin since his agent's announcement requesting a trade from Tampa Bay. The Lightning are looking for a right-handed defenseman or forward, which has caused the names of Nick Ritchie and Brandon Montour to come up. There are several teams interested in Drouin, so it's not a certainty that Anaheim and Tampa Bay will reach a deal.
There are other possibilities that could be available to Anaheim. The Ducks have plenty of centers on their roster so adding a scoring winger would be the likely scenario. Some names to watch are Cam Atkinson, Loui Eriksson, Jordan Eberle, Andrew Ladd, and Kyle Okposo.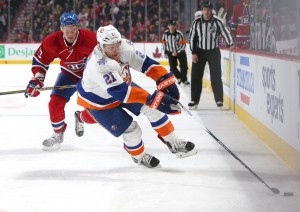 Columbus' Atkinson is a right wing that has scored 13 goals and 13 assists in 42 games this season. He skates well and will crash the opponent's net. He is undersized at 5'8″ and 174 lbs, but his work ethic and offensive production could really help Anaheim's lack of scoring.
Edmonton's Eberle is a right wing that scored 10 goals and eight assists in 30 games this season. He has an accurate shot and is a good play maker. One concern is his defensive zone coverage. Another concern is trading within the division since the teams face each other five times during the season.
Boston's Eriksson is a left wing that has scored 14 goals and 20 assists in 41 games. He is a well-rounded player with good stick handling ability, play making, and solid defense. He is also 6'2″ and 196 lbs, which would add more size to the Ducks' lineup. One issue though is he will be a UFA at the end of the season and his salary is $4.5 million, so he could be a high priced rental.
Winnipeg's Ladd is a left wing that has 10 goals and 14 assists in 42 games. He brings size at 6'3″ 200 lbs and could be a good complement on the Ducks top two lines. Ladd is also a UFA in the summer like Eriksson and has a $4.5 million salary too. He too is a rental that the Ducks might not want to take a chance on.
Lastly, New York's Okposo is a right wing that has 10 goals and 21 assists in 40 games. He will go to the net, skates well, and has a very deadly shot. He brings good size as well at 6'0″ and 217 lbs. Like Eriksson and Ladd, Okposo is also a UFA at the end of the season.
Those are some options the Ducks could pursue. Look for the Ducks to likely move a goalie and possibly a draft pick or AHL player for a winger. There have been reports that Bob Murray is taking offers for Anton Khudobin and Frederik Andersen. Khudobin wants another chance to play with an NHL team and could be the one moved.
The Ducks can make the playoffs, but if they want to go deep again this post season, then they need to make a move for an offensive player.