The Los Angeles Angels of Anaheim are hosting "Ducks Night" on August 16 when they face the Seattle Mariners. As a part of the festivities, they will sport some pretty good-looking hybrid gear.
More than just bobble head night or big foam hand night (which should definitely be a thing), the team will wear a cap that combines the Angels and Ducks logo during batting practice. It's the same logo that the Ducks debuted back in February when they hosted an "Angels Night" at the Honda Center.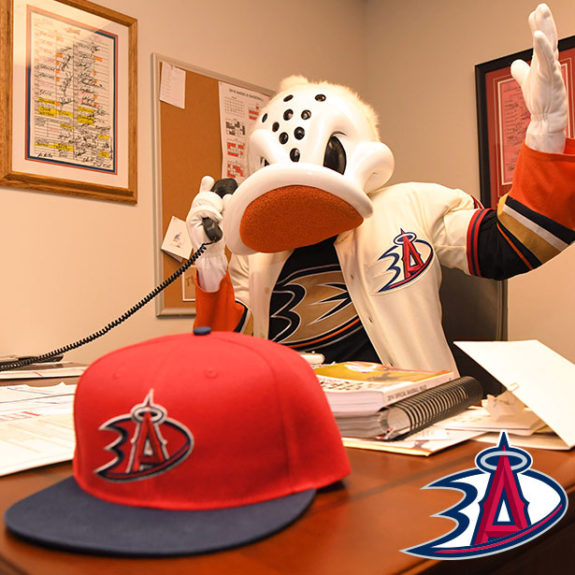 In addition to the cap, the team will wear a cream-colored jersey that sports the hybrid logo on the front and the traditional Angels' "A" on the shoulder. You can get a look at that jersey in the photo above where Wild Wing is doing his best impression of Bob Murray hiring Randy Carlyle.
Fans will have the opportunity to pick up these caps at the game so that they can say I was there when… two teams had a promotion.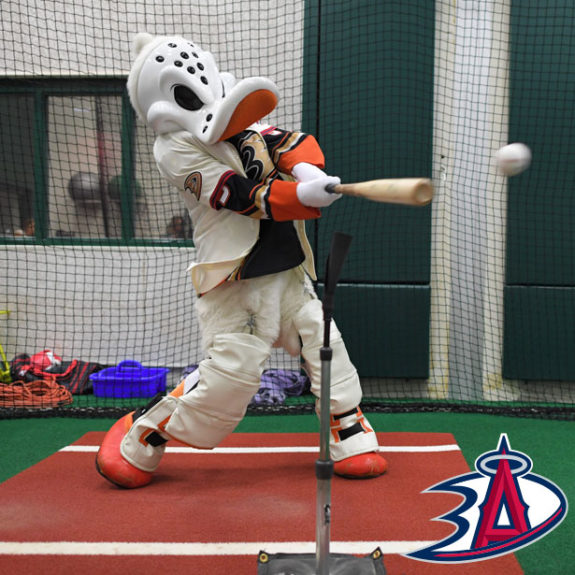 Dustin Nelson is the News Editor for The Hockey Writers. He's a contributor to Hockey Prospectus, Hockey Wilderness, and writes a column for Rotowire. He's also written for Gone Puck Wild, Wild Xtra, InDigest, Electric Literature, The Rumpus, Tiny Mix Tapes, Prefix Magazine & other publications. Have a tip? Email him at dlukenelson[at]gmail[dot]com.