The Anaheim Ducks didn't win the draft lottery. So goes the draft luck of this franchise, who have now famously missed out on two generational talents by a single pick – Sidney Crosby in 2005 and Connor Bedard in 2023 – in recent hockey history. Life goes on for Pat Verbeek and company, who must continue to focus on re-signing members of their young core set to hit free agency.
---
---
Next on my list of free agent evaluations is Trevor Zegras, the budding NHL superstar who has made "Michigans" and fancy stick handling seem ordinary. After completing the final season of his entry-level contract, he sits atop the list of this summer's free agent class for the Ducks and, like his teammate Jamie Drysdale, is an essential piece of the franchise's future.
Trevor Zegras the Player
Taken ninth overall in the 2019 NHL Entry Draft, Zegras dazzled on the international stage at multiple World Junior Championships (WJC) and at Boston University before turning pro during the 2020-21 season. In his lone season at Boston University, he produced 36 points in 33 games, which were third-most among Division 1 freshman. He was one of the team's top players, and his performance that season earned him several accolades including Hockey East Third Team All-Star, Hockey East All-Rookie Team, and was a finalist for the Hockey East Rookie of the Year.
On the international stage, he made Team USA's 2020 WJC roster, and surprisingly climbed the depth chart and led all Team USA skaters in assists for the tournament with nine. His encore performance the following year was even more impressive. In helping Team USA win WJC gold in 2021, he tied Jordan Schroeder's Team USA record for points in a tournament with 18, registering seven goals and 11 assists. He played with swagger, exuberance, and a high level of skill, and looked a class above some of the best 19 and 20-year-old players in the world. In addition to gold, he took home the award for tournament MVP. His elite hands and vision, not to mention a little bit of arrogance, are what you want in your top-line center of the future.
Skill and Confidence In His First Pro Season
Similar to his fellow free agent teammate Jamie Drysdale, Zegras joined the pro ranks late in the 2020-21 season. He first joined the San Diego Gulls, Anaheim's American Hockey League (AHL) affiliate, and immediately demonstrated that he simply was in a class of his own, making plays that were both skillful and jaw-dropping. He had five points in his first two AHL games. And while it is more indicative of your individual skillset than it is your ability to play a team game, this shootout move was something else. The confidence and swagger of a 19-year-old to skate in on the net, pull off that move, and saunter back to the bench like that. Sheesh.
---
Latest News & Highlights
---
Zegras lasted 12 games in the AHL before being called up for his Ducks debut on Feb. 22. He got his first point against the St. Louis Blues on March 3, and his first goal on March 18 against the Arizona Coyotes off a nice feed from Drysdale. With the Ducks nowhere near playoff contention, it was a good opportunity for Zegras to get some minutes at the NHL level before returning to the AHL and then home for the summer in preparation for his first full season.
Nearly Identical Seasons Two & Three
Upon his full-time promotion to the big club for the 2021-22 season, he was going to be leaned on as a source of offense. Ryan Getzlaf was a little older, Rickard Rakell was underperforming, Troy Terry hadn't broken out yet, and the rest of the top nine forwards were more stop-gaps than reliable contributors. Playing mostly in tandem with Sonny Milano, and making some pretty remarkable plays in the process, he completed his first full season of pro hockey with 23 goals and 38 assists for 61 points in 75 games played.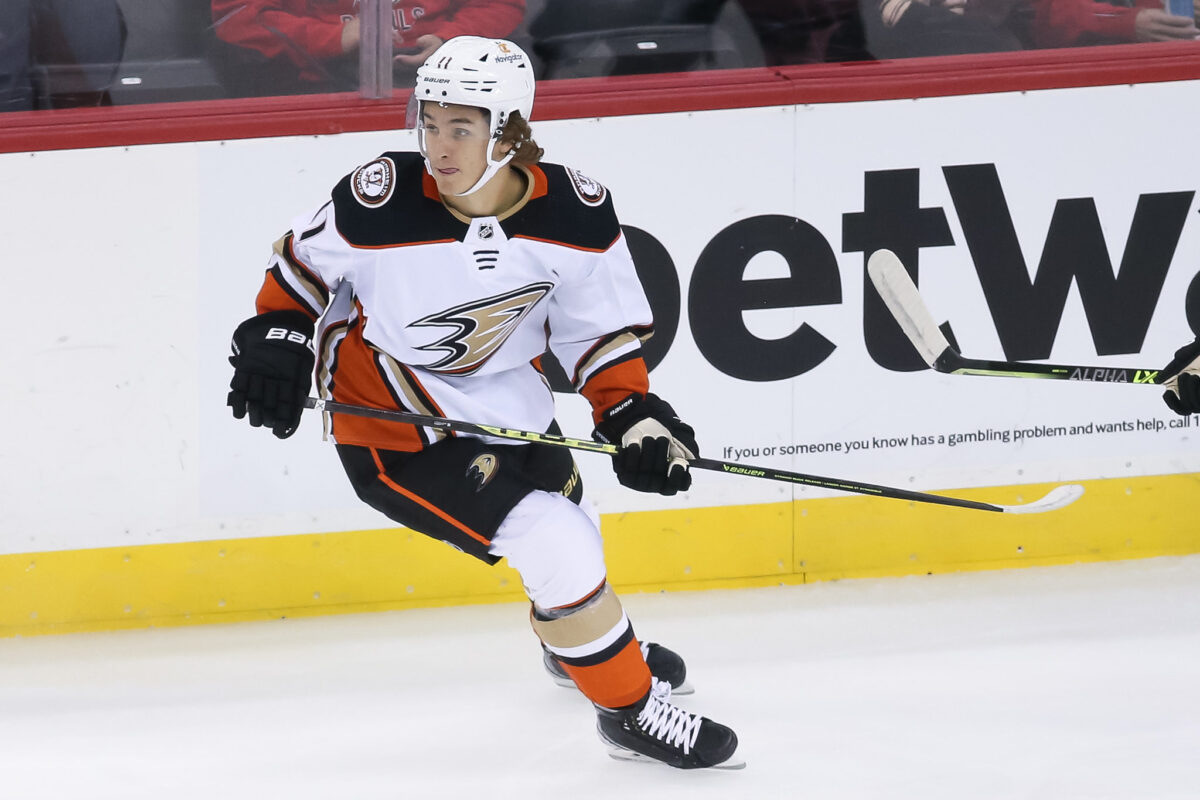 Expectations for the 2022-23 campaign were high after he played his first 100 games with a remarkable level of confidence and skill. Unfortunately, we know how this season went, and Zegras finished with eerily similar numbers this year (23 goals, 42 assists, 12.5% shooting percentage, 17 power-play points) to two seasons ago (23 goals, 38 assists, 12.7% shooting percentage, 17 power-play points). While those 81 games taught him lessons that will make him a better player, it's not wrong to say that he didn't improve statistically as much as hoped or expected. Then again, the Ducks were terrible, opposing teams focused on him more, and he had minimal help offensively outside of Terry, Mason McTavish, and Adam Henrique (when healthy).
Zegras also had discipline issues, racking up 88 penalty minutes, many of them lazy or selfish. Franchise cornerstones, which is what the Ducks want him to be, just can't do that. You don't see Jack Hughes or Auston Matthews spending that kind of time in the box. He also got pushed around a lot. Let's chalk it up to the growing pains of a still-undersized 21-year-old forward adjusting to life as a team's top center.
Prediction: Lock Him Up for At Least Five
From a skill and expectations perspective, Jack Hughes is probably the most logical comparison for Zegras. Hughes signed an eight-year, $64-million contract in the middle of his third season, where he broke out for 56 points in 49 games played. He has gone on to live up to that price tag in the first season of his extension, finishing with 99 points and leading the New Jersey Devils to the playoffs.
Related: Evaluating Ducks' Drysdale As His Free Agency Looms
I want to see Zegras lead the Ducks in the same fashion; he's certainly capable of it. Hughes' contract is the current market price for young centers, and it'd be no shocker at all to see him ask for the same money his buddy Hughes did. I predict he lands somewhere in that realm – a six-year, $36-48 million range – with less term, so he gets a chance at another raise before his age-30 season. If you'll recall, recent franchise players Corey Perry and Getzlaf signed five-year, $26.625-million contracts before getting their eight-year, $66-million extensions. The point is, shelling out that money for a player who still has plenty of work to do is a tough sell, but his potential to be one of the top forwards in this league someday makes it likely we see Verbeek sign Zegras to a hefty new deal this summer.