The Anaheim Ducks made their fourth signing since July 1st on Tuesday afternoon, inking right winger Jared Boll to a two year contract with a $900,00 AAV.
Jared Boll gets a two-year deal from Ducks. One-way both years, $900K AAV.

— Eric Stephens (@icemancometh) July 5, 2016
Boll's largely been known as an enforcer throughout his career, racking up 100 or more penalty minutes in every season where he's played more than 30 games. He's not a bad fighter either, winning  or drawing 17 of his last 21 bouts. So the Ducks now have a tough guy on their roster, and on a one-way contract to boot. That guarantees he'll occupy an NHL roster spot.
Enforcers are an endangered species in the NHL, their impact on the game nearly extinct. Speed, skill, and depth are what drive winning in 2016. Every spot on a roster is a valuable commodity, especially in a salary cap ecosystem.
Give that context, it's downright absurd that general manager Bob Murray actively sought out Boll's services. A team faced with both internal budget constraints and a tricky cap sheet, the Ducks have essentially no margin for error financially. To boot, Murray is paying the veteran pugilist $225,000 more than another recently signed Duck, Mason Raymond. Let's compare them statistically, just for kicks: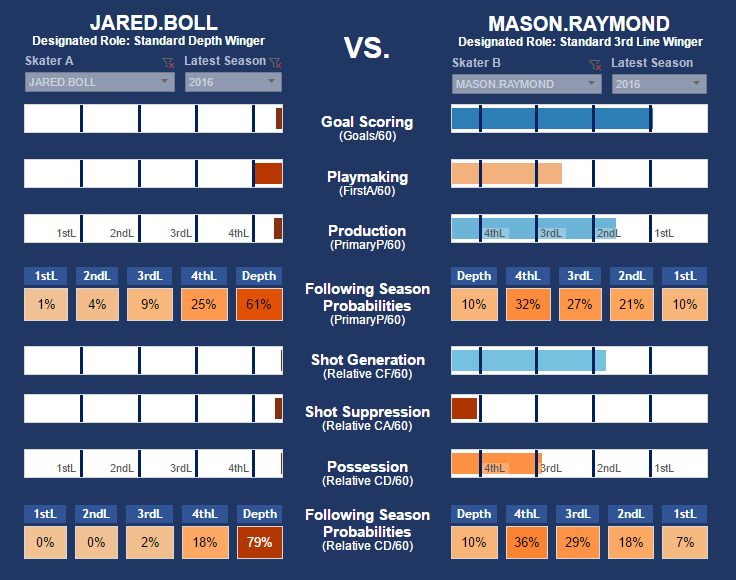 Boll can't score (he hasn't scored more than 1 goal in a season since 2012-13), and has no tangibly positive effect on even strength play. Clearly, he should earn more than Raymond. All that guy can do is be a solid second to third line forward. Who needs those anymore?
The common retort here would be, "Well, Boll barely plays, and offense isn't his role anyway." Let's examine that line of thinking, for even more kicks.
First, all stats listed here adjust per 60 minutes, so the "little to no ice time" argument gets chucked out the window. Secondly, even if his role isn't to bring offense, he clearly can't even play a lick of defense. The few minutes that Boll will receive a night will basically have the Ducks playing shorthanded. And if his ice time ends up being as low as it's been throughout his career, then what's the point of paying him to be on the roster anyway? Are guys like Hampus Lindholm, Sami Vatanen, and Rickard Rakell going to feel "safer" with big bad Boll out there? Probably not.
Boll's impact on the ice will be negligible, yet the chunk of salary cap that he now occupies won't be. It's no albatross, but it's money that could be far better spent pretty much anywhere else. And let's get one thing clear: this is by no means a personal indictment of Boll. He's getting his money, so more power to him. No one forced Anaheim to sign him though, and therein lies the issue.
As a manager operating on a tight budget, the logical assumption would be that Murray would be cautious with every dollar allocated. That clearly isn't the case.
Felix Sicard is the Anaheim Ducks' Lead Writer for The Hockey Writers. Now in his third season of covering the team, he writes previews and recaps for all Ducks' home games, as well as weekly analysis pieces.
In addition to covering the Ducks at THW, Felix co-hosts SB Nation's Anaheim Calling: The Podcast, as well as hosting The Garage Hockey Podcast.
For consistent Ducks' content, be sure to check out his Twitter @Felix_Sicard.