As the release of NHL 17 from EA Sports inches closer, the developers have answered another batch of questions at the ASK EA SPORTS NHL section of the website.
The latest questions and answers involve additional cameras, how the ECHL will be utilized in its first year in the game, and if shared rosters will be coming to the franchise a la the Madden NFL Series. You can check out all of the latest answers below for easy reading.
---
Will there be improvements to stick on body/stick on stick collisions? 
Yes, we have made improvements to how we recognize stick-on-stick and stick-on-body collisions to determine if the puck should come free. We still don't run full physics reactions for stick on stick though as players don't currently have enough control to pull their stick through and evade in ways they can in the real world.  That is why we still want to produce the right incidental contact effect on the puck though to reward defensive positioning.  We have also made updates to how the puck comes loose when it collides with sticks, skates and bodies to ultimately reward good defensive position.  
Will there be any added camera views for game action in '17?
We have added a new camera for goalies that will be available at launch.
Has Opponent (or team) AI improved?   
Yes, there have been a lot of improvements to both Offensive and Defensive AI to improve the flow of the game and the reliability of your teammates.  You will see off puck defenders doing a much better job of sticking with their man and recognizing potential passing options as bigger threats. Those players will also utilize net battles to tie up players in front unchecked for long periods of time.  On offense, the AI is smarter how they are moving the puck and in general has more flow during breakouts. 
Are the customization options such as jerseys, logos and stadiums going to be able to be utilized in EASHL or is it exclusive to certain modes?  
Yes. Our new EASHL club progression will open up the opportunity to build a unique brand and identify for your team as you progress from a Community Rink all the way up to a state of the art NHL Arena. Along the way you will be unlocking new uniform styles, logos, songs, arenas, and much more.
Will you be able to play in the ECHL for all game modes?  
We are excited about the addition of the ECHL in the game and for NHL 17 they will be available in the following modes: Play Now, Season Mode, Hockey Ultimate Team and Online Versus. With the ECHL being an affiliate league with the NHL we will be looking at whether to include them in our other experiences (Franchise Mode and Be A Pro) in the future.
As goalie, can you slam your stick off the post in frustration when you let in a bad goal or the defense leaves you hanging?  
We have added new post goal reactions for goalies from many of the positions he finds himself in, so you will see more variety there.  For NHL 17, we won't be giving manual control over this though.
Will the potential system in GM Mode remain with the "Elite," "Top 6," "Top 9," etc. system or could the star system make its return? Always preferred the star system over the current system.  
The star potential system and the current system are one and the same. Elite is the equivalent to 4.5 star player and Top 6 is equivalent to 4 star and so on. This change was done to better convey what a prospects potential is.
Is vision control back?   
This is an interesting question as vision control has never gone. We have made many improvements to vision control and facing angles to give more control over your players.  When you glide, you still need to pivot your hips to the direction you are moving, so there will be times when your facing isn't directly at the puck if what you're trying to do isn't physically possible.  The changes we made to the angles at which you can do backwards cross-overs has made it much easier to move laterally when skating while facing up ice, and we have simplified your vision control targets so that it is much more consistent which makes defending off the rush much better.
Can we select third jerseys in HUT and EASHL?   
In EASHL, you can use third jerseys however they will be an unlockable item so your club will have to progress to earn the ability to use their third uniforms. In HUT, you can designate a third jersey option as a home/away jersey but we don't currently support an independent third jersey option .
What improvements have you made to make goaltending more fluid and stand out verses previous years?  
For goalies we have introduced a new save mechanic where they can make blocking vs reactionary saves.  When they have the ability to get their body in front of a shot, they will — using their chest and shoulders to block pucks rather than making reactionary limb based saves. For Player Controlled Goalies we have also updated the mechanics to get to the post quicker using reverse VH and butterfly leans to really seal up against the post.  We have updated our precision movement to give more control and allow you to control the speed using the analog stick.  We also made a lot of improvements to responsiveness by allowing you to exit out of animations – for example if you want to drop back down to butterfly before fully standing up. That's just some of the improvements we've made to goaltending this year.
Is practice mode updated?   
Practice Mode is fully featured this year with users being able to do Free Skate practices of just 1 player on 1 goalie as well as team practices with you creating the scenarios and Goalie Practice where you set the scenario and practice your goaltending skills. There is a way to learn the game for every situation.
Will there be any inclusion of a EASHL player progression or team progression system while still keeping an even playing field?  
We are still focused on providing an equal playing field, but we've added an aesthetic progression element in NHL 17. All progression items the player or club can unlock are purely for visual appeal and will not give an unfair advantage in any way. Our hope is that we have the right amount of unlocks to keep our players wanting to play those few extra games to get the next unlock which they can show off to the rest of the EASHL community. Progression in EASHL is about being prestigious and showing that off to the world.
Can we make custom goalie masks?   
Unfortunately, the ability to create custom goalie masks will not be in NHL 17 however, as we look to expand the vast array of customization options moving forward, goalie masks will be something that are definitely considered.
Can we create custom teams/jerseys in Quick Play, HUT, Be a GM, and EASHL?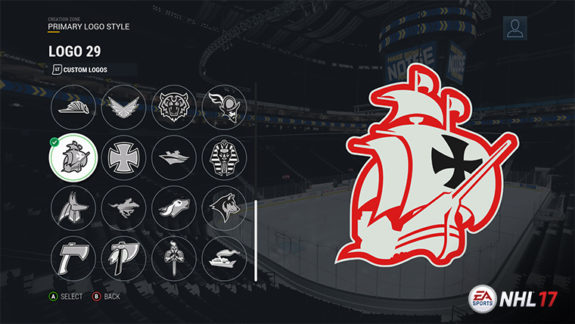 Create Team allows people to create teams and take them into Play Now and Franchise Mode. As well in the EASHL you will be able to unlock customization and then start to build your team identity using the create team tools. In Hockey Ultimate Team you will not be able to create teams and take them into the mode. 
Will you guys consider the ability to make public rosters to share throughout the online community? It's a huge success with Madden and it generates over 13,000 shared rosters, playbooks and sliders per year.  
Shared rosters will not be a feature for NHL 17 but we will consider it for future iterations.