The Guelph Storm made their first visit of the season to Erie on Saturday night. With that came my first chance to view top prospect Ryan Merkley live in his draft season.
One thing comes to mind when thinking of Merkley. That's his offense. Every time he touches the puck, he's always looking to make something happen, even to a fault.
In 2016-17, Merkley scored 55 points as a rookie. That's very good. He however also managed to finish the season with a -41 rating. We must look at plus/minus with a grain of salt. But -41 for someone who was almost a point per game is telling.
Ryan Merkley with an assist for Guelph tonight, has 4 pts in his last 3 games (1g, 3a). #OHL #NHLDraft2018

— NHL Watcher (@NHL_Watcher) October 29, 2017
So Has Anything Changed?
At least for one night, not much has changed with Merkley. He's still creating offense every chance he gets. He even found himself with a breakaway in overtime on Saturday only to miss the net with his shot. You don't see defensemen get a breakaway very often. But given the way Merkley plays his game, it's not a surprise.
Merkley is always looking to make something dynamic happen. He possesses great speed in open ice. He can lead the rush. The thing that stands out that needs work is his decision-making. On multiple occasions Saturday, he tried taking matters into his own hands a little too much.
For example, Merkley rushed up the ice into the offensive zone. Instead of making passes to open teammates, he circled around the Otters net with a defender draped on his back hoping to escape him. Although he kept possession for 15-20 seconds in the offensive zone, his eventual pass was intercepted. The Storm didn't get a good scoring chance out of the play. Had Merkley dished to his open teammate at the point, they could have had multiple scoring chances.
Before the game, I asked Merkley if he thought of himself more as a "rover" than a defenseman. Blue Jackets coach John Tortorella recently used that term to describe Zach Werenski. After pondering it for a minute, Merkley said "Yeah, I guess so."
Teams will covet Merkley because he is an offensively minded, right-shot defenseman. Now how is his defensive game? Let's just say for now it's a work in progress but there is some improvement.
Merkley's Defensive Play
At times last season, Merkley's defensive game was not pretty to watch. He found himself out of place often causing opposing teams to take advantage of multiple scoring chances.
Saturday night in Erie, there were still some defensive issues but also some improvement. On a couple of occasions, it didn't look like he gave a full effort in back checking. In one specific instance, you could see the disappointment in his face when a pass didn't work the way it should have. He stopped at center for a split second while the Otters produced a counterattack.
I asked Merkley about the one area of his game he wants to improve the most this season. He said "to make sure I give 100% in the defensive zone." This quote alone proves he hasn't always had the effort.
Now to his credit, Merkley made a couple of nice defensive plays in the game. He forechecked Otters forward Max Golod and made a strong play to take Golod out of the play and separate him from the puck. Merkley used his speed to create the opportunity. That is the kind of thing Storm coach George Burnett works on with Merkley.
For those of you who wonder if Merkley will figure the defensive part of the game out, recall coach Burnett worked with another offensively minded defensive that turned out OK. His name? P.K. Subban.
Merkley knows he must improve this part of the game over the season. He told me his focus is improvement and not the draft. Like Akil Thomas, Merkley will start thinking about the draft more after the season.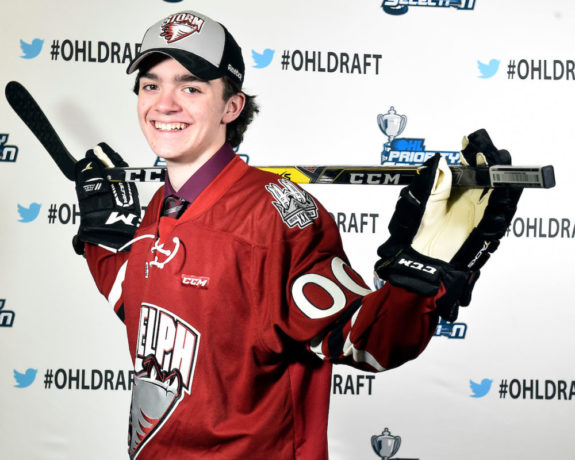 Quick Hits
Merkley hails from Oakville, Ontario which is home to current NHLers Steve Mason and Scott Laughton. He told me that hockey has always been a part of his life. He like many kids had a backdoor rink and called it his fondest memory growing up playing hockey with his sisters and his father. He knew he wanted to be a defenseman at age 10 when he made the switch from forward.
Don't worry Toronto fans, Merkley is a huge Leafs fan. "Toronto for sure," was his quote when asked who his favorite team was.
Just for fun, I asked Merkley what his favorite food and movie was. He said he loves the 10-piece chicken nuggets at McDonald's. As for the movie, especially on long bus trips, he said he likes "Prisoners" with Hugh Jackman.
Merkley could be this season's polarizing draft prospect given his offensive upside and defensive liabilities. It's just October. He has plenty of time to improve defensively. We'll see if he does. We thank Ryan for spending a few minutes with us on Saturday.