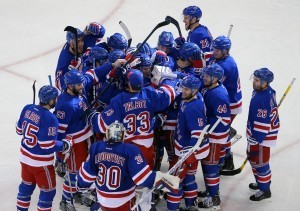 The Eastern Conference Finals begin tomorrow afternoon in Madison Square Garden at 1 p.m.  The series between the New York Rangers and the Tampa Bay Lightning looks to be a match with two very similar teams.  New York, who won the President's Trophy with 113 points and Tampa who finished a mere 5 points behind them.  Both teams have speed.  Both teams have a hot goalie.  Only one team can win this best of seven.
At first glance, this may appear to be a series where New York has a big advantage especially on the road.  It has been said ad nauseam that to hoist the Stanley Cup, a team must be able to win on the road.  During the regular season, the Rangers won more games on the road than any NHL team.  They won 28 times away from MSG which is 10 more road wins than Tampa.  Of all the playoff teams this year, Tampa had the least road victories.
I warn anyone to just look at the sheer number of road wins is misleading.  While Tampa won only 18 times away from home, on the final eight playoff teams, they actually had the best road record against the final eight playoff teams.  While they may not have won on the road against bottom feeders, they certainly won against the league's best while traveling.  In fact, so far in the playoffs the Lightning have won four games and lost two on the road while the New York Rangers have won three and lost two away from New York.
So, let's get to my breakdown:
Special Teams will be Special for the Lightning
A big part of the reason that the Lightning beat Montreal is that their special teams began to click.  The PK unit for Tampa has not allowed an opposing power play goal in 15 of their last 16 chances.  In case you don't have a calculator handy, that is 93.8% effectiveness.  That, my friends, wins championships.  Couple this with the fact that the New York power play sputtered in the Washington series going 3 for 18.  Folks that is 16.7%.  While it isn't horrible, I bet the Rangers would tell you that they need to pick that up in the Eastern Conference Finals to have a chance to win.
On the power play side, the Tampa Bay Lightning scored at an incredible 35% on the PP against Montreal.  Going 7 for 20 in the series was one of the deciding factors and as hot as they are now, there is no reason to think it will suddenly stop.  Conversely, the New York PK unit did a great job against Washington's vaunted power play unit, which finished the regular season as the number one PP in the entire NHL.  The New York Rangers allowed Washington only one power play goal in 15 chances.  So, in this case it could be the personification of the irresistible force meeting the immovable object.  When the irresistible force is shooting at 35%, I'll take that all day long.
Ben Bishop will outplay Henrik Lundqvist
It may seem like I am reaching on this one but here are some cold hard facts.  In the three regular season games between these two teams, Bishop outplayed Lunqvist….by a long shot.  Big Ben gave up 2.34 goals in the three games and had a respectable .900 save percentage.  King Henrik was lost during the regular season matchup allowing an abysmal 4.74 goals per game and saving only 82.3% of the shots his way.
Bishop just out-dueled the presumed Vezina Trophy winner in Carey Price of the Montreal Canadiens by simply saving more shots and allowing less goals in their six game series.  Why some "experts" think that Bishop cannot do that to Lundqvist is beyond me.  
The Triplets
Much has been said recently about Tampa's second line, known as the Triplets.  Tyler Johnson, Ondrej Palat and Nikita Kucherov are becoming more and more known by all hockey fans as the playoffs progress.  For us in Tampa, we have seen what these three sophomores could do for two years now.  In case you were unaware, Johnson and Palat were two of the league's three finalists last year for the Calder Trophy given to the Rookie of the Year.
Kucherov, the youngest of the three at 21 years young possesses a wicked wrist shot and has since he began playing internationally at the World Junior Cup in 2011.  In that competition, Kuch, then known as the Russian Rifle scored 11 goals and 10 assists for a total of 21 points in SEVEN games.  A footnote in this series that has so many back-stories that I've lost count is this: In his first NHL game, Nikita Kucherov scored on his first shot on goal against a future Hall of Fame goalie – Henrik Lundqvist.  Here is the video of that from last season.
The task for the Rangers is to stop the Triplets Line.  Coach Alain Vigneault of the Rangers has to pick his poison.  Does he game plan to stop the Triplets?  If so, he may not have the defensive horses to stop a red-hot Steven Stamkos and his line.  If Vigneault decides to stop Stammer, Valtteri Filppula and an appendix-less Ryan Callahan, then I promise you that the Triplets will skate circles around Lundqvist and score and score in bunches.
The Back-story For the New York Rangers and Tampa Bay Lightning
Everyone who even has a peripheral knowledge of the NHL knows about the trade between these two teams last year.  Trading captains.  Marty St. Louis wanted out of Tampa and demanded a trade, to make things more difficult for Tampa G.M. Steve Yzerman, St. Louis using his no trade clause as leverage limited the teams he would accept a trade to one – The New York Rangers.
Yzerman, in a brilliant move for Tampa secured Ryan Callahan for St. Louis.  Tampa also got two first round draft choices.  New York's 2014 and 2015 # 1 picks.  I digress, but if Yzerman isn't Executive of the Year with this move, they ought to do away with the award.
So, St. Louis begat Callahan who begat Anton Stralman who begat Brian Boyle.  Remember that daunting penalty kill unit of Tampa I mentioned, well three of the key components were the former Rangers.
In addition to St. Louis, the Rangers have Dan Boyle and Dominick Moore on their roster and all three are former Tampa Bay Lighting.  Boyle along with St. Louis were integral parts of Tampa's lone Stanley Cup champion in 2004.  Moore played a key role for Tampa in their 2011 playoff run that saw the Lightning go to the Eastern Conference finals where they lost in game 7 to Boston by a score of 1-0.
Which team has the better of their opponent's former players?  With Dan Boyle's health in question after that rather questionable hit laid on him by Brooks Orpik in the game 7 against Washington, there is no word yet as to when or if he will return.
In case any of you missed it, Marty St. Louis had a terrible series against Washington and even stayed on the bench for a long period of time in the crucial game 7 against the Capitals.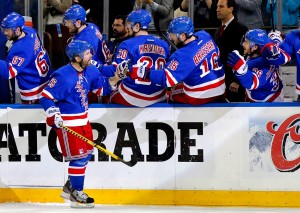 Dominick Moore continues to play like he did when he was in Tampa.  Wins face-offs, great defender and does a lot of the dirty work that is necessary to win playoff games.  That being said, as far as the former player back story, there is a huge advantage to Tampa.
Who Is Going to Win?
This will be one heck of a series with breakneck speed on both squads.  Two great goalies who are both playing well.  Two transition teams especially in the neutral zone.  I see it going six games and Tampa moving onto the Stanley Cup Finals.
Born in Chicago, Illinois. Grew up playing and loving sports. Spent most of my formative years playing, debating, arguing and talking sports. for the last couple of years I have written about hockey. I am currently a Tampa Bay Lightning contributor for The Hockey Writers. I know that I may not always be right, but I am passionate about hockey and it is damn hard to hide that passion in my writing.