The Edmonton Oilers have one of the most engaged fan bases in the NHL. Attend any game and you'll see plenty of blue and orange jerseys in the crowd. But what does the name and number you choose to put on your jersey say about you? Here's an in-depth look at the meaning behind your beloved game-day attire, via our not-so-scientific analysis.
No. 99, Wayne Gretzky
The gold standard of jerseys, Gretzky transcends hockey and is recognizable around the world. Those who pull this sweater over their head on game day are comfortable knowing that the No. 99 jersey, be it for the New York Rangers, Oilers, LA Kings or Team Canada, personifies greatness (we won't talk about the St. Louis Blues sweater because it has a less-than-great vibe). They are admirers of the very best of things.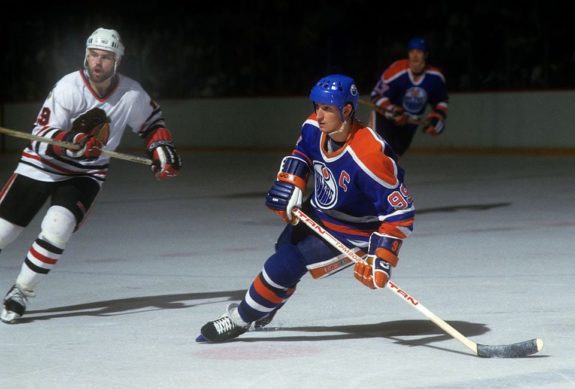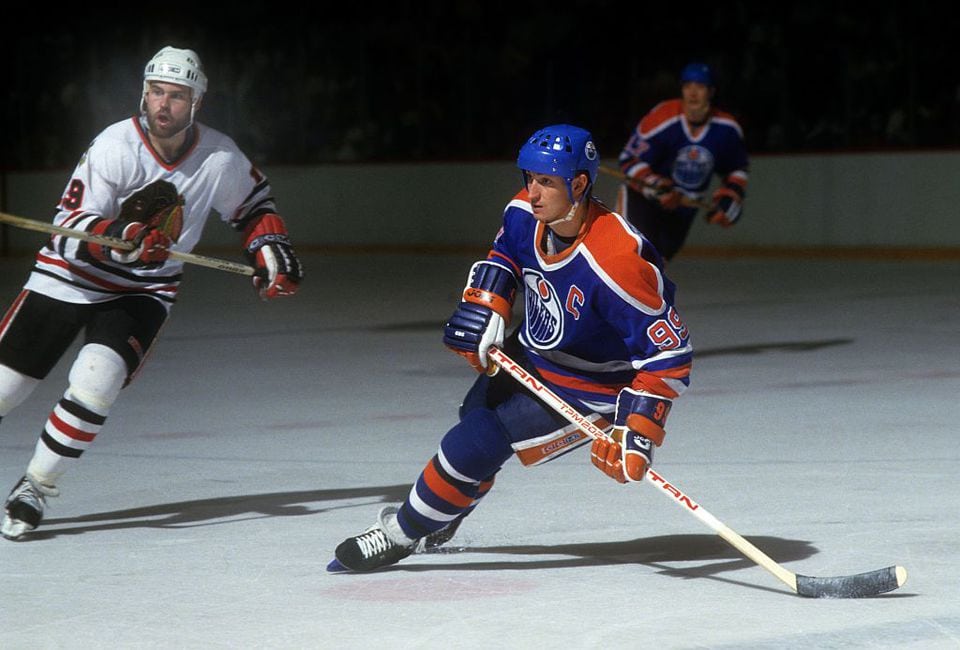 They know that Pulp Fiction was the best movie of 1995, despite that the Academy of Motion Picture Arts and Sciences favoured Forrest Gump that year. These fans are quietly confident, well spoken and friendly to those around them. In a work setting, they're capable of doing it all, but they are happy to share both tasks and accolades with their colleagues. Their success seems to come easy but they put in long hours and make the right decisions. They are always approachable, always likeable, always great and always welcome at the rink.
No. 97, Connor McDavid
One of the top-selling jerseys in the NHL, McDavid's No. 97 floods Rogers Place during home games. Those who don the reigning Art Ross Trophy winner's sweater, are always on the go. They move so fast, in fact, it can be hard to see and fully appreciate their excellence. But their talent is undeniable, as is their optimism. That's because as good as they are now, they know they will get better. It's hard to believe, but it's true.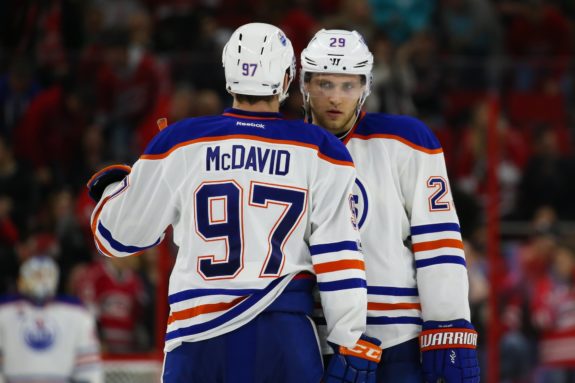 McDavid fans are quiet and value their privacy, but they have a burning passion to live up to expectations and exceed them. Headhunters are constantly trying to lure these talented folks south of the border (or worse, to Toronto) but management won't let them go anytime soon.
No. 94, Ryan Smyth
Ah, Smytty. An Oiler through and through and an eternal fan favourite. Those dressed in Smyth silks are extremely hard workers who are willing to lay everything on the line for their friends, family and colleagues. These fierce Canadian patriots work their way up from the bottom and once noticed, the promotions come quickly.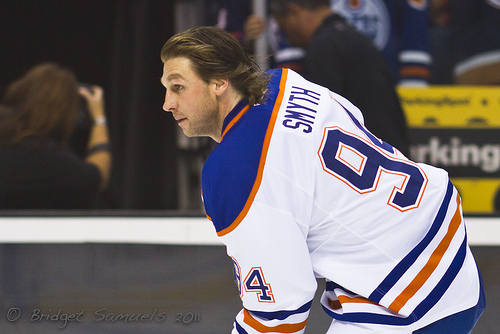 Not known for their eloquence, these Oiler fans tend to go with the flow. You could say that they're "business in the front party in the back" kinda people. They are also in touch with their emotions and are not afraid to shed a tear in public. No matter how far or how often they are away from home for work, they always look forward to coming back to Edmonton.
No. 93, Ryan Nugent-Hopkins
The Nuge is huge when it comes to jersey-clad hockey fans in Edmonton. Always easy to spot, because of the crowded and hyphenated name bar, Nugent-Hopkins is a fixture in the top six and in the stands. His backers are valedictorians who breeze through school excelling every step of the way, but when they reach the real world they find it difficult to adapt.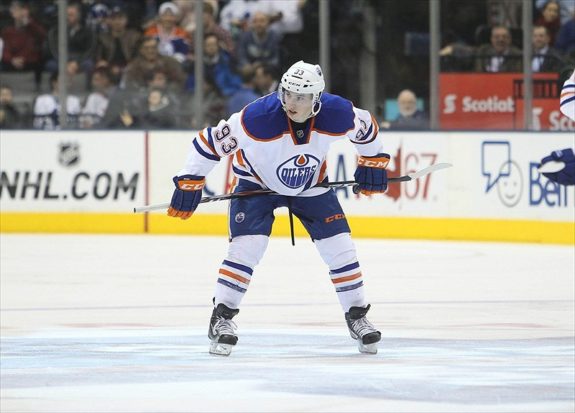 They are still successful but it is more difficult for them and requires more effort. The punishment for their growing pains is watching best friends leave town while they are stuck in the basement contemplating what life might be like. Their youthful appearance also means that they are constantly being carded at the bar.
No. 64, Nail Yakupov
Oilers fans with 64 on their backs are really, really excited – like super pumped! They are always doing these over-the-top celebrations and making big plans that never go anywhere. They are prone to day dreaming and often need a reality check. Don't get us wrong, they are super nice people, they just need to pump the brakes and think things through a bit. Unfortunately, they also get a lot of speeding tickets and are unable to talk their way out of them. They'll make you laugh but they're also as frustrating as a one-timer whiff and will leave you feeling disappointed.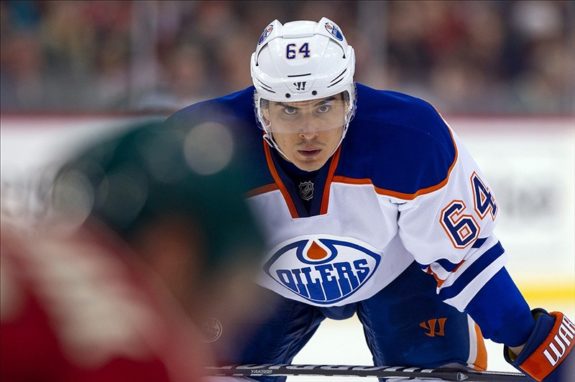 No. 44, Sheldon Souray
Boom! The Studly Wonderbomb himself, Sheldon Souray, had plenty of fans in Edmonton, for a while. But all good love stories end, some quicker than others. There must be something about No. 44 (see Chris Pronger). Boosters of the former Montreal Canadien are identifiable by their ability to do one thing very well, usually an athletic feat; they can throw a ball really far or they're awesome at the strongman game at the fair.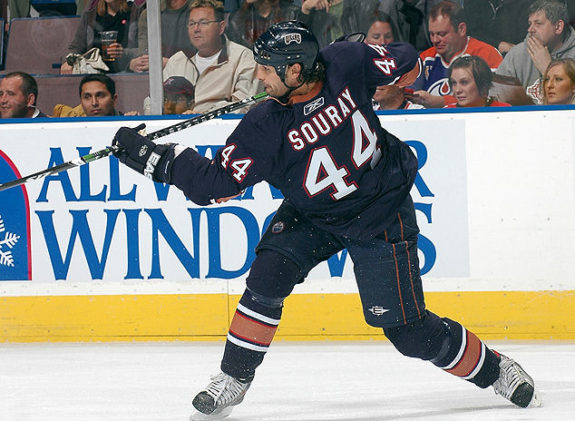 They are also capable of ringing the bell when it comes to, ahem, the opposite sex. Despite their good looks and athletic prowess, however, they can be disgruntled employees. They tend to get in trouble for leaving their workstation or talking back to the boss and the punishment is often severe – like being sent to the Hershey, Pennsylvania branch,
No. 42, Ryan O'Marra (picture unavailable)
If you have a Ryan O'Marra jersey, you are related to Ryan O'Marra.
No. 27, Dave Semenko
The first thing you notice about those wearing a Semenko jersey are the hands. They are heavy, meaty and weathered and know countless days of hard work. Next is the eyes. They are the piercing eyes of a wolf. To this fan, these eyes will either tell you to keep your distance or not worry because he is watching. This big stick treads lightly, with a rough exterior and a dry sense of humour, but above all, as a protector – a first responder or someone in charge of keeping the flock safe. This is the best possible friend to have and the last person you want as an enemy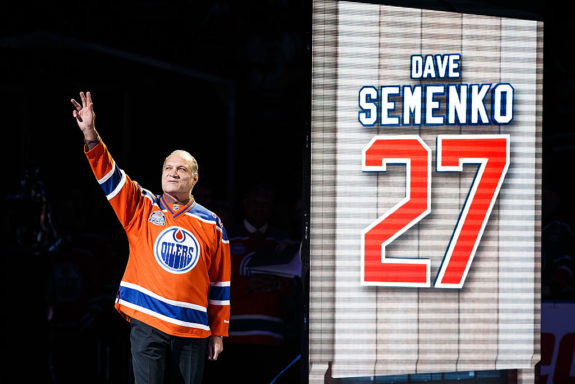 No. 19, Justin Schultz
You are guaranteed to provoke a comment or two from the Oilers faithful if you wear a Schultz jersey to the game. Billed as an aspiring Norris Trophy winner, No. 19 was run out of town before he ended up with the Pittsburgh Penguins and Lord Stanley's Cup. It's a statement jersey.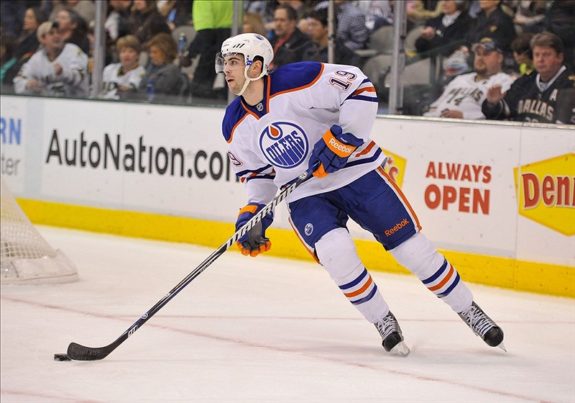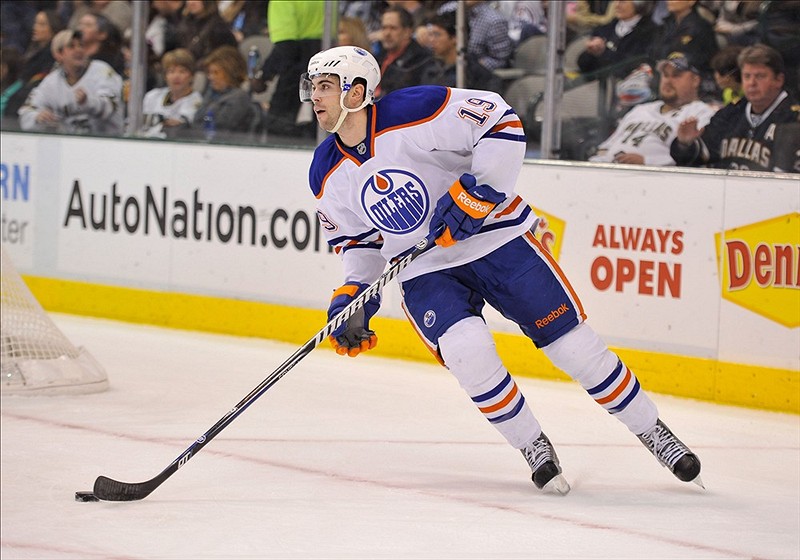 Those still seen in this sweater have a strange fascination with time. It could be that the clock's always ticking for them – not entirely sure, but they are constantly checking what time it is. This person also has trust issues. That's because their parents threw them into the deep end of the pool before they were ready and instead of swimming, they sank. After growing up a little, they still need constant supervision but they are useful on a team of highly competent people.
No. 10, Esa Tikkanen
Oilers fans love him while opposing fans hate him. That's because Esa was all up in your shift if he was playing against you. You won't always spot a Tikkanen jersey from afar but then – pow! – it's right beside you. Why are they smiling like that? Stop smiling. What did they just say? You cannot understand a word. Odds are this fan is a private investigator or a helicopter parent. They are always around and while they are generally happy, their happiness only pisses you off. It's very unnerving but it seems to work.
What Oilers Jersey Speaks to You?
Of course, there have been hundreds of players who have suited up for the Oilers over the years and, odds are, there's a fan jersey for every single one of them. We've only selected 10 players here but what jersey resonates with you? Why did you put the name and number that you did on the jersey you wear? Sound off in the comments.
Ian Wilson is a life-long hockey fan who was initially drawn to the sport by the Edmonton Oiler dynasty of the 1980s. He brings decades of journalism to the table as a former editor and reporter with the Calgary Sun.