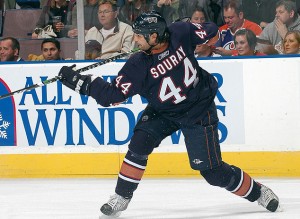 When Sheldon Souray signed a 5-year, $27 million contract with the Edmonton Oilers on July 12, 2007, one of the last places he expected to be playing hockey just over halfway through the contract was the AHL.
Rightfully so, as Souray was one of the most highly sought-after members of that summer's free agent pool, having just completed a stellar season with the Montreal Canadiens in which he scored a career-high 26 goals and 64 points as a premier powerplay specialist.
However, hampered by injuries and an ugly feud between him and Oilers management, Souray's tenure with the team was cut short of the initial five-year plan. He grew irritated with how he was being treated by the team and local media and demanded a trade, making the situation all the more hostile.
No suitors stepped up and Edmonton, deciding they were best off without Souray, refused for him to attend the team's training camp and sent him up and down waivers with the hopes of another team claiming him and half of his salary.
Even at half the price of his contract from three years prior, no NHL team wanted to take the chance on him, and after being shunned by Edmonton he found himself finally being loaned to the Hershey Bears, the AHL affiliate of the Washington Capitals.
The three-time All-Star had fallen from free agent stud to minor league dud in the span of three years.
But instead of taking the money and running, Souray wasn't ready to call it quits on his NHL career. He suited up dutifully for the Bears, kept himself in shape physically and mentally and, just before the start of the 2011 free agency, was bought out of the remainder of his contract with the Oilers, freeing him to enter the free agent market once again.
It was then, on the opening day of free agency on July 1st, that Souray found an NHL home again, signing with the Dallas Stars for one year at a price of $1.65 million, a far cry from the money his services previously demanded.
Almost immediately the internet was aflutter with the return of Studly Wonderbomb, an instantly-popular nickname once given to Souray by eccentric Stars color commentator Daryl "Razor" Reaugh because of Souray's booming slapshot.
Stars fans were quick to welcome Souray and his quirky nickname, and for good reason: it's not every day that you can sign a former All-Star defenceman with gas left in the tank to what practically amounts to a tryout contract.
Critics will point to his proneness to injury, his perceived cancerous attitude in the Oilers dressing room, and his less-than-stellar offensive numbers for the Bears (4 goals and 19 points in 40 games), but it truly is a no-risk, potential-reward signing for Dallas, a team desperately in need of a powerplay revitalization after the loss of Brad Richards. Having six other defenders on their pro roster already and the young Philip Larsen ready to make the jump from the AHL, the move leaves the Stars with other options in case the 34 year-old Mr. Wonderbomb truly is past his hockey expiry date.
Don't tell those criticisms to his face, though, as Souray seems more motivated than ever to prove his naysayers wrong and return to the form that once struck opposing penalty killers with fear.
"I'm a motivated player coming in. I'm thankful that Dallas has given me the opportunity to go there and get my career back on track," he said in an interview with ESPN.com. "I know there are a lot of questions about my health and questions about how I can play, but I know what kind of player I expect to be. And I want to show management in Dallas they made a good choice."
If he can live up to his words, the return of Studly Wonderbomb will be a beneficial one for both him and his new team; and if not, at least it will provide fans with more excuses to use his awesome nickname.
Derek Neumeier primarily covers the Dallas Stars, but also other various topics related to the sport of hockey. A Journalism graduate of Mount Royal University, Derek also writes for Defending Big D, and has done previous work with the Edmonton Oilers as a communications intern and Hockey Canada as a freelance writer. You can follow him on Twitter at @Derek_N_NHL