As players arrive on Long Island with training camp just over a week away (Sept. 13), we have begun to see the culture change that president of hockey operations and general manager Lou Lamoriello promised when the New York Islanders brought him onboard May 22.
With the Islanders missing out on the playoffs for the second consecutive season, the long offseason makes it feels like the team hired Lamoriello ages ago but he too prepares for his first season with the Isles like so many others. With so many new faces on and off the ice, new questions have arisen as well and training camp/preseason should provide some answers to those questions.
Who Starts in Goal?
For the past three seasons, Robin Lehner has done his best at stopping pucks for the Buffalo Sabres. Unfortunately for him, that meant being the starting goaltender for the last-place team in the NHL and that did no favors to his statistics or record. Now, on a one-year deal with the Isles, the 27-year-old netminder gets another chance to prove himself.
Having been the starter in Buffalo, Lehner seemingly has the advantage over the 32-year-old Thomas Greiss, who has been a career backup goalie excluding stints as the Isles' starter in the 2015-16 and 2016-17 seasons.
Lehner enters training camp with a 72-97-35 career record accompanied by a 2.82 goals-against average (GAA), a .915 save percentage (SV%), and eight shutouts and is coming off a 14-win year with the Sabres (3.01 GAA, .908 SV%, three shutouts).
Signing on to a three-year extension worth $10 million back in January 2017, the Isles have expected a lot more out of Greiss than what they have gotten.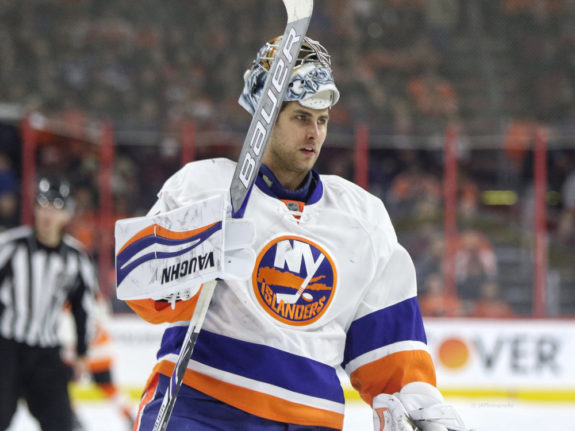 Last season, Greiss managed a not-so-bad 13-8-2 record, but without the Isles' high-flying offense in front of him, there could have been a lot more losses than wins on his record. He finished the season with a 3.82 GAA a .892 SV%, and just one shutout but his statistics in seasons prior suggest a bounce-back year.
Not only do statistics suggest it but so does a change in Greiss's offseason routine. He went back to working with goaltending guru Adam Francilia, who also helps train Devan Dubnyk (Minnesota Wild) and Connor Hellebuyck (Winnipeg Jets) amongst others.
Coming out of training camp, it may very well be that the Islanders don't have a clear-cut number one netminder. During the 2015-16 season, the Islanders switched off between Greiss and Jaroslav Halak and last season the team played the hot hand whether that was Greiss, Halak, or even Bridgeport Sound Tigers call-up Christopher Gibson.
Can Brock Nelson Take the Next Step?
There has never been a better time for Brock Nelson to shine. With John Tavares gone, everyone is most likely getting bumped on the depth chart, and that leaves Nelson with the opportunity to center the team's second line. In addition, after avoiding arbitration and signing a one-year this summer, Nelson is scheduled to become an unrestricted free agent on July 1 so he is playing for a new deal as well.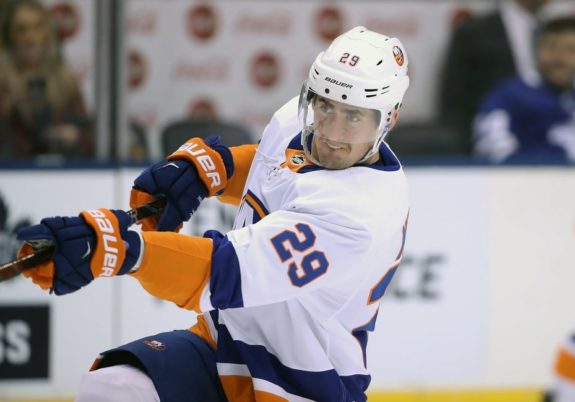 Nelson is a consistent 20-ish goal scorer but a very streaky goal scorer at that. For example, in this past campaign, five of his goals came right off the bat in October but it took him until January to score another five. To be fair, the 26-year-old didn't truly get the best opportunity to succeed. Often playing third-line minutes with rotating wingers that changed on a nightly basis, it is definitely understandable to see why Nelson lacked consistency.
With the expected upgrade, Nelson should be playing with pretty skilled players. Judging by my predicted lines for this upcoming season, he could be centering a line of Anthony Beauvillier and Josh Bailey. There's a lot of skill and talent to work with there. Nelson has the accurate wrist shot, Bailey has the passing skills and vision, and Beauvillier is hybrid of the two with a knack for finding rebounds and putting them into the back of the net.
To Be or Not to Be Reunited? The 4th-Line Dilemma
Barry Trotz has the pieces but will he put the puzzle back together again? On July 3, the Islanders re-acquired Matt Martin from the Toronto Maple Leafs and have reunited the trio that made up their highly-praised fourth line (Martin, Casey Cizikas, Cal Clutterbuck) from 2014-2016.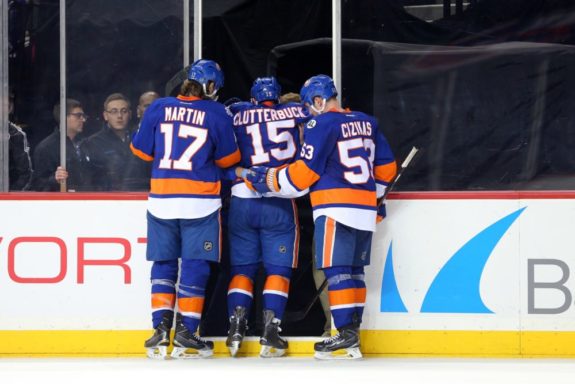 Their hard-hitting, high-energy game is adored by fans and players alike, but is it really what the Islanders need? Bringing this line back together will likely be keeping some pretty skilled players out of the lineup. There likely won't be enough room for Valtteri Filppula or Josh Ho-Sang, about whom Trotz has nothing but good things to say.
"Josh has to be part of our future," Trotz told Trotz told Stan Fischler of MSG Networks. "He's a talent who needs to be understood better than he has been. In this case, Lou will be good. My belief is that the kid has been misunderstood because he looks at the game differently."
Filppula scored 11 goals and 33 points this past season. Out of the three, Clutterbuck came the closest to Filppula with eight goals and 18 points. This also potentially keeps several others out of the lineup, including Kieffer Bellows and Tom Kühnhackl.
Can Mathew Barzal Handle the Pressure?
Perhaps the biggest and most important question is if Mathew Barzal can successfully take over as the team's number-one center. I say successfully because the role is his for the taking but the question is how well he will do in it.
The Calder Trophy winner (awarded to the NHL's rookie of the year) put up 85 points in 82 games and three five-point nights to lead the team in scoring but was also sheltered from some of the league's top defensive-minded forwards and top-pairing defensemen because they were preoccupied with John Tavares and the first line.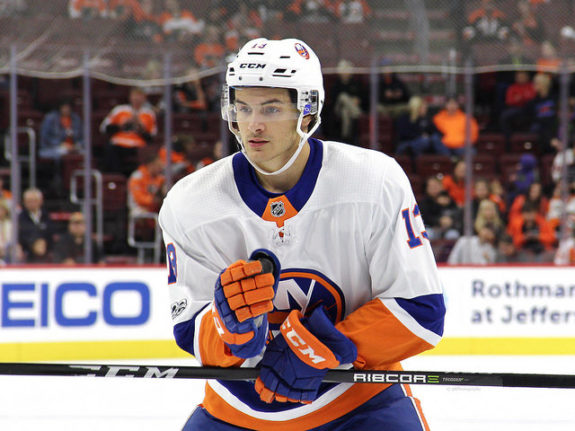 Now, every player on every team has his number, and after a year of watching Barzal skate circles around them, they'll always be sure to know where he is on the ice. He's speedy and he's crafty, but can he be stopped? We have begun to see teams figure out Ho-Sang's antics by pressuring him in his own zone before he gets a chance to break out. Will Barzal be able to adapt when players begin studying film and finding ways to shut him down?
This likely won't be a question that the preseason will answer for us. Players are just getting back into the swing of things and the top players typically don't give these exhibition games their 100 percent effort. But early on in the season, we should get a pretty good idea of what Barzal is going to be capable of as the team's new number-one center.
Where Does Jan Kovar Fit in the Equation?
On July 9, Lamoriello and the Islanders took a well-calculated gamble by signing Jan Kovar to a one-year deal, one-way deal worth $2 million. Kovar has never played professional hockey in North America before but the center has scored 286 points in 285 KHL games with Metallurg Magnitogorsk as well as three goals and five points in six games with the Czech Republic at the Olympics this past winter.
While the deal seems like a great one – and it very well may be just that – it is worth noting that Kovar scored just seven goals and 35 points in 54 KHL games last season. The best part about the deal for the Isles is that Kovar is waiver-exempt, meaning that if the Islanders wanted to, they could send him down to the AHL without any risk of losing him to the other 30 clubs. According to Andrew Gross of Newsday, Lamoriello sees the 28-year-old as a "top-nine" forward for the team.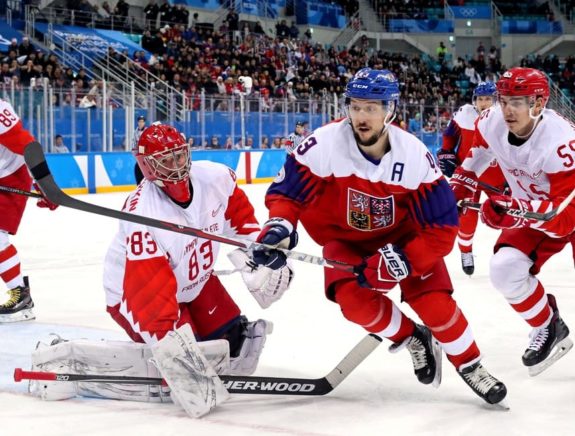 This seems like a great low-risk, high-reward signing for the Isles but really, the risk is for Kovar. Several other teams were interested in him but he chose the Islanders realizing that they offered him the best chance to live out his dream (playing in the NHL) and that they were the best fit for him.
"Jan was looking for the best fit for his style of play, a great coach and opportunity," Kovar's agent, Allan Walsh, told Gross. "It's always been his dream to play in the NHL and now he's getting ready for the challenge of adjusting to the smaller ice and helping bring his team success."
But just one season ago, we saw a similar situation in Las Vegas. At the time, the Vegas Golden Knights only had one player in their organization, prospect Reid Duke. Then, on May 4, 2017, they signed Russian free agent Vadim Shipachyov to a two-year deal worth $9 million.
Like Kovar, he had never played in an NHL game and because he was waiver-exempt and didn't exactly wow at training camp, he was sent down to the Chicago Wolves of the AHL before the season even started. Fast-forward to November, and after playing just three games and scoring one goal with the Golden Knights, Shipachyov was out the door and on his way back to the KHL as he and the team agreed to terminate the remainder of his contract.
With so much change this summer, there will be a lot more to figure out than what this story provides, and perhaps even more storylines will arise from training camp. For now, these are some of the few you should be looking out for.
As a die-hard New York Islanders fan, I joined THW to help keep other Isles fans updated on what's going on with their favorite team. Follow me on Twitter (@Shazen21) for updates on the team and when I post new content and check out my YouTube (Islanders Highlights) for player highlight videos, pump up videos, and more!