The Detroit Red Wings have been veteran-laden over the past couple of decades, and they added another one when they brought back Thomas Vanek on July 1.
It was a frustrating move for many fans, as two top-10 draft picks in Michael Rasmussen and Filip Zadina appear ready to earn roster spots out of camp.
Related – The Grind Line: Red Wings' Next Great Rookie
Adding Vanek was viewed as just another piece of lumber in the logjam of NHL forwards already under contract. But the importance of the veteran grows larger with each additional comment toward Henrik Zetterberg's unlikelihood of playing in 2018-19.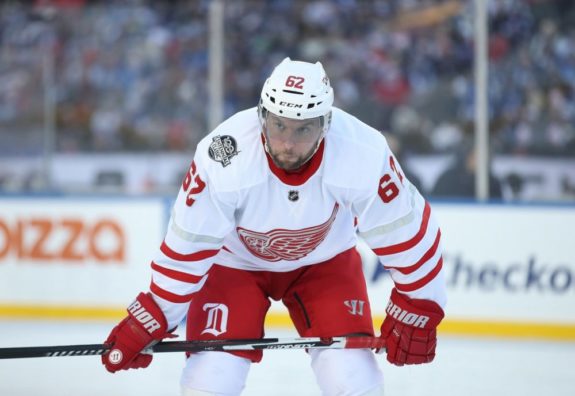 Veterans in Detroit
The loss of Zetterberg should not be undersold; as the team captain since 2012, he's been an important piece for the Red Wings both on and off the ice. The locker room will miss his unquestionable dedication to the game and his team, leaving a big hole as young players such as Rasmussen and Zadina transition to the NHL.
Veterans are an important part in the development of youth. They help alleviate the growing pains associated with the NHL, including the daily grind, dedication, and details along the way.
They also motivate and share wisdom in regards to opponents, systems, vision, and just about everything else.
Zetterberg's "departure" hasn't been sprung on Hockeytown—comments have been dropped all summer by management, coach Jeff Blashill, and current players—but it still leaves the team without one of its best players and one of the longest-tenured captains in the NHL.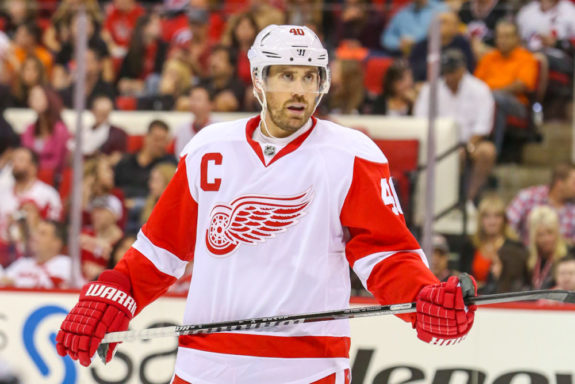 It's also fair to assume Ken Holland was made aware of Zetterberg's unlikely return months ago and was possibly a large factor in bringing Vanek back to Detroit.
Without Vanek, Frans Nielsen, Justin Abdelkader, and Darren Helm would be the only Red Wings forwards to have played in at least six NHL seasons. While they all bring a certain style to the team, none offer a consistent offensive threat, which wouldn't help offset the learning curve for Rasmussen and Zadina.
Vanek, who possesses a keen offensive instinct, is exactly the type of player Rasmussen and Zadina can learn from. He's set to hit the thousand-game milestone this season and has amassed 753 points (357 goals, 396 assists) in his career.
Ignoring the shortcomings of his two-way game, the 34-year-old still offers a lot in the offensive zone and can help instill his knowledge on the Red Wings' promising youth.
Vanek's Vitality
Vanek made his Red Wings debut in 2016-17 when he signed a low-risk, high-reward deal with Detroit after two disappointing seasons with the Minnesota Wild.
The once-high-powered scorer was eager to prove he still had offense to add, and he did just that in Detroit. The Austrian scored 15 goals and 38 points in 48 games with the Red Wings as a predominantly third-line winger, spending the bulk of his time with Frans Nielsen and Andreas Athanasiou.
The trio blended well with positive possession stats. Vanek was especially successful with the then-22-year-old Athanasiou and was attached to 11 of Athanasiou's 21 points scored before being dealt at the trade deadline.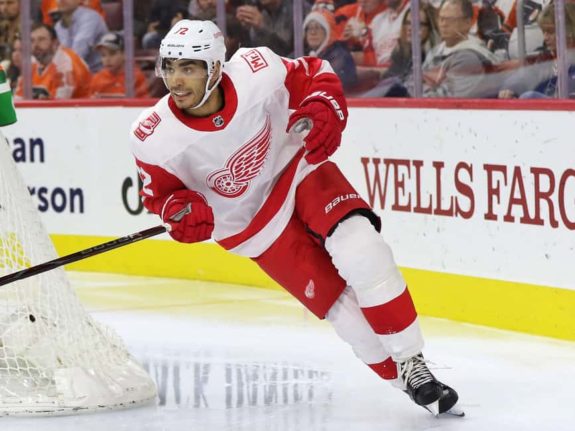 With Blashill announcing he anticipates playing Athanasiou as the third-line center, they should find themselves reunited to start the season.
Should Zadina make the team, odds are he would do so in a top-six role. Rasmussen, as a natural center, could prove to be a better option than Athanasiou on the third line.
Related: Red Wings Forwards: Who's on the Bubble?
While rookie centers don't usually offer much consistency in winning draws or strong two-way play, Blashill could opt to let him learn on the fly in a season where the team's expectations are the lowest since the 1980s.
Not only would Rasmussen be playing firsthand with Vanek, he'd also face weaker talent each night and be in a better and quicker position to fulfill the organization's sky-high expectations of him.
With training camp just over a week away, fans won't have to wait long to see these players in preseason action and get a better feel for the roster on opening night.
I offer opinions and insight on the Detroit Red Wings organization and its prospects.