What's The Grind Line? Apart from the once-famous line of Kris Draper, Kirk Maltby, and either Joe Kocur or Darren McCarty, The Grind Line is also The Hockey Writers' weekly column about the Detroit Red Wings. Jacob Messing, Tony Wolak and Rachel Anderson are the muckers who make up THW's forechecking unit and sound off on Red Wings topics.
The Detroit Red Wings have a group of young, exciting players ready to contend for roster spots out of training camp this fall.
With a handful of former first-round picks expected to highlight camp, fans should be excited about the new era of skill coming to Hockeytown. None of these young players will be handed a spot but will have to earn it by proving they have what it takes everyday to avoid being a healthy scratch which would disrupt their proper development.
Whoever takes the next step will be placed in immediate contention for the Red Wings Rookie of the Year, and while it's premature, The Grind Line dives into who may take that title come April.
Tony Wolak: Michael Rasmussen
Once the regular season kicks off, I believe Michael Rasmussen will have a prominent role with the Red Wings.
After producing 33 points in 14 WHL playoff games for Tri-City, there's nothing left for Rasmussen to prove at the junior level. And, since he's not yet eligible to play in the AHL, he'll either have to return for another year of junior hockey or play in Detroit. All signs so far point to the latter destination.
Related: NHL Prospects Tournament: 7 Red Wings to Watch
With incredible hand-eye coordination, good puck skills, and a big frame, Rasmussen will be a terror down low and on the power play. While he'll need to earn his ice time, the center-turned-winger will likely play in the middle-six alongside either Henrik Zetterberg or Frans Nielsen, depending on the former's status once the season opens up.
Regardless, Rasmussen will have a great puck distributor as his center and Thomas Vanek—who plays a similar style—to lean on in a mentorship role. Plus, he'll have Dan Bylsma bringing him up to speed on how to use his size and strength in the NHL, much like Bylsma did with Jordan Staal and James Neal in Pittsburgh.
.@DetroitRedWings prospects Michael Rasmussen and Jared McIsaac connect for a goal, as Rasmussen redirects McIsaac's shot in to give @HC_WJC a 3-2 lead over @usahockey. #WJCShowcase pic.twitter.com/JxrCe3U9pY

— TSN (@TSN_Sports) August 4, 2018
It would not be surprising to see Rasmussen top 15 goals and 30 points in his rookie season and solidify a net-front spot on the power play. The former ninth-overall pick is a true professional who only wants to succeed – making him a great building block for Detroit's rebuild.
Rachel Anderson: Filip Hronek
The Red Wings have much to be excited about in terms of upcoming defensive stars. Filip Hronek had an outstanding rookie year with the Grand Rapids Griffins, scoring 39 points in 67 games. Hronek tied the Griffins' record for rookie defenseman that was set by Robbie Russo in 2015-16.
Hronek is a skilled puck handler and has one of the strongest two-way defensive games I've seen. He's able to hold his position while also adjusting to an offensive style of play without skipping a beat.
HOLY HRONEK! 🚨
Filip Hronek steals the show in the shootout and the @griffinshockey get the win! pic.twitter.com/VGNjZLMHo8

— American Hockey League (@TheAHL) March 29, 2018
According to Art Regner, an analyst for the Detroit Red Wings, if Hronek performs well at training camp, he'll likely get a roster spot. The Wings were so impressed with his style of play that they won't dawdle when it comes to putting him on the blue line at the LCA.
On top of a quick shot, Hronek knows how to use his body. I wouldn't peg him as "aggressive" but more along the lines of assertive. He drives the net every chance he gets but can also get the puck out to the forwards rather quickly. He's a well-rounded defenseman that the Wings need on the blue line.
Though he'll likely get the nod of approval before previous hopeful, Joe Hicketts, which is a bit of a downer, Hronek is a worthy selection. He'll earn the rookie of the year stamp of approval if he's pulled.
Jacob Messing: Filip Zadina
Compared to Marian Hossa for his all-around game and Patrik Laine for his shot, Zadina has been hyped up to Red Wings fans since late June and over the past several years. Even as the highest draft pick on this list (No. 6 overall in 2018), Zadina will stay behind Rasmussen on the depth chart until he proves otherwise.
There has been a lot of talk about him earning a spot this season with the Red Wings, a bit more than it should.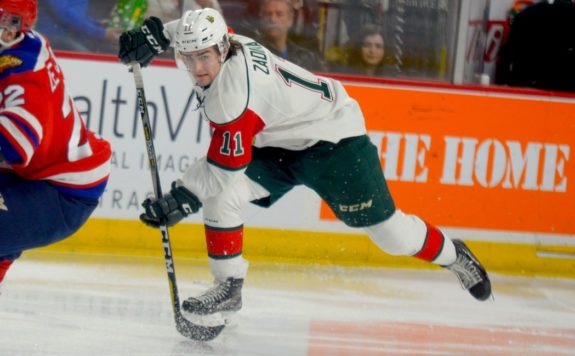 It's been a long time since the team saw a player go straight from the draft to the roster; even Dylan Larkin spent a year at the University of Michigan before breaking into the NHL. But Zadina seems to be a special case, he's been pegged as NHL-ready by many analysts and was a consensus top-three pick until he slipped to Detroit at No. 6 overall.
Should he earn a spot out of camp, the correct usage (ice time, power play, etc.) could see him score his way into the hearts of Red Wings fans and potentially even to a Calder Trophy nomination. Yes, that is extremely optimistic, but he seems to have the tools to step right into the NHL.