Shortly after the Detroit Red Wings signed Dylan Larkin to a new five-year deal, general manager Ken Holland divulged some pessimistic news on Henrik Zetterberg. The back of Detroit's heart-and-soul captain has not healed up as previously hoped, which could put Zetterberg's 2018-19 season in jeopardy.
In the press conference which followed the announcement of Larkin's new deal, Holland noted:
I have talked to his agent a number of times over the course of the summer and I know he's had a tough summer, hasn't been able to train anywhere near close to what he's been able to train in past summers due to his back, so there's a real unknown right now with Henrik Zetterberg.
With that being said, it would not be surprising to see the Red Wings begin the 2018-19 season without Zetterberg – the first without the Swedish star since the Stanley Cup-winning 2001-02 campaign. What does that mean for the rebuilding organization?
Red Wings' Roster Without Zetterberg
When the Red Wings line up for their opening-night game against Columbus, a handful of players will have the opportunity to step into larger roles without Zetterberg around. Before we dive into those contributions, here's how Detroit's lines could shape up in the beginning:
2018-19 Detroit Red Wings Forwards
LW
C
RW
Anthony Mantha
Dylan Larkin
Gustav Nyquist
Andreas Athanasiou
Frans Nielsen
Michael Rasmussen
Thomas Vanek
Darren Helm
Filip Zadina
Justin Abdelkader
Luke Glendening
Tyler Bertuzzi
Martin Frk
Luke Witkowski
2018-19 Detroit Red Wings Defense & Goalies
LD
RD
G
Jonathan Ericsson
Trevor Daley
Jimmy Howard
Danny DeKeyser
Mike Green
Jonathan Bernier
Niklas Kronwall
Nick Jensen
Joe Hicketts
After being tasked with a shutdown role last season, Frans Nielsen would most likely be counted on to produce more offense while playing against top competition. Without Zetterberg in the lineup, he would also need to mentor either Michael Rasmussen or Filip Zadina on the ins and outs of daily NHL life. The veteran center was originally signed to replace Pavel Datsyuk (to a degree) and will need to step into a leadership role once year three with the Red Wings begins.
Another change would be to shift Darren Helm back to center after spending the past few seasons on the wing. Previously called the league's best third-line center, Helm will need to improve on his 44.1 faceoff winning percentage from the 2017-18 season. He'll also need to contribute more defensively—one of the reasons why he was locked up long-term—while maintaining his offensive production.
Related: Diving Into the Detroit Red Wings' No-Trade Clauses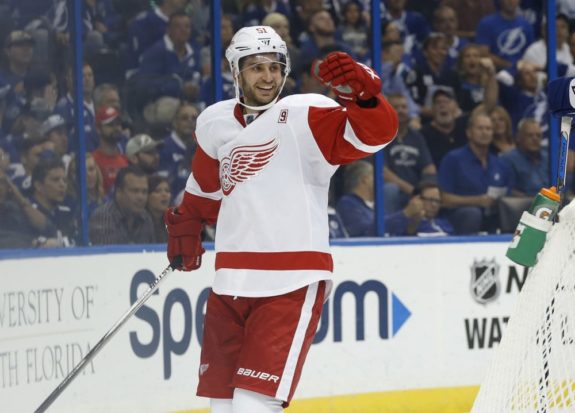 Finally, Zadina (Detroit's No. 1-ranked prospect) would have a better shot at making the team if Zetterberg had to call it quits. The appropriate ice time for the 2018 first-round pick and No. 3-ranked prospect Rasmussen would be available as they adjust to the NHL game. Detroit could also opt to keep Evgeny Svechnikov or David Pope (No. 8- and No. 15-ranked prospects, respectively) instead – this would allow Zadina to play in the AHL and not burn a year off of his entry-level deal.
Transition to Dylan Larkin's Lead
In addition to Nielsen and Helm's increased roles, Larkin will rightfully become Detroit's go-to player as the club's No. 1 center and most talented forward. From power play zone entries to last-minute ice time, the Waterford-native will be heavily leaned upon in Zetterberg's absence.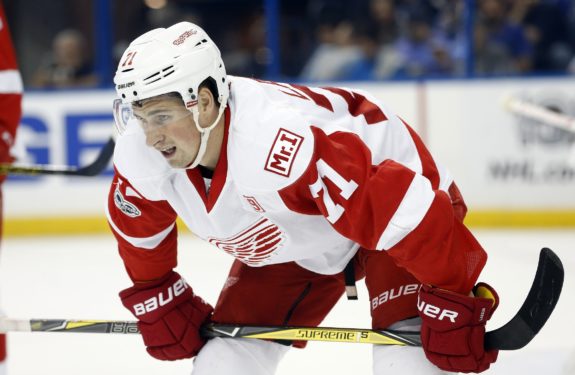 But can Larkin handle the pressure of being the Red Wings' most important player? If he's going to become captain one day, he'll need to learn how to handle Hockeytown's expectations quickly. At the very least, he'll have a great supporting cast in terms of veteran leadership to help him transition into the top player that the organization expects him to be.
If he is indeed anointed as captain, this will be the first time that the Red Wings have named a captain in his 20s since Steve Yzerman took the reigns as a 21-year-old. Both Nicklas Lidstrom and Henrik Zetterberg had a handful of seasons under their belts before taking on the captain's role. For an organization that prides itself on stability and tradition, this would take a step into a new era of Red Wings hockey: reliance on a youth core, which is exactly what the rebuild needs.
Change in Red Wings' Organizational Values?
With Zetterberg gone, the Red Wings will be left with a massive leadership void. Sure, Larkin will step up. Kronwall, Nielsen, Mike Green, Jonathan Ericsson, and Justin Abdelkader will help, too. But a season without the long-time captain will be a major test for the veteran leadership theory that's been a central tenet of Red Wings management for years.
How will the Red Wings respond? How does that compare with expectations?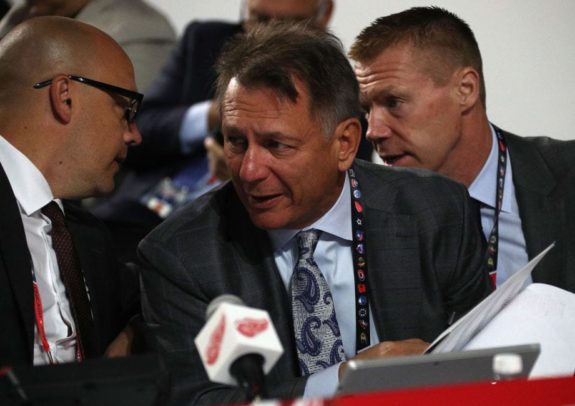 Success could reaffirm Holland's decision to bring back Green and Thomas Vanek. Failure could push the Red Wings to dive deeper into the rebuild or bring in other veteran leaders to instill a winning culture. Proper attribution of qualitative and quantitative metrics will be more critical now than ever with Detroit undergoing a sudden culture change in the middle of a prolonged rebuild.
Related: Red Wings Prospects Ready to Take Veterans' Jobs?
Whether it's this year or next, a day will come when Zetterberg is not on Detroit's roster. How they respond will have major implications for the rebuild, organizational governance, and the future of Hockeytown.
How do you think the Detroit Red Wings will fare without Henrik Zetterberg? Comment below.