Of all the free agent signings made across the league this summer, arguably the most curious move of all was the Edmonton Oilers decision to hand Mikko Koskinen the contract they did. Though a one-year deal at $2.5 million isn't a large chunk of change in today's NHL, when we are talking about a 30-year old backup goalie with no resume to speak of and a roster starving for cap flexibility, it is certainly a headscratcher.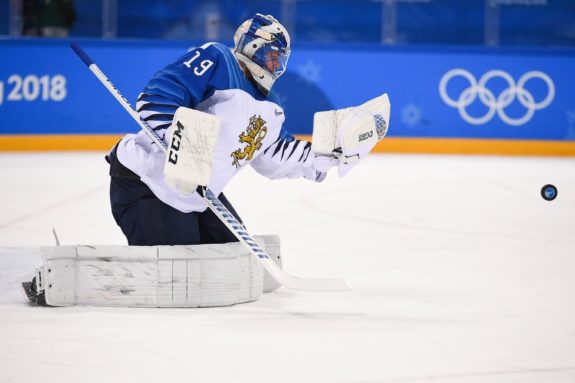 With a lineup still in need of upgrades and much of the secondary netminding market inking deals between $1 million and $1.75 million less than Koskinen, the move looks even more perplexing. The need to improve the No. 2 spot behind Cam Talbot was a necessity but by no means does the aforementioned signing guarantee it won't be an issue moving forward. Not exactly a ringing endorsement, especially at the price tag it took to get the deal done.
Backup Spot Was a Concern
A risky proposition to be sure but where things get interesting is it appears as though the higher-ups view the 2009 second-round pick of the New York Islanders as more than Talbot's caddy. In fact, from the moment the signing was announced, it didn't add up. Upgrading the backup in hopes of lightening the load on the starter is one thing but this wasn't that kind of move. Make no mistake, this is an audition for the coming season and beyond.
Call it a hunch but this organization doesn't seem sold on Talbot as the long-term answer and it is easy to understand why. Though some would disagree, in my mind, the 31-year old is still among the top 10 to 15 goalies in the league. Yes, he is coming off a tough campaign, but his resume suggests a bounce-back performance is likely. With that said, a return to form guarantees nothing moving forward.
Cam Talbot has a 94-80-16 record with the Oilers and has gone .917/.919/.908 SVP in his first 3 seasons in Edm.
Scale of 1 to 10 where is your confidence level in him.
I believe Talbot is poised to have a very good season.
So I am a 9!

— Bob Stauffer (@Bob_Stauffer) July 31, 2018
With pending free agency around the corner and his birth certificate reading as it does, making this work for both sides could be difficult. Should Talbot rebound and put together a solid campaign, you can bet he will be seeking a three or four-year extension and a bump in pay from his current cap hit of $4.15 million. Understandable to be sure, but from an organizational standpoint, it could be next to impossible to accomplish.
Cam Talbot and Cap Space
In case you hadn't noticed, the Oilers are in a bit of a tight squeeze when it comes to the salary cap, and that won't be changing anytime soon. As of this moment, Talbot's annual cap-hit is 23rd among goaltenders across the league, and his actual salary sits 22nd for the coming season. Again, a good year means a substantial spike in pay and a poor one guarantees there will be a new netminder coming to town next summer.
Seems simple enough and could help explain why Peter Chiarelli made the decision he did on Koskinen. If we are to take the Oilers general manager at his word, the Finnish netminder turned down multi-year offers in other markets to sign in Edmonton. Apparently, the fact the club doesn't have a goaltender under contract at the NHL level beyond 2018-19 played a big factor in where he ultimately ended up. Read between the lines folks.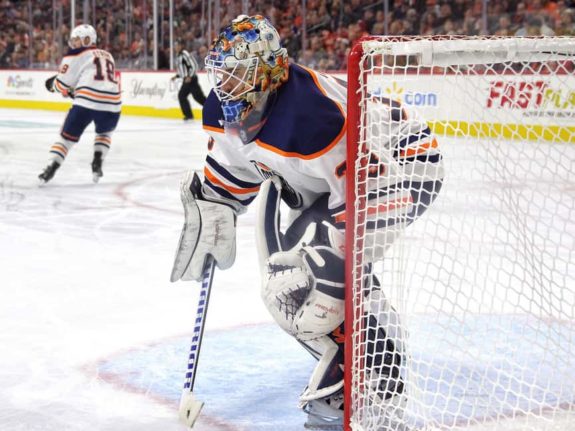 Opportunity, plus a few extra bucks on a one-year deal, and suddenly the towering guardian is heading to the Alberta capital. When looking towards the coming season, it truly is a puzzling move, as the roster still needs help and an additional million-plus in cap space would have been beneficial in addressing those needs. And yet, the potential of finding the club's next starting goalie on the cheap was more pressing to the general manager.
2019-20 Starting Spot is Wide Open
An odd approach at the best of times, but one made all the more confusing when the club taking it has the best player in the world on its roster and is coming off what was a disastrous campaign. In a perfect world, Talbot has a solid year in helping the Oilers return to the playoffs but Koskinen earns enough rope to show he is the real deal and the organization signs him to a reasonable number and term to be their No. 1 guy in 2019-20.
"I'm a different person & different goalie than I was seven or eight years ago." #Oilers goaltender Koskinen feels ready for his return to the @NHL. https://t.co/nQ4aZWbziJ

— Edmonton Oilers (@EdmontonOilers) May 2, 2018
Unfortunately, best case scenarios don't tend to come to fruition simply because it could make some sense and with Koskinen's lack of a track record, it's next to impossible to form a reasonable expectation. Again, if we are talking about a potential quality backup, perhaps it can work but anything more would have to be considered a stretch. Is it possible? Sure but it is an awfully big risk to take and one that could come back to bite this club at season's end.