It's official — the Edmonton Oilers have signed Mikko Koskinen to be Cam Talbot's backup next season. As speculated a few weeks ago, the 29-year-old signed a deal with a cap hit of $2.5 million, but it's a one-year deal, not two as previously rumored. Moneywise, $2 million is salary, while $500,000 is a signing bonus.
Koskinen's an interesting signing for the Oilers who needed a backup, not to push Talbot, but provide consistency when Edmonton's No. 1 isn't playing. The previous four backups that have taken turns in net while Talbot's been the Oilers starter haven't been able to provide that consistency.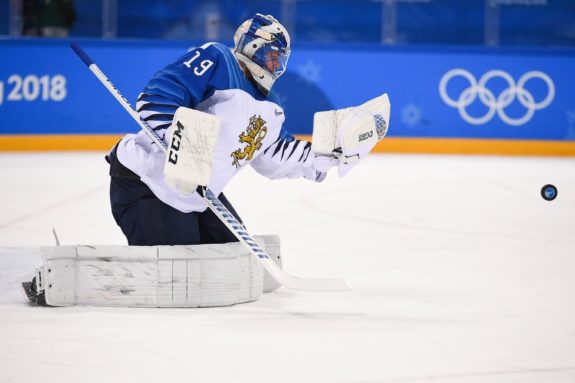 The jury is still out on Koskinen, who's essentially an unproven commodity that has just four games of NHL experience under his belt, from seven years ago. Koskinen is coming off a stellar year in the KHL, posting a 1.57 goals-against average (GAA) and a .937 save percentage (SV%).
Edmonton Oilers Backups Since 2015-16

Goalie
GP
GS
W
L
OT
GAA
SV%
SO
Laurent Brossoit
27
19
7
12
2
3.02
.892
0
Anders Nilsson
26
24
10
12
2
3.14
.901
0
Al Montoya
9
5
2
2
2
2.94
.906
0
Jonas Gustavsson
7
5
1
3
1
3.10
.878
0
Those numbers make him a top-five goalie in the KHL, but how that success translates to the NHL is still to be seen. There's reason to believe he'll be more or less what the Oilers had with Anders Nilsson a few years ago, but it's clear that, at $2.5 million, Edmonton general manager Peter Chiarelli is taking a calculated risk.
What Happens with Al Montoya?
For a fair assessment on what the Koskinen signing means, you can read more here, where we took a look at the Oilers organizational depth chart at the goaltending position. With Koskinen signed to a big ticket deal to be Talbot's backup, it's reasonable to expect him to start 20-25 games next season.
But this deal directly affects the future of two goaltenders in particular – Al Montoya and Laurent Brossoit. Chiarelli acquired Montoya midway through the 2017-18 season for a conditional pick, which ends up being a fourth-round pick in this year's draft. Montoya was a disappointment, finishing the year with a 2.94 goals-against average (GAA), and a .906 save percentage (SV%).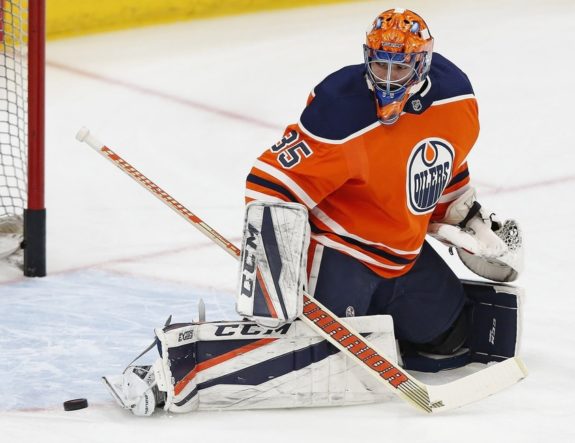 Montoya, 33, is still owed one more year at $1.06 million. There are a few options. Edmonton can bite the bullet and hold onto Montoya to be a third-string option and have him start the year in the AHL with the Bakersfield Condors. It's an expensive option. They can also shop Montoya and see if there are any takers.
Related: Oilers – Mikko Koskinen a Calculated Risk?
Will anyone want a 33-year-old backup, that is clearly in his declining years, at $1.06 million? Maybe not. If the Oilers can get anything in terms of assets, likely a late-round pick, they should take it and run. Another option is to buy out Montoya's final year at $375,000 for two years.
Laurent Brossoit Leaving Edmonton?
The question now for Chiarelli — is it wise to go with an unproven backup (Koskinen), and potentially an unproven third-string in Nick Ellis? That's the reality of the situation right now. There's the possibility Edmonton could lose both Montoya and 25-year-old Laurent Brossoit this summer.
They can control the situation with Montoya, but Brossoit is an unrestricted free agent (UFA) and will likely end up testing the market. The Koskinen signing firmly entrenches Brossoit into the third or fourth spot on the depth chart. Edmonton's invested in Nick Ellis and Shane Starrett, and both Dylan Wells and Stuart Skinner will be playing their first pro seasons next year.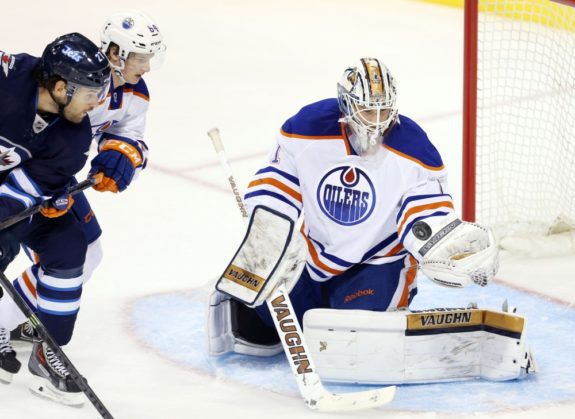 Skinner will likely be signed to an entry-level contract (ELC) after his WHL season concludes. So where does this leave Brossoit? It looks like this experiment might be coming to an end. In 28 career games with the Oilers, Brossoit holds a 2.98 GAA and a .897 SV%. His failure to deliver in the backup role led to the Montoya trade.
Related: Forecasting Oilers Goaltending Depth Chart in 2018-19
At this point, Brossoit looks like a third-string goalie across the league. There's going to be some spots that'll open up and create an opportunity for him to compete for a backup job. For those reasons, it's likely Brossoit leaves and decides to test the market and find success somewhere else in the NHL.
Forecasting Oilers Goaltending Depth Chart
With Talbot and Koskinen set as the Oilers tandem heading into next season, the focus is on Montoya and Brossoit. Without them Edmonton's goaltending depth chart isn't that bad — in fact, it's quite good with plenty of hope for a bright future. Nick Ellis had an up and down year, but he's been good (all things considered) in Bakersfield.
Shane Starrett, 23, did well in his first pro season with the ECHL's Wichita Thunder. Starrett also saw minutes in Bakersfield and is a long-term project. When it comes to the Condors backup job, Starrett isn't guaranteed that spot, Skinner could give him a run for his money.
Projecting Edmonton's Organizational Depth Chart for 2018-19

Edmonton Oilers (NHL)
Bakersfield Condors (AHL)
Wichita Thunder (ECHL)

Cam Talbot

Nick Ellis

Shane Starrett

Mikko Koskinen

Stuart Skinner

Dylan Wells
Along the way, there's still Wells, who will likely end up splitting minutes in Wichita with whomever loses out in the Starrett and Skinner battle. Regardless, the Oilers pipeline in net can thrive without Montoya and Brossoit. Best case scenario is that the Oilers trade Montoya for an asset. Worst case scenario, it's a buyout.
End of the day, this is what Chiarelli's plan might look like on paper. If it is, that's good organizational depth if the Koskinen bet pays off. If the Koskinen deal backfires, Edmonton will once again be needing another backup option, and be without a proven option in the three hole.
Calculated risk or huge gamble? You be the judge, let us know your thoughts in the comments below.