One of the needs for the Edmonton Oilers this summer is to find a suitable backup goalie that can help take some of the workload off Cam Talbot. It's been well documented how much Talbot plays, and that no goalie has played more games over the past two seasons than Edmonton's starter.
Talbot currently leads the NHL with 140 games played over the past two seasons. Frederik Andersen (132) and Sergei Bobrovsky (128) are the next closest. There's a ton of reasons why Talbot plays so much, but one of them is the lack of trust amongst the various backups that have played here.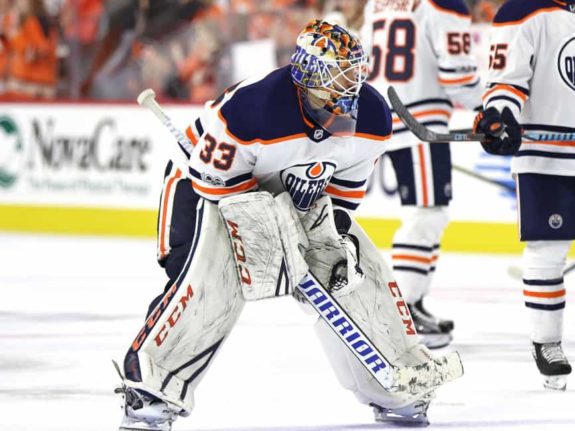 Since Talbot came to Edmonton for 2015-16, he's started in 79.7 percent of the Oilers' games (193). Even when you consider a down year from Talbot this season, head coach Todd McLellan went back to Talbot time and time again. None of the four backups the Oilers have used since Talbot came to Edmonton have provided much consistency. Enter Mikko Koskinen.
Edmonton apparently has the wheels in motion to sign the 29-year-old former New York Islanders second-round pick from 2009. Koskinen has played a majority of the last seven seasons in Finland and the KHL. The rumors are Koskinen is close to signing a two-year deal with a total value of $5 million.
Edmonton Oilers Backups Since 2015-16

Goalie
GP
GS
W
L
OT
GAA
SV%
SO

Laurent Brossoit

27

19

7

12

2

3.02

.892

0

Anders Nilsson

26

24

10

12

2

3.14

.901

0

Al Montoya

9

5

2

2

2

2.94

.906

0

Jonas Gustavsson

7

5

1

3

1

3.10

.878

0
Mikko Koskinen: Oilers' Backup for 2018-19?
Koskinen is coming off a stellar year in the KHL, posting a 1.57 goals-against average (GAA) and a .937 save percentage (SV%). Amongst KHL goaltenders this season, Koskinen finished second in GAA and fifth in SV%. He also represented Finland at the Olympics this year and did very well despite losing in the Quarter-Final against Canada.
His 1.62 GAA and .932 SV% ranked fourth and third respectively among goalies that played a minimum of three games. Koskinen had a great KHL year and looked excellent in a watered-down Olympics; thus there's interest to bring him back to North America. He's a huge goaltender at 6-foot-6 and 209 pounds that might be a late bloomer.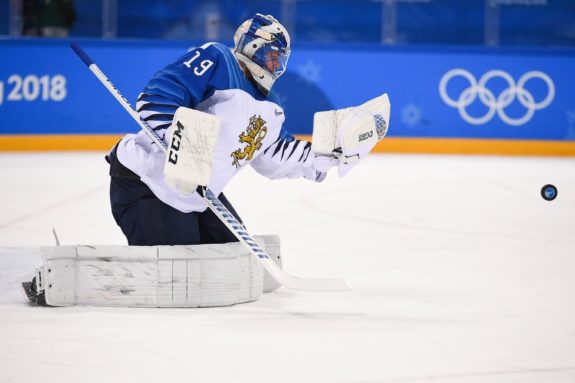 Remember, heading into the 2009 NHL Draft, Koskinen was ranked as the second-best European goaltender by NHL Central Scouting behind Robin Lehner. He ended up being the first goaltender taken in that draft. The size and pedigree are intriguing, but he's played just four games in the NHL and that was seven years ago.
The knock on him when he was in the New York Islanders' system was he needed to improve his quickness and had a longer learning curve when it came to the North American game. He had three subpar years with the AHL's Bridgeport Tigers that concluded with him playing most of his final year in Finland.
Oilers Looking for the Right Backup for Talbot
When his entry-level contract expired at the end of the 2011-12 season, he decided to stay in Finland instead of accepting the Islanders' qualifying offer. From his perspective, he would have been stuck behind Evgeni Nabokov, Rick DiPietro, and Kevin Poulin on the depth chart. He's since tried and succeeded in improving his overall value.
With all this said, you really have to question Oilers general manager Peter Chiarelli if the rumors are true about the dollars involved in this deal. It's uncertain how the deal would break down year to year, but if it turns out being the rumored $2.5 million per season, that's a steep price.
That's on par with what Anders Nilsson, Chad Johnson, and Michal Neuvirth are making this season. Koskinen is still an unknown commodity today who's previously been mediocre at the AHL level in years past. The price point just doesn't compute, especially for a cap team like the Oilers.
For comparison's sake, Nilsson was in a similar spot when he signed with Edmonton for 2015-16. The difference was Nilsson signed a one-year deal worth $1 million. That was a true low-risk, high-reward type signing for the Oilers. It didn't work out, but the signing also didn't bite Edmonton in the butt either. They were able to move it.
Koskinen Scouting Report & Other Thoughts
Nilsson has since played for four different NHL clubs since coming back to North America and has been an inconsistent backup. Nilsson holds a 3.07 GAA and a .907 SV% through 107 NHL games. Both were big goalies with upside that had gone to the KHL to increase their value. There's a lot of similarities in their styles.
From that perspective and if this is the price for Koskinen, buyer beware. There's a ton of promise, but make no mistake about it, this is a high-risk, high-reward signing. The flip side, if everything turns out, Koskinen could be a great 1A/1B option for the Oilers.
For a big guy, as mentioned, he covers a lot of net. In the various game footage available online, Koskinen does a good job staying square to pucks. He plays a little deeper in goal, but it's hard to ignore how well he takes away the bottom part of the net. Like Nilsson though, Koskinen does allow some soft goals from time to time.
Related: Free Agency News – Oilers re-sign Ty Rattie
He seems to move fairly well for a big man, his fundamentals look like a work in progress, and there's some potential there. The thing everyone keeps coming back to, and it's hard to ignore, is the price. If the goal is to lessen Talbot's workload with a goalie that can potentially play 20-25 games, Koskinen is worth taking a flyer on.
However, if this doesn't work out, like how it didn't work out with Nilsson, Jonas Gustavsson, Al Montoya, or Laurent Brossoit, this could blow up in Chiarelli's face. If it doesn't work out, this will be the hardest one to move of the recent backups. Koskinen on a one-year deal worth (at maximum) $1.5 million, would be much easier to swallow and trade.
Related: Peter Chiarelli's End of Season Press Conference
This contract could become a boat anchor for Edmonton. KHL contracts expire on April 30, so we'll know what the word is with Koskinen after that date. The next dominos to fall are Al Montoya and Laurent Brossoit. One or both will have to be moved to make room on the Oilers' depth chart in net.
Edmonton Oilers regular contributor providing insight on all things Oilers including club history, prospect profiles, trade breakdowns, and everything else in between. Check back regularly for new and exciting content. Follow on Twitter @SanderTHW.