Philadelphia Flyers general manager Ron Hextall, in his end of the year press conference, gave fans insight on his off-season plans when he told the media:
"You'd like to find another centerman, you always still look through the center of your lineup. Your goaltending, your D, and your centers. If we could upgrade (at center), that would be great. So if we could do something there, we'd certainly look at it."
The new center would be taking the roster spot of veteran unrestricted free agent Valtteri Filppula. Hextall told the media that "Filppula is one guy where we have interest and we're going to see what happens here," which translates into, we are going to search for a better option and if we don't find one, maybe we will give him a call. Let's look at some options via free agency and trades that the Flyers could target.
John Tavares
The 27-year-old New York Islanders captain will be the crown jewel of the 2018 free agency class. The all-star has been underpaid after signing a six-year, $33 million contract back in 2011 and any contract offer will have to start at $10 million per season.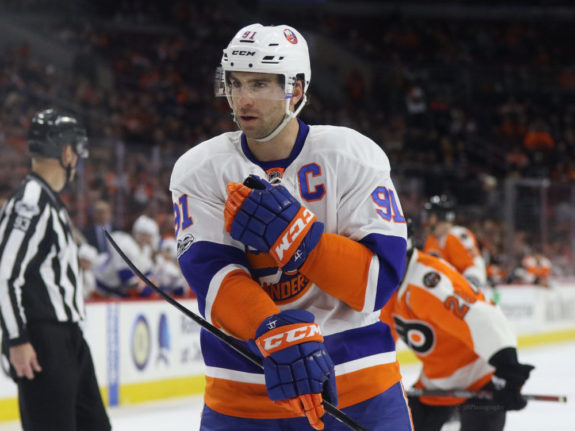 Not much has to be written to explain what kind of impact Tavares would have on the Flyers. Only eight players have more than his 621 points since he entered the league as the top overall pick in 2009-10. One of those players is Claude Giroux (650 points) — combining those two players on a top line would be dangerous. Moving Sean Couturier to the second line and Nolan Patrick to your third-line center spot would give the team the depth they are searching for down the middle.
I think this is a long shot for the Flyers, who can make the cap space for him. I think Tavares' best options are going back to Long Island or signing with San Jose Sharks, New Jersey Devils or Montreal Canadiens. But hey, Hextall could shock us all.
Paul Stastny
The 32-year-old will be looking for one more big contract when he becomes a UFA this offseason. Stastny has fit well with the Winnipeg Jets after coming over from the St. Louis Blues in a trade-deadline deal.
Paul Stastny gives the Jets a little insurance with tonight's #ShotOfTheNight, presented by @JagermeisterUSA! pic.twitter.com/jxXc1qwVzj

— NHL on NBC Sports (@NHLonNBCSports) April 28, 2018
Stastny would help a Flyers' power play that struggled down the stretch and in the playoffs. Of his 646 career points, 210 have come on the man advantage. Stastny's also very reliable in the face-off circle, winning 53% of his draws in his career.
He might come at a cost that Hextall is not willing to pay. Stastny can look to a former Blues teammate, David Backes, for an asking price. Backes, at 33-years-old, signed a five-year, $30 million contract ($6 million AAV) with the Boston Bruins last off-season. Hextall has achieved his goal to give the Flyers cap space by shying away from handing out these type of contracts to aging veterans, and I don't see him changing that philosophy for Stastny.
Riley Nash
The 28-year-old picked a perfect season to have a career year statistically. After only 81 career points in 242 games with the Carolina Hurricanes, the former first-round pick has found a role with the Bruins.
He had 15 goals and 41 points this season, both stats shattering his previous career-highs of 10 goals and 25 points. Nash has been a reliable player for the B's, playing the fifth most minutes by a forward, the most minutes shorthanded by a forward (302:08) and won 48% of face-offs in his two seasons in Boston.
Nash could cost the Flyers in the range of a three-year, $10 million contract ($3.33 million AAV) to be their third-line center. This move wouldn't be a big splash like the other two mentioned before, but would fill a huge need for the team in their penalty kill department.
Brandon Sutter
Now we move to the trades. The Flyers haven't had a Sutter play for them since Ron left in 1991 — could Brandon Sutter be the next? The 29-year old has three-years left with a $4.375 million cap hit with the Vancouver Canucks.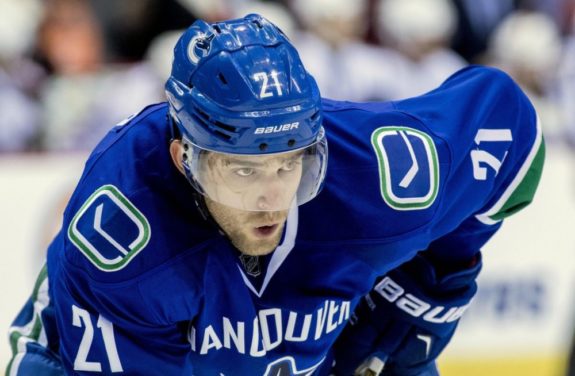 He hasn't scored more than 40 points since his second year with Carolina (2009-10) and is coming off an injury-plagued season where he only played 61 games, but I believe he is an improvement over what they have and his skills fill a need. He has 16 career shorthanded points and only five forwards have played more than his 1,231 shorthanded minutes since 2010-11. Sutter has also won 49% of his face-offs in his career.
The Canucks are in full rebuild with the retirement of the Sedin twins. The Flyers could send Vancouver their second first-round pick (19th overall) to easily get the deal done and no doubt Sutter would waive his no-trade clause to join the Orange and Black.
Jean-Gabriel Pageau
The Ottawa Senators are another rebuilding team that will be open for business this off-season, and one player I would line up to get is Jean-Gabriel Pageau.
The headliners that Sens GM Pierre Dorion will be dangling this off-season will be Erik Karlsson, Mark Stone and Mike Hoffman. Those players will all cost you multiple draft picks, prospects and cap space. Pageau, who has two-years left with an AAV of $3.1 million, would immediately improve the Flyers penalty kill.
The 25-year-old has 10 shorthanded goals the last four seasons — only Andrew Cogliano (11) has more during that same period. To expand his shorthanded stats more in the last four seasons, he has 61 shots, 60 blocked shots and 319 faceoff wins while playing 603:15.
The Senators already have two first-round picks this season but do not have a second-round pick. You could offer the Sens a second this year, or if you really want to acquire Pageau, then offer them a 2019 first-round pick since the Sens do not have theirs due to the Matt Duchene trade.