One of the biggest mysteries in the NHL is identifying who is the best candidate for the New York Rangers coaching job.
The silence is deafening as the Rangers are keeping their preferences close to the vest. The press is having trouble confirming who is under consideration, but the consensus can agree that a fresh voice is needed to see the rebuild through its end. Madison Square Garden executive chairman James Dolan did make it publicly known the characteristics he's looking for in the Rangers' next coach.
In an exclusive interview with the New York Post, Dolan expressed his desire to hire a candidate who has the experience and background to develop young players to their full potential. He expects improvement but understands that there isn't a quick solution to last season's disappointing results.
"We need a coach who is going to be able to coordinate with the assistants and the training staff in putting a program in place. He's going to have to be able to delegate authority in identifying deficiencies and fixing them. Scolding a player doesn't fix the problem. He can't try to do everything by himself. The job is just too big."
The Rangers are in the midst of a rebuild, so you would expect the front office to cast a wide net in their pursuit of Alain Vigneault's replacement, but it hasn't linked any candidates to this point.
Here are five names that are the right fit for this franchise. Some are familiar faces with NHL fans while others aren't the flashy name that creates a buzz in the city, but all will embrace the challenge of bringing the Rangers back to the top of the Eastern Conference standings.
Related: Rangers' Rebuild Requires Synergy
Jim Montgomery
If you're looking for a candidate that comes out of left field, then Jim Montgomery is your man. At the University of Denver, Montgomery has built a quality hockey program that has appeared in five consecutive NCAA tournaments and captured a national championship in 2017. His lack of coaching experience at the NHL level is a major red flag and cannot be ignored. The recent success of Dave Hakstol with the Philadelphia Flyers gives hope that Montgomery can make the leap to coaching in New York if given the opportunity.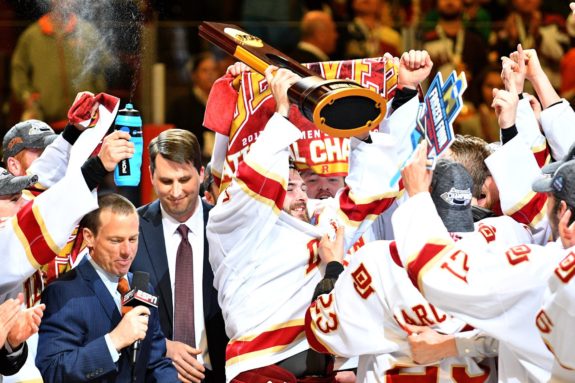 Dolan is on the record stating the Rangers aren't above hiring a first-time coach. If his words are true, then Montgomery should be given a learning curve to gain the experience necessary to lead an NHL team. It would allow him to grow alongside Filip Chytil, Lias Andersson and this year's draft selections before expectations become real. Ranger fans must be patient as the development of the roster is a work in progress. Hiring Montgomery would be thinking outside the box, but the choice could work because of his proven record to develop and lead young players to a championship.
John Tortorella
I have no insight or information, but it wouldn't surprise me if the Rangers sought permission to speak with Columbus Blue Jackets coach John Tortorella about their open position. His tough love did develop the organization's last core group into a perennial Stanley Cup playoff contender. Yes, their run stopped short of raising Lord Stanley high in the air, but that roster did appear in the postseason four times under Tortorella. He has the experience of coaching in New York before, so Tortorella has a clear understanding of what a pressure-cooker this job has become.
He could return to the head coaching position because of his special relationship with Dolan, as the MSG top executive said in a 2013 interview that he missed visiting with Tortorella before games and playfully trading insults with his former coach. It seems that team executives rarely remain in the good graces of Dolan for more than a year at a time, but Tortorella has easily shattered that barrier and secured a seat within the inner circle. Familiarity beats the unknown factor as the Rangers need a coach that can shape this young core's on-ice persona. Giving Tortorella the keys to the franchise again might be a safe move, but time will tell if it's the right move.
Darryl Sutter
Darryl Sutter has an impressive resume, as he has won 634 career games behind an NHL bench and played a key role in changing the culture that captured two Stanley Cups in six seasons with the Los Angeles Kings, but those feats may not translate to success in New York. The Rangers' hierarchy must decide if his no-nonsense style of coaching would work to rave reviews on Broadway.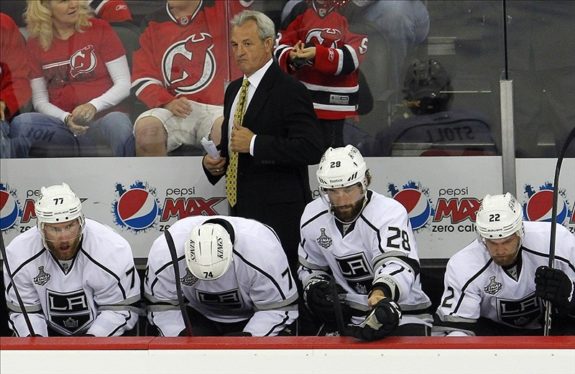 Let's not forget that Sutter is a successful farmer in Alberta, so he has a good understanding of how to lay down a solid foundation. Often, the play of his blueline becomes the catalyst for his team's improvement in the win column. Granted, Sutter's rough demeanor can wear thin on an organization over time, and it could scare off the Rangers from hiring him. You hope he could evolve in new surroundings, but the Rangers aren't in the position to wait and find out if this is true. Too much expectations are riding on the development of their young talent, and it cannot be fizzled out by a coach who fails to develop a rapport with his players.
Dave Tippett
Dave Tippett should be one of the co-favorites to become the next Rangers coach, once the organization begins its interviewing process. It's a hire worth embracing, as Tippett's stints with the Dallas Stars and Arizona Coyotes brought some achievement and disappointment, but he established a style of play that has been proven to be successful in contending for a Stanley Cup playoff berth.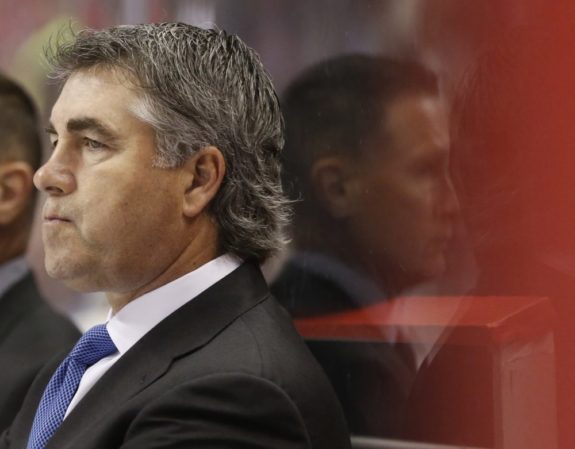 His career record is quite impressive with 553 wins in 14 seasons behind an NHL bench, and he was a Jack Adams Award recipient in 2009-10. Tippett's coaching style is simple, as he wants his team to be tough-checking and very detail-oriented in all situations on the ice. Coaching in New York would finally offer Tippett an opportunity to showcase his talents on a national stage, but that might not be enough for him to accept the position. Tippett's decision may come down to if he wants to be a part of another rebuild or wait for a job offer to coach a team ready to contend for the cup.
Related: Rangers' Should Alter Draft Lottery Fate
Sheldon Keefe
Sheldon Keefe is the best candidate to become the next Rangers coach, and this statement shouldn't come as a surprise to anyone following the NHL. Keefe caught everyone's attention as the coach of the Sault Ste. Marie Greyhounds in the OHL. Now, he works in the Toronto Maple Leafs organization as the coach of their AHL affiliate, the Toronto Marlies, and has accumulated an impressive 147-63-15 record in three seasons at the helm. The experience of working in a major media market like Toronto will help him withstand the scrutiny and pressure associated with a high-profile job like coaching in New York.
At the age of 37, his time with the Maple Leafs should be coming to an end as Mike Babcock is a roadblock who won't be leaving the bench any time soon. Keefe is the perfect fit for an organization that's over-flowing with quality prospects because he has a personality that relates well with young players. Keefe is a new breed of hockey coach that speaks the player's language. He a big believer in analytics and uses the data provided to adjust his coaching style based on the current trends with his own roster.
Keefe's final decision will come down to whether or not the Rangers coaching position is the most appealing job on the market. I expect him to wait until the Stanley Cup playoffs have concluded in order to explore all of his options, but working with a blank canvas in New York might be too tempting not to accept.
Thomas Conroy covers the Vegas Golden Knights for The Hockey Writers Network He has been writing about sports since 2007, first as a contributor for Bleacher Report and Football Nation. Recently, Conroy was a co-editor for the Bolts Beat website on Fansided. To read more his work, please him on Twitter @tsconroy