Winnipeg Jets forward Kyle Connor wasn't nominated for the Calder Trophy for top rookie in the NHL. Considering he led all rookies in goals with 31, you could call that a snub.
Then again, given Connor's handling of previous snubs, one doubts it will bother him too much. From his career in the USHL right up until his NHL debut, Connor has made a career of rebounding from bad situations.
It's hard to think of a speedy, skilled forward with decent size having to overcome tons of adversity to play in the NHL, but Connor has. Seemingly not a year goes by without someone underestimating his play, and him responding by playing even better.
Also, did Kyle Connor have the quietest 30-goal rookie season in history or what?

— Pete Blackburn (@PeteBlackburn) April 22, 2018
At some point, Connor is going to start getting the attention he deserves. Until then, he's no doubt quite content to "quietly" score 30 goals and pile up the points as part of a well-oiled Jets offensive machine.
The snub is far from the first of Connor's career. His is a long history of being underestimated, underappreciated, and under-recognized. His responses to every short-changing have been professional and self-vindicating.
Something to make very clear: this is not a knock on any of the Calder Trophy nominees. Nor is this to suggest that Connor would have won had he been nominated. That trophy is as good as Mat Barzal's after his incredible season.
This is just a reminder for those fans (and there were plenty) incensed at Connor's lack of recognition. This is not the first time Connor has been passed over. His past responses to it, as you'll see, have been exceptional.
Connor's History of Snubs
While it's hard to definitively say whether it was the first snub of Connor's career, the first we know of came from the USA National Team Development Program. They had no interest in the Shelby Township, Michigan native despite solid numbers at Belle Tire and a good first season in the USHL.
Connor's first USHL season, in which he garnered 41 points in 62 games, was just the beginning and the NTDP quickly realized they'd made a mistake. By then it was too late, as Connor had his mind made up to stay in Youngstown.
The speedy sniper scored 30 goals in two straight seasons in Youngstown. In his first season, he scored 31 goals in 56 games. In his second season, he led the league in points and was named top forward and MVP.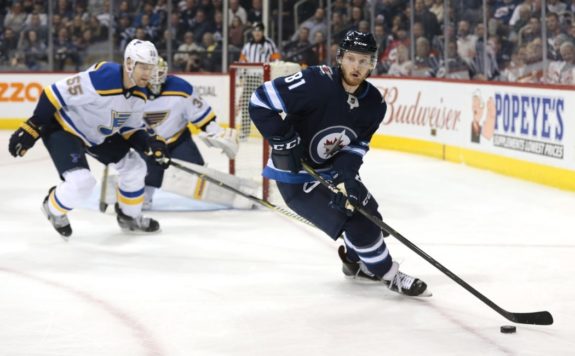 Sandwiched in between those seasons was a four-goal, seven-point performance in seven games at the U18s despite third line minutes. Connor looked like a surefire top-15 pick in the NHL draft in 2015, maybe even top 10.
Another snub soon awaited Connor, however, as in June of 2015 he watched 16 players called ahead of him in the first round of the draft. The Boston Bruins had three chances to take Connor and passed on him three times, despite early predictions he could go there.
Their loss, and that of many other teams, was the Jets' gain. Connor started off strong in his college career, but it was another snub that elevated him to elite status in that league. The United States confusingly left him off their world junior team.
Connor's response was inspired, and the poor Minnesota Golden Gophers were on the receiving end. He scored five goals in two games that weekend and went on a historic tear through the NCAA ranks.
Connor led the NCAA in scoring by a wide margin, becoming just the third every freshman to do it. The Hobey Baker, however, eluded him much the same way the world junior spot did in favor of a player who had 25 fewer points.
Connor didn't let that slow him down either, moving to the pros the next year. He started in the NHL, faltered, and went to the American Hockey League, where he promptly resumed terrorizing goalies.
Kyle Connor is turning into Nik Ehlers 2.0 and Western conference teams you're in trouble for years.

— PuckSauce (@FlyersPuckSauce) May 2, 2018
Fast-forward through another minor snub (being sent back to the AHL this year before returning after missing just six games) and  Connor has blossomed into the talented scorer he was projected to be. So how might he answer this latest cold shoulder?
Connor's Next Big Step
The biggest thing for Connor now is to come out with a strong first playoff season. Through eight games, he hasn't had tons of success yet, with just three assists so far. That said, few rookies have excellent playoff debuts but often find their groove partway through.
While Connor's playoffs have been a letdown so far, there's still time for him to turn it around. The missed Calder nomination may provide him the motivation he seems to thrive on.
A common critique of Connor is that he thrived on the strength of his linemates. We've countered that argument in the past at The Hockey Writers. It takes good players to bring out the best in other good players.
Whether Connor rode his linemates to stardom or not, the numbers are eye-popping. Connor potted 31 goals in 76 games and pitched in 26 assists for good measure. Now, his next step will be huge.
Then again, if Connor never gets any better but instead stays right where he is, a consistent 30-goal scoring winger is a hot commodity in the NHL—especially one who can take a setback and turn it into positive energy. Don't expect him to do anything less with the latest one.