After ending their season yesterday with a 5-0 thumping by the Flyers, who punched their ticket to the playoffs as a result, the New York Rangers wasted little time in making their next move: firing head coach Alain Vigneault.
With a 34-39-9 record, perhaps the writing was on the wall all along, but surely Vigneault's unsolicited postgame remarks in which he effectively blamed the front office for pulling the plug on a spiraling season did him no favors.
"…you have to coach the team in front of you," he told the media in a bizarre tirade, citing something of a personal philosophy.
By firing Vigneault—who has the third-most coaching wins in Rangers history—general manager Jeff Gorton has now increased his offseason workload. On top of key decisions to be made on the trade front, at the coming draft, and in free agency, he'll now need to find a new bench boss to steer his rebuilding ship.
Though the market could flood with additional candidates depending on what happens over the next few months of playoff hockey, there are multiple options worth mulling over now.
Sheldon Keefe, AHL, Toronto Marlies
If I were personally tasked with this charge, Keefe would likely be my coach of choice. The 37-year-old boss of the AHL-best Toronto Marlies has done great work in building and coaching the Marlies to contention. His coaching style, which doesn't just account for, but values analytics, also puts a premium on adjusting for variables – strength of opponent, schedule, and others. This element alone would be in stark contrast to Vigneault's rigid philosophy that rarely, if ever, made room for modification.
Take it from the man himself:
Keefe's influence over the Marlies has been remarkable. Not only do they lead the AHL in points (114) and winning percentage (.750) this season, but this is the second time in three years he's achieved this feat. He's also overseen the strong development of numerous youngsters turned NHLers like William Nylander, Zach Hyman, Connor Brown, Nikita Soshnikov, and Kasperi Kapanen.
Given the likelihood that the Rangers' average roster age is about to drop, perhaps precipitously, as they enter the first full season of their rebuild, Keefe's ability to work with and get the most out of young talent can't be overstated and is arguably his strongest selling point when juxtaposed with Vigneault, whose best performances came on the backs of veteran-strong rosters.
However, similar to AV, who is tied for the 10th-most career coaching victories in the NHL, Keefe has shown a proclivity for winning, albeit only at a lower level thus far through his young career. Per the Toronto Star:
Since taking the helm with the Marlies three years ago, he's compiled a .659 winning percentage (147-63-10-3), which includes 29 road wins this season — an American Hockey League record entering Saturday's game in Utica — and an AHL-low 16 losses in 76 games in the 2015-16 season.

If you add in his time with the OHL's Sault Ste. Marie Greyhounds (a team he built with current Marlies GM Kyle Dubas) and with the Pembroke Lumber Kings in the Central Canada Hockey League, he's got a winning percentage over .700.
Though he's close with Toronto Maple Leafs assistant general manager Kyle Dubas, if Keefe's goal is to be the next coach of the Leafs, he's facing a terribly steep climb ahead. Mt. Babcock is no easy summit.
By looking outward instead, the Brampton native would dramatically increase his odds of making the next step to the NHL. The Rangers would likely need to show interest sooner rather than later, though, as numerous clubs are expected to request permission to speak with him this summer.
Jim Montgomery, NCAA, University of Denver
Montgomery, 47, has already flirted with the idea of an NHL promotion over the last few years. The University of Denver coach, who won the men's Division I title last year, actually withdrew his candidacy for the then-vacant Florida Panthers coaching position before Bob Boughner was hired. Before that, he interviewed with the Los Angeles Kings before they hired Jon Stevens to replace Darryl Sutter last April.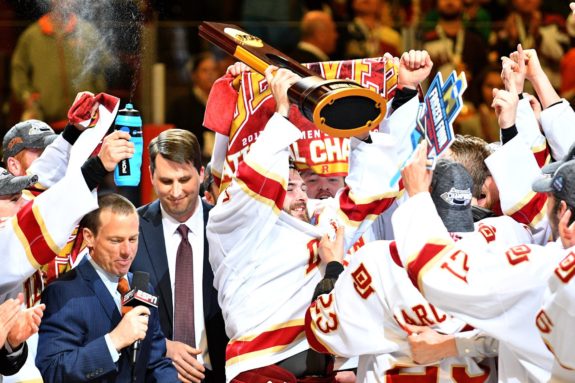 "From the onset of our search Jim Montgomery was at the top of our list and it is an absolute pleasure to welcome him to the Pioneer family," said Peg Bradley-Doppes, Vice Chancellor for Athletics and Recreation, when Denver announced the hiring. "Jim has all of the attributes needed to successfully take the reins of our hockey program – a commitment to excellence, integrity and superb hockey acumen to name just a few. He has won at every level and most importantly, he has comported himself with class and dignity at every stop.
Through his first four years with the Pioneers, Montgomery has coached to a 102-47-18 overall record. His 2015-16 team made the NCAA Frozen Four, and the following year he took home an NCAA National Championship.
With the Rangers or otherwise, an NHL gig is a logical next step for Montgomery.
Bill Peters, NHL, Carolina Hurricanes
The current coach of the Carolina Hurricanes, who have missed the playoffs for an eighth straight year, is believed to own an out clause that could allow him the opportunity to continue his coaching career elsewhere should he choose to.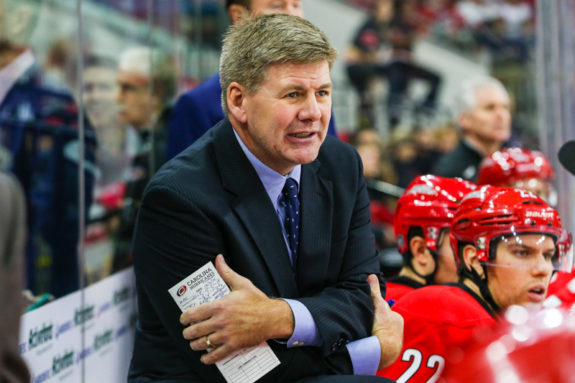 From another year gone by without a playoff berth to all-things-new owner Bill Dundon, to the opportunity to coach the New York Rangers, there's a plethora of potential reasons why he might opt to enact it. Should he decide to, according to Sportsnet's Elliotte Friedman, he is expected to have roughly one week following the end of the Canes' season to do so.
Should the 51-year-old enter the open coaching market, he'd likely have his pick of the litter as far as options go, with the Rangers included.
Despite failing to qualify for the postseason with the Hurricanes in any of the three seasons since joining them in 2014-15, he's shown marginal growth with the perennial basement dwellers. His Canes improved on their regular-season wins and points year-by-year through his first three seasons, though they took a step backward this past season, falling 14 points shy of the final wild-card spot in the Eastern Conference.
Where Peters really shines is in the analytics department, where he's something of a darling coach among the community's most prominent voices.
Over the last two seasons, Carolina rank 5th in the NHL in both score-adjusted Corsi and expected goals percentage. Give them a halfway decent goaltender and a couple of guys who can put the puck in the net and they're just about as good as anyone.

— Adam Herman (@AdamZHerman) March 8, 2018
Peters is also unique in that he doesn't subscribe to conservative hockey values and beliefs. Not only does he value analytics, but as he admitted to Sportsnet's Jeff Marek and ESPN's Greg Wyshynski on an old episode of the now-defunct Marek vs. Wyshynski podcast, his line to his analytics department—lead by Eric Tulsky, who he routinely speaks with—was direct.
This, too, would be in rather stark contrast to what the Rangers have been used to under AV, who, if he valued analytics at all, did so with respect to his own myopic, esoteric renditions of them that somehow allowed him to glean positive values where none likely existed in reality. The Rangers, after all, were dead-last in the league this year in 5-on-5 Corsi-for percentage (CF%, 45.9), Corsi-against (CA, 4,163), and expected goals against (xGA, 186.5). They were also fifth-worst in CF% last season (47.9), and the season prior (47.39).
No Shortage of Coaching Options This Summer
Additional coaching options could include fifth-season bench boss at Boston University, David Quinn, current Wisconsin Badgers and former Colorado Avalanche head coach, Tony Granato, who also coached Team USA during the PyeongChang Winter Games, as well as Union College head coach Rick Bennett, who won the 2014 Division I Championship.
Or, if retreads are your thing, there's always the likes of Dan Bylsma, Darryl Sutter, and Dave Tippett to consider. Though for my money, none are particularly interesting or promising for what could be a multiple-year rebuild.
With two-plus months of playoff hockey to watch from the outside for just the second time since the 2005 lockout, and for the first time in his tenure as general manager, Gorton can likely take his time in making this decision. But nailing down his next coach ahead of June's Entry Draft should assure the organization the best odds of making sure everyone is on the same page as the second chapter to this rebuild begins.