After a summer's worth of waiting, the Detroit Red Wings finally announced that they had agreed to a new contract with franchise center Dylan Larkin. There will be no Andreas Athanasiou situation this year.
UPDATE: The Detroit #RedWings today re-signed center Dylan Larkin to a five-year contract. #LGRW pic.twitter.com/MgmOCykUf2

— Detroit Red Wings (@DetroitRedWings) August 10, 2018
Larkin's new deal lasts for five years and has an average annual value (AAV) of $6.1 million, making the Waterford-native the highest-paid player on the team. In addition, the contract comes with a no-trade clause in its final year and pays out more during non-potential-lockout seasons.
More details on Dylan Larkin contract. Breakdown by year:

18-19: $1 million signing bonus. $5.75 million base
19-20: $7 million base
20-21: $4.75 million
21-22: $6.75 million
22-23: $5.25 million (no-trade clause)

— Craig Custance (@CraigCustance) August 10, 2018
The two sides appear to be very happy with the outcome, even if the negotiations did take some time. Larkin shared as much with Detroit's editor Dana Wakiji:
…I'm very proud to be from Waterford and be a local boy playing for the Red Wings and five more years, I think it's awesome, it's a great feeling.
Agreeable Contract for Larkin & Red Wings
First and foremost, Larkin's cap hit is palatable for the cash-strapped Red Wings. They'll need to make some adjustments to get under the salary cap upper limit, but certainly won't have to jump through hoops to do so. Placing Johan Franzen on long-term injured reserve will cover most of the new expense.
Related: Red Wings' Salary Cap Mess & How Larkin Fits
Overall, this deal fits Detroit's cap structure well. It only occupies 7.7 percent of the $79.5 million salary cap and, if the upper limit continues to move up, then that percentage will dwindle over time – pretty good for the Red Wings' best player.
From an organizational standpoint, this also sets the tone for future contracts. Players like Anthony Mantha, Andreas Athanasiou, Filip Zadina, and others will need new deals at some point and Larkin's contract will be a good barometer for those Red Wings' new AAVs. Does this player deserve to be paid more than Larkin from a performance standpoint? Should he be offered more term than Larkin was?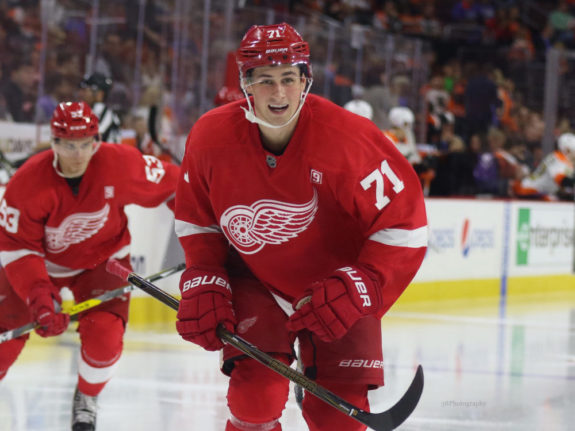 Finally, the AAV fits Larkin's performance to this point. The Red Wings aren't paying for potential, qualitative traits, or any other factor that could be cited to warrant the value of a contract. Simply put, It's a fair deal all-around that matches up well with the likes of Filip Forsberg, Bo Horvat, and Jonathan Drouin.
Added Risk?
One drawback of Larkin's new pact is the term. At its conclusion, he's set to become an unrestricted free agent (UFA), with only one year of unrestricted free agency bought out by the contract.
Typically, we've seen players like Tomas Tatar and Gustav Nyquist sign bridge contracts, then ink long-term deals the summer before unrestricted free agency becomes an option. A three-year contract would have accomplished this for Larkin. Instead, the Red Wings run the risk of losing their top center as a UFA during the summer of 2023.
Perhaps the relationship between Larkin and the Red Wings is so good at the moment, that it's a given that he re-signs toward the end of this contract. The public-side of the negotiations seemed to paint such a picture. But until that next contract is signed, it's still a risk to consider.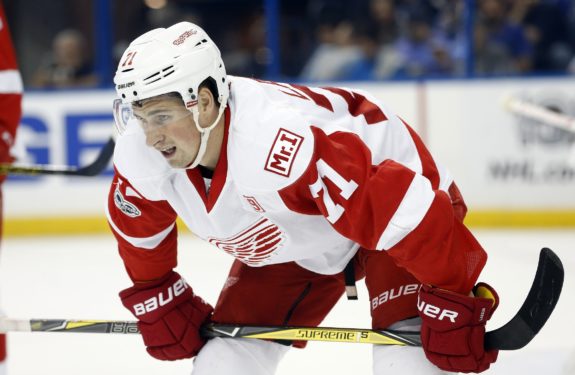 Final Word
Make no mistake – this is now Larkin's team. The contract, his role, and his standing within the organization indicate that. The captaincy will soon be his as well. Given Ken Holland's comments on Henrik Zetterberg, it's seems unlikely that Detroit's present captain will return:
I have talked to his agent a number of times over the course of the summer and I know he's had a tough summer, hasn't been able to train anywhere near close to what he's been able to train in past summers due to his back, so there's a real unknown right now with Henrik Zetterberg.
The timing of Holland's uninspiring remarks on Zetterberg's health seem to set expectations for training camp. It's an old public relations move – if something negative is going to happen, foreshadow it early on and cloak it with good news.
It will be a tough pill to swallow if Zetterberg cannot return. However, the Red Wings do have a legitimate successor in Larkin who can lead this team out of the rebuild and back into contention.
What do you think of Larkin's new Red Wings contract? Comment below with your thoughts.