Nick Bjugstad has come a long way from his humble beginnings in Blaine, Minnesota. He excelled at the University of Minnesota before the Florida Panthers drafted him 19th overall in 2010. He had high expectations, and he's now entering his sixth full season as an NHL regular.
Last year, he played 82 games for the first time, and he posted career highs in assists, points, and plus/minus. A common question among Panthers faithful this summer has been, "Can Bjugy take another step forward next year?" In this article, we'll explore the positives and negatives in his game, how the Panthers could deploy him, and what the Panthers are most likely to do with him.
The Good in Bjugstad's Game 
After an injured and statistically down 2016-17 campaign, Bjugstad bounced back last year with 19 goals and 49 points. He certainly learned a thing or two about puck protection during Jaromir Jagr's stint down south. Bjugstad's 6-foot-6 frame helped him effectively retrieve pucks against the wall and his size allows him to use his stick to reach across the length of the face-off circle to steal a puck.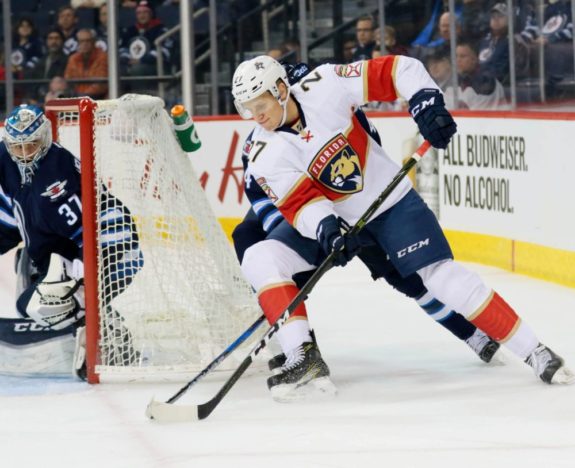 Additionally, he looked comfortable on the first line with Aleksander Barkov and Evgeni Dadonov once he was moved up in the middle of last year. Of his 42 even-strength points last season, Barkov or Dadonov factored in on 26 of them. This was Bjugstad's first extended opportunity on a legitimate first line, and there was chemistry. He drew attention, created space for his linemates to operate, and was consistently a net-front presence.
The Bad in Bjugstad's Game 
Of his 42 even-strength points, 16 were scored without the help of Barkov or Dadonov. This doesn't appear pressing at first, but he was only a permanent part of that first line for the last two and a half months of the season, or roughly 35 games. That means in the first 47 games of the year, Bjugstad notched just 38 percent of his season total. His numbers blew up once he was promoted. This is not to say that there isn't a place in the league for players like this.
The Stanley Cup Champion Washington Capitals just paid Tom Wilson, who played with Alex Ovechkin and Evgeny Kuznetsov, north of $5 million per season for the next six years. While Bjugstad gets into less trouble and can score at a higher rate than Wilson, are both the Capitals and Panthers not paying for large-bodied chemistry? One could argue most 6-foot-6 men who can ice skate could post a 40-plus point season playing with guys like Barkov and Dadonov.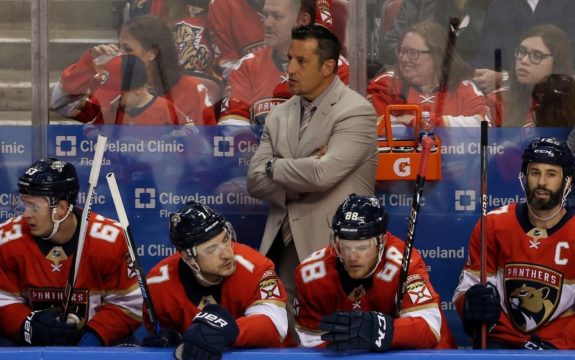 Bjugstad also has problems finishing. He works hard and has a good shot, but his shot misses the net too often. Too many of his passes are either intercepted or just off the mark. He does not seem to find the open ice as easily as, say, Jonathan Huberdeau did when he was logging first-line minutes. It's important to recognize what kind of player you're dealing with.
What We Can Hope For From Bjugstad
There is hope! While it seems like every summer we are left saying, "next year will be the year for Bjugstad," next season could really be the one where he breaks out. He took enormous strides in his first healthy season and his areas of concern are skills that can be honed. He is playing more physically and getting more pucks to the net. I think you can realistically hope for at least 20 goals and 50 points out of a healthy Bjugstad this year.
His trade value has never been higher and it may never exceed the level it is at right now. He has the versatility to play center or wing, has points on his résumé, and has a reasonable cap hit of $4.1 million for the next three seasons. He's large and only 26-years old. So what should fans hope for? A trade.
Bjugstad still holds the pedigree of a young first round pick, has scored 24 goals in the past, is plenty skilled as mentioned above, but he just hasn't found the right role with the Panthers. They are deep at center and found success in moving him to the wing last year so he looks good on paper, but if you focused on just him for a number of games, it's not hard to see that his talent is replaceable. Perhaps he is a starting point for Artemi Panarin to make his way south? That is optimistic and we'll save it for another article entirely.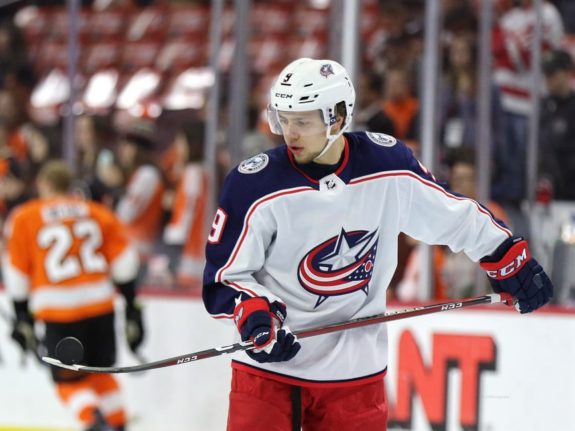 What We Can Probably Expect This Season
With the Panthers luck, we can probably expect the last three years of his contract to play out with a couple of significant injuries and one 50-plus point season at best. Of course, we hope for the best, but history does not lie. Though Barkov comes with injury history of his own, if they stick together, Bjugstad is capable of posting similar numbers to last season and the Panthers will likely sign him to an extension. Him staying is not the end of the world, though. What should make Panthers fans nervous is his next contract.
He will be 28 when his current deal expires and will have several seasons of first or second-line production under his belt. There is no shortage of quantifiable data that shows wingers' drop in production after turning 30, and typically, these players command term and money that is beyond their value.
But, Bjugstad is homegrown, and the Panthers like him despite his value having potentially reached its ceiling. At this point, he is a third-line forward with inflated numbers and third-line forwards are replaceable, not the guys to overpay.