Tom Wilson now has one of the worst contracts in the NHL.
It's Milan Lucic, David Clarkson-level bad, right? I'm going to argue wrong.
For starters, stop with the Lucic and Clarkson comparisons. The difference with Wilson is age and upside.
Wilson is getting paid for potential as he enters his prime whereas the other two were getting paid for past accomplishments at the end of their prime — both as unrestricted free agents. That's a huge difference.
Lucic was 28 when he signed with Edmonton for seven seasons at a cap hit of $6 million, and Clarkson was 29 when he signed with Toronto for seven seasons at a cap hit of $5.25 million. Washington is getting Wilson at four and five years younger, respectively. Again, huge difference.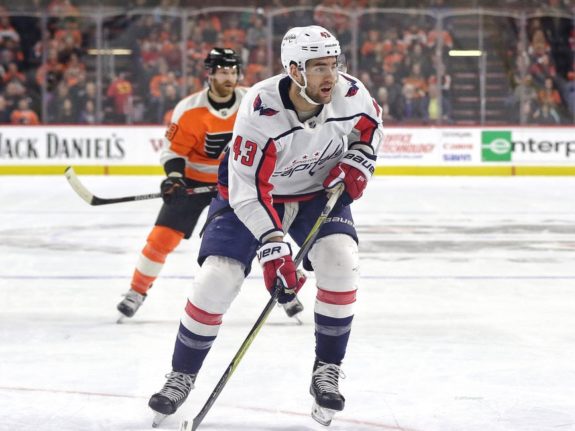 The only similarity between the three is their playing style as power forwards. But Wilson, at 24 and signed as a restricted free agent for the next six seasons at an annual cap hit of $5.17 million, doesn't have as many hard miles on his body and should be able to both hold up and keep up better than Lucic and Clarkson going forward.
The Bad
That's still a lot of coin for Wilson, who scored a career-high 14 goals last season — twice as many as each of the previous two seasons, both full 82-game campaigns — and finished with a modest 35 points in 78 games while flanking an elite centre for most of his minutes, be it Nicklas Backstrom or Evgeny Kuznetsov.
With his tendency to take bad penalties and risk of getting suspended from recklessness, that contract certainly looks like at an overpayment at first glance — both in salary and in term.
The safer route would have been a two-year bridge contract at an AAV of say $4.25 million, totalling $8.5 million instead of making a massive investment at $30 million.
Twitter, and specifically the fancy-stat community, despises this deal for a player who will never develop into an analytics darling. There was some serious hate being thrown around — insults on the interwebs that would never be said to Wilson's face — but also some cold, hard facts.
Oh, and also this: Tom Wilson now out-earns the average first-line winger. pic.twitter.com/OBfgB6JgiB

— Sean Tierney (@ChartingHockey) July 28, 2018
How far have salaries come in the NHL?

Tom Wilson will carry a total salary of 6.1M next season.

Hart Trophy winner Taylor Hall will carry a total salary of 6M. #ALLCAPS #NJDevils

— Brennan Klak (@nhlupdate) July 28, 2018
A quick fact-check confirmed both: Wilson will earn more than the average first-line winger this coming season, and Wilson's total salary, counting bonuses, for 2018-19 will exceed reigning MVP Taylor Hall.
That looks bad — laughable, really — but take into account the dates that all those contracts were signed. Wilson inked his extension a few days ago, while Hall signed his back in August 2012 when the salary cap was $60 million coming out of the lockout.
If Hall was up for renewal this summer (unrestricted or restricted) with a $79.5-million salary cap, he'd be looking for double-digits — for John Tavares money ($11 million), not Tom Wilson money. That isn't a fair comparable either. Not even close.
First-liners haven't been signing long term for less than $5.17 million this offseason, so it's important to live in the present. Keep things in proper perspective.
Comparing Contracts
Before we get to the good about Wilson, let's shine the light on some of those present comparables.
There are only three since June 21, when the NHL set the cap ceiling for 2018-19. Fellow restricted free agents of similar age, experience and pedigree as first-round picks.
J.T. Miller, 25, signed for five seasons at a cap hit of $5.25 million with Tampa Bay.
Elias Lindholm, 23, signed for six seasons at a cap hit of $4.85 million with Calgary.
Tomas Hertl, 24, signed for four seasons at a cap hit of $5.63 million with San Jose.
As a refresher, Wilson, 24, signed for six seasons at a cap hit of $5.17 million with Washington.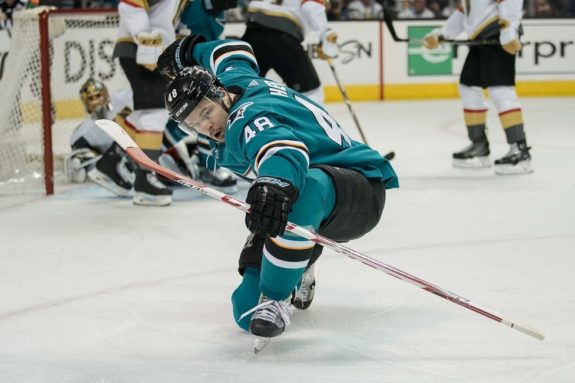 It's safe to assume that San Jose would have needed to go to $6 million on Hertl for the extra two seasons. Hertl has career highs of 22 goals (last season) and 46 points (twice).
It's also safe to assume that Tampa Bay got Miller at a bit of a discount thanks to the tax situation in Florida, which always seems to save the Lightning about a million a year on long-term contracts. Miller is coming off a career year of 23 goals and 58 points in what was his third straight season of 20-plus goals. Miller, who previously had a 56-point campaign with the Rangers, is the oldest and most accomplished of the four.
Lindholm has consistently been a 40-point player to this stage of his career — 39, 39, 45 and 44 over the past four seasons, with goal totals of 17, 11, 11 and 16. Calgary got a good deal in getting him locked up under $5 million shortly after acquiring Lindholm from Carolina.
Looking back to last July, I considered another dozen contracts as comparables, with the one that stood out being Nino Niederreiter, who signed for five seasons at a cap hit of $5.25 million with Minnesota. Niederreiter was 24 and coming off a career year of 25 goals and 57 points when he agreed to that extension last summer, but the salary cap had only gone up from $73 to $75 million.
In hindsight, knowing the ceiling would leap to $79.5 million this summer — a $4.5-million increase, the largest since 2013-14 — Niederreiter likely would have asked for $6 million too.
Miller, Lindholm, Hertl, Niederreiter . . . and Wilson? None of them are legitimate first-liners and Wilson is on the lower end of that salary scale, so a case can be made for Wilson belonging in that range and in that group — that he's on the upswing and that Wilson can make a similar overall impact for his team in the years to come.
The Good
Wilson went on to produce 15 points, including five goals, in 21 playoffs games while being an imposing physical presence in helping the Capitals hoist their first Stanley Cup in franchise history.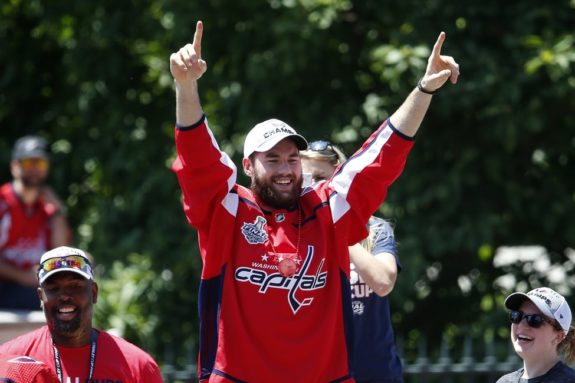 That prorates to 20 goals and 59 points over 82 games. It's never wise to pay for playoff production and expecting Wilson to flirt with 60 points this season would be foolish. But 20 goals should be attainable throughout Wilson's contract, from start to finish, and Washington is paying for that potential and projectable upside.
Wilson should be in his prime for the duration of this deal, and having been a first-round pick — 16th overall in 2012 — that always drives up the cost in long-term negotiations.
Wilson also brings intangibles that are tough to put a price on, as a hard-hitter with an intimidation factor — he's the closest thing to a prime Lucic in today's game — and Capitals general manager Brian MacLellan may value those unmeasurable traits more than most since he was a rugged type in his playing days.
Wilson might be a sentimental favourite as a throwback, but the game is evolving away from violence and if he's not scoring 20 to 30 goals a season, Wilson won't be worth his salary.
That's the bet that Washington is making — that Wilson will be a perennial 20-goal guy starting this season and could net 30 in a career year, with 40- to 50-point campaigns becoming his norm. And, of course, that he'll keep being a beast in the postseasons.
The Verdict
Wilson's contract is obviously not a great deal as of today and might not even become a good deal over the term, but it should be a fair deal in due time. It could be market value soon enough, providing the salary cap continues to climb.
Flash forward a few years — to 2021-22, the midpoint of Wilson's contract, when he'll be 27 years old — and that $5.17M cap hit could be the league-average salary. It's trending in that direction — the Capitals and Wilson's agent would have applied that foresight — and there is no reason to anticipate a plateau or a drop in the ceiling.
If Wilson is bagging 20 goals at that point, he should be earning his keep. If he's topping 25 goals, Wilson could be a bargain before this deal is done.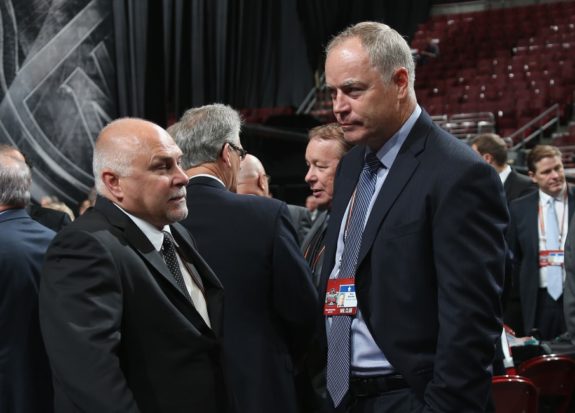 If Wilson is injured or suspended for any significant time, then this deal could backfire on MacLellan, but as long as Wilson stays healthy and stays on one of Washington's top two lines, he should stay productive enough to make his contract a non-issue over the course of six years.
All in all, the contract is fine — not necessarily good or overly bad — and the onus is now on Wilson to earn it. He needs to keep playing the way that got him paid, by maintaining his physical edge without crossing the line too many times while gradually increasing his goal-scoring and offensive contributions. Simple as that, but easier said than done.