40 goals.
I'm not even going to bury the lede here. I firmly believe that Jake Guentzel is going to score at least 40 goals next season for the Pittsburgh Penguins.
This kid has been very, very good in his first two NHL seasons, and he has the potential to be so much better. If my predictions come true, as a restricted free agent after the upcoming season, he is going to get paid like the big boys.
Seeking Playoff Production During the Regular Season
During the 2018 NHL playoffs, Guentzel scored 10 goals in 12 games. Alex Ovechkin finished with the most tallies, scoring 15 goals in 24 games. Yes, that is only five more goals than the Penguins' forward in twice as many games.
The previous postseason saw Guentzel net 15 goals on the way to the Stanley Cup. That's a total of 25 goals in his first two playoff appearances, which is pretty impressive stuff. The 23-year old has stepped up and dominated at exactly the right time when called upon.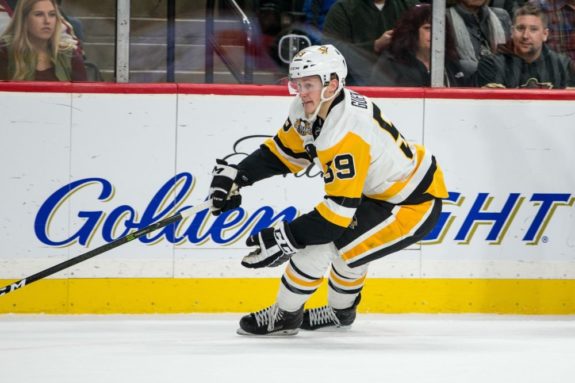 If he can find that same level during the regular season, look out NHL.
Guentzel played in all 82 games last season, producing .59 points per game; once he reached the 'second season' his output rose to 1.75 PPG. Nobody would expect him to maintain an average of nearly two points per game, but if he could elevate his regular season production by half of what he has accomplished in the playoffs, 40 goals is not out of the question.
With 38 goals in 122 regular season games as a foundation, Guentzel can now build upon his experience of playing on the biggest stage in the hockey world, alongside and against the planet's best players.
Crosby & Guentzel Making Magic Happen
Over the years, Sidney Crosby has seen a revolving door of wingers on his line, with only a handful such as Pascal Dupuis, Bill Guerin, and Patric Hornqvist being considered 'regulars'. In fact, Crosby hasn't had a consistent linemate that could be considered a 'sniper' since Marian Hossa's brief stint in Pittsburgh. But given his talent level, and apparent chemistry, Guentzel could, and should be that guy.
Shortly after last season ended for the Penguins, our Julia Stumbaugh wrote about Crosby and Guentzel potentially becoming permanent linemates.
These past two playoff runs have given Crosby the most consistent postseason linemate he's had in years. In the 2018 postseason, Crosby played only 12 minutes in 12 games without Guentzel at even strength. The two played 160 minutes together overall and barely saw the ice during 5v5 play without one another.
Crosby is one of the best playmakers in the history of the game, while Guentzl clearly has a unique eye for the back of the net. The more that these two elite players skate together, the more goals, and sensational plays we will see.
Clearly their games mesh well together, and they are starting to read each other's minds. When you play with Crosby, you have to have quick feet and quick hands, but you also have to have a quick mind, and clearly, Guentzel has all three.
Guentzel Can Raise His Price With Every Goal
Recently an article on Pensburgh compared Guentzel's potential contract to that of Tomas Hertl and the situation that Sam Reinhart is in.
Guentzel, in his first full season, had 48 points, which already surpasses Tomas Hertl's 46-point career high. So looking back at Hertl's ($5.625 million per season for four seasons) and a possible $5+ million extension for Reinhart, the more time goes by, the more ammunition the agent is going to get to paint an even richer deal for his client. Hertl has been playing center, which comes at a premium, but the simple math for RFA for points and salary still hold.
I believe that the Penguins have missed an opportunity to sign Guentzel to a long-term contract at a decent price. There is no reason to believe that he will not reach the 30-40 goal range, which puts him in a much higher tax bracket than he would have been if general manager Jim Rutherford had locked him up prior to the start of the season — which could still happen but is unlikely.
True snipers are hard to come by, which is why the Penguins appear to have grudgingly kept Phil Kessel on the payroll.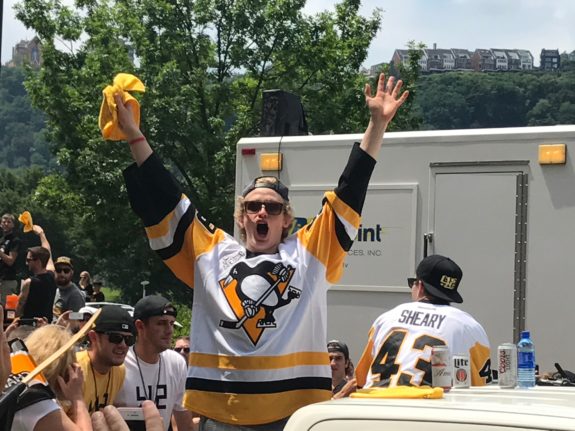 Don't let Guentzel's somewhat slow start last season fool you. The entire Penguins' team seemed out of sync much of last year, and really didn't put it together until they had to. Even with the addition of Derick Brassard, the club just felt off, even during the playoffs.
Mark my words, Jake Guentzel is an elite talent who is going to score a lot of goals this season, and over the course of his career. I remember watching him a couple of years ago during the Penguins' prospect development camp and thinking what a special player he was. He was head and shoulders above his peers those days in Cranberry, and sooner rather than later, the same will be said about his peers in the NHL.
It will be great for the Penguins to continue their long line of elite players coming through Pittsburgh, but eventually, they are going to have to pay that talent accordingly.
Until next time.