Ever since the Detroit Red Wings declared themselves as sellers prior to the 2017 NHL Trade Deadline, Ken Holland made good on his word to rebuild the organization through the draft.
In that time, the now former GM stockpiled picks and prospects while sending veterans and rentals out. After years of building for right now, Holland prioritized the future and worked to position the Red Wings for another long playoff streak and a shot (or multiple chances) to bring the Stanley Cup back to Hockeytown.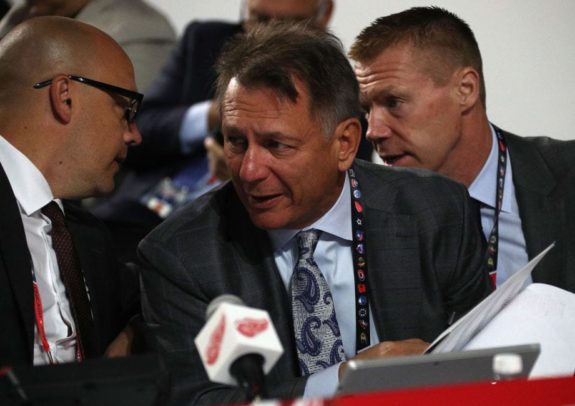 Now that Holland is commanding the Edmonton Oilers, let's look back on Holland's rebuild trades. How did he do?
Jurco Sent Packing
TRADE: Detroit trades Tomas Jurco to the Chicago Blackhawks for a 2017 third-round pick (Keith Petruzzelli).
ANALYSIS: This swap looked good the moment it hit Twitter. It looked even better after the Red Wings nabbed a potential franchise goalie with the pick they acquired for Jurco, who didn't seem to have a future with the organization and has since been non-tendered by Chicago.
GRADE: A-
Mr. Smith Goes to New York
TRADE: Detroit trades Brendan Smith to the New York Rangers for a 2017 third-round pick (Zach Gallant) and a 2018 second-round pick (Jonatan Berggren).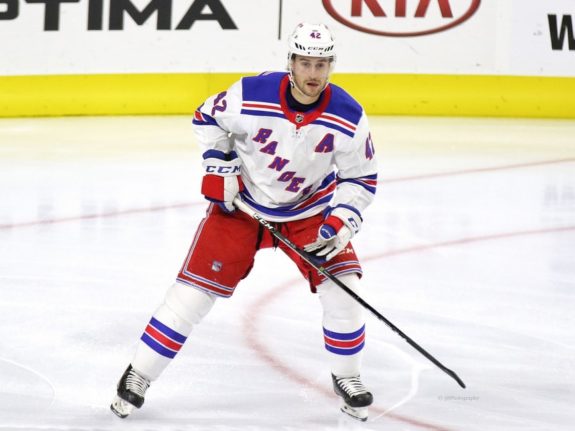 ANALYSIS: So far, so good. After a promising start to his career, Smith never developed into a top-four defenseman that Detroit had envisioned. Instead of committing nearly $4 million per year to a depth player, the Red Wings traded him for two picks. Berggren (No. 5-ranked prospect) alone would have a nice return for Smith, who spent time in the minors the following season after re-signing with the Rangers that offseason and is now skating as a forward.
GRADE: A
Vanek Visits the Sunshine State
TRADE: Detroit trades Thomas Vanek to the Florida Panthers for Dylan McIlrath and a 2017 third-round pick (Kasper Kotkansalo).
ANALYSIS: Considering the returns for Jurco and Smith, it was puzzling to see Vanek traded for an AHL defenseman and a third-rounder. The reality is that this was the best offer Holland received for the rental forward despite his impressive season to that point (38 points in 48 games). Hopefully Kotkansalo can develop into a defensive-minded NHLer and swing this trade more in Detroit's favor.
GRADE: C+
Ott Shipped to Montreal
TRADE: Detroit trades Steve Ott to the Montreal Canadiens for a 2018 sixth-round pick (Tim Berni).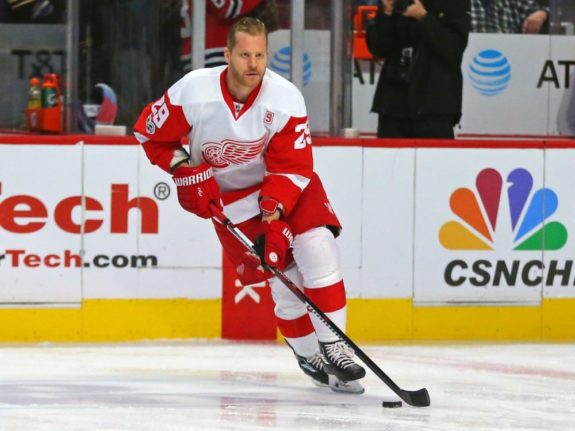 ANALYSIS: A valuable presence in the locker room, Ott was a nice rental for the Red Wings. The draft pick acquired for the veteran forward was later flipped to the Columbus Blue Jackets at the 2018 NHL Draft for a fifth-rounder in 2019. That fifth was then traded to Buffalo for 2020 sixth- and seventh-round selections. Essentially acquiring Gustav Berglund and Carter Gylander for 11 games of Ott—who's now an assistant coach with the St. Louis Blues—was a shrewd move by Holland.
GRADE: A-
McCollum Reunion
TRADE: Detroit trades a conditional 2018 seventh-round pick (not exercised) to the Calgary Flames for Tom McCollum.
ANALYSIS: McCollum never appeared in a game for the Red Wings this past season, so Detroit didn't need to send any compensation to the Flames. In Grand Rapids, the veteran netminder helped the Griffins reach the playoffs after starter Jared Coreau was called up to Hockeytown.
GRADE: B
Sheahan Sent to the Steel City
TRADE: Detroit trades Riley Sheahan and a 2018 fifth-round pick (Justin Almeida) to the Pittsburgh Penguins for Scott Wilson and a 2018 third-round pick (Jesper Eliasson).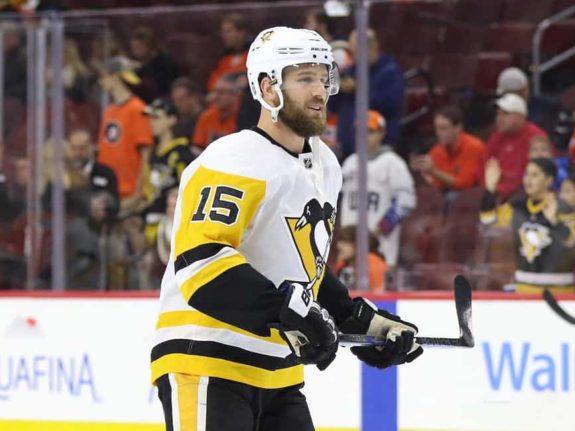 ANALYSIS: The frustration around this trade centered on Sheahan's lack of development and Detroit's wasting of a 2010 first-round pick, especially when you consider the fact that Evgeny Kuznetsov was taken five picks after the big center. Sheahan's lack of production the previous season and through the first eight games of the 2017-18 campaign was nauseating. So was Wilson's stint in Hockeytown after the deal.
In a vacuum, this was a fine deal at the time. It just didn't benefit the Red Wings in any way besides moving up 45 spots in the 2018 NHL Draft and cutting salary. This trade should have never happened, just like Sheahan shouldn't have nearly gone a whole season without a goal.
GRADE: C-
Sproul Joins Smith
TRADE: Detroit trades Ryan Sproul to the New York Rangers for Matt Puempel.
ANALYSIS: With Joe Hicketts, Dennis Cholowski, and Filip Hronek on the way, the Red Wings found Sproul to be expendable and received a pretty good AHLer for the defenseman. Puempel probably won't play for the Red Wings, but it was a worthy gamble on a former first-round pick.
GRADE: B
Great Scott, That Was Quick
TRADE: Detroit trades Scott Wilson to the Buffalo Sabres for a 2019 fifth-round pick.
ANALYSIS: For a forward who hadn't recorded a point through 20 games, a fifth-round selection was a nice pick up. However, the Red Wings probably expected more out of Wilson, who had produced 26 points in 78 games with Pittsburgh the year before. Like the Sheahan trade, it was acceptable in a vacuum, but shouldn't have ever happened.
The Red Wings never made this selection, though. More to come on that.
GRADE: C
Mrazek's Tenure Ends
TRADE: Detroit trades Petr Mrazek to the Philadelphia Flyers for a conditional 2018 fourth-round pick (exercised – became a third-round pick: Seth Barton) and a conditional 2019 third-round pick (not exercised).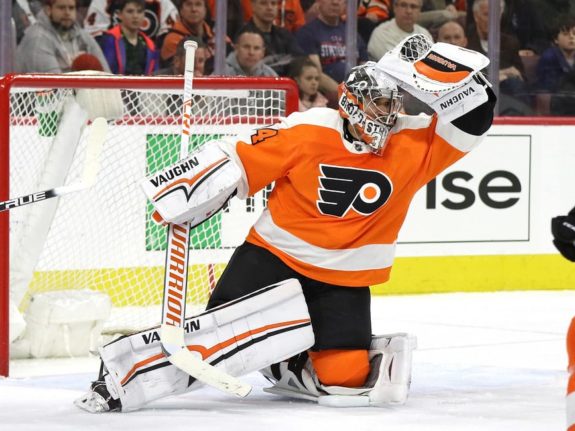 ANALYSIS: I think we're starting to see a common theme here. Like Sheahan and Wilson, Mrazek should have performed better and, thus, not been dealt. However, the third-round pick they received for a goaltender with a 2.89 goals-against average was a nice acquisition. Barton is a long-term project, but has the skating and puck-moving skills to push for an NHL job one day.
Still, many—including myself—thought Mrazek could become Detroit's franchise goaltender with some refinements. He certainly looks like a starting goalie for Carolina.
GRADE: C+
Gambling on a Tatar Trade
TRADE: Detroit trades Tomas Tatar to the Vegas Golden Knights for a 2018 first-round pick (Joe Veleno), a 2019 second-round pick (Robert Mastrosimone), and a 2021 third-round pick.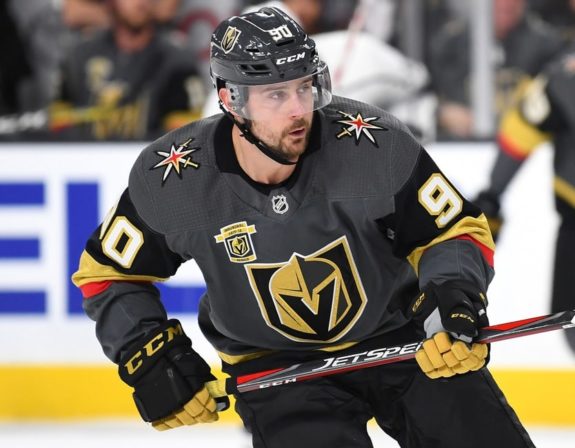 ANALYSIS: In the last few minutes of the 2018 NHL Trade Deadline, Holland pulled off a heist – with Vegas, no less. Veleno, the No. 3-ranked Red Wings prospect, could join the Red Wings as soon as next season.
It was tough to see Tatar go, but the return that Detroit received was well worth parting ways with the scorer. Veleno alone may have been a good swap. Getting Mastrosimone and a third-rounder as well—while opening up $5.3 million in cap space through the 2020-21 campaign—only sweetened the deal.
GRADE: A
Coyotes Wrangle Russo
TRADE: Detroit trades Robbie Russo to the Arizona Coyotes for a conditional 2019 seventh-round pick (not exercised).
ANALYSIS: Similar to the Sproul deal, the Red Wings had too many defensemen between the NHL and AHL. Russo was made expendable and was picked up by the Arizona Coyotes for essentially nothing.
GRADE: C-
Mr. Jensen Goes to D.C.
TRADE: Detroit trades Nick Jensen and a 2019 fifth-round pick (Arseny Gritsyuk) to the Washington Capitals for Madison Bowey and a 2020 second-round pick.
ANALYSIS: Madison Bowey has been just OK for the Red Wings, but the second-round pick does look promising. As the Red Wings continue to rebuild, they need as many high draft picks as they can get.
Jensen has disappointed for the Capitals and the fifth-round choice was originally acquired from Buffalo for Scott Wilson. Overall, the Red Wings came out ahead. If Bowey is indeed part of the long-term plan, then this deal will look even better for Detroit.
GRADE: B+
The Goose is Loose
TRADE: Detroit trades Gustav Nyquist to the San Jose Sharks for a 2019 second-round pick (Albert Johansson) and a conditional 2020 third-round pick (condition not exercised).
ANALYSIS: At the time, most expected the Red Wings to get more for Gustav Nyquist, who was having a career year to that point. But once the dust settled, Holland could only pry a second and third from the Sharks for Nyquist.
Albert Johansson, however, does have a lot of promise. He's a smooth-skating, left-handed defenseman who could play in Detroit's top-four down the road. The third-round pick was not upgraded to a second, but will come at the beginning of the third round due to San Jose's brutal performance this season.
GRADE: B
Final Word
Holland did a great job acquiring draft picks for players who didn't factor into the long term. While Sheahan, Mrazek, and others didn't pan out as hoped, at least Detroit got something useful in return for them. Plus, you can't blame Holland for their lack of NHL progress – that's on the coaching staff.
Holland's moves were a great foundation to build on. Steve Yzerman inherited a stocked prospect pipeline and plenty of draft picks to work with. Overall, Holland did a good job rebuilding the Red Wings.
GRADE: B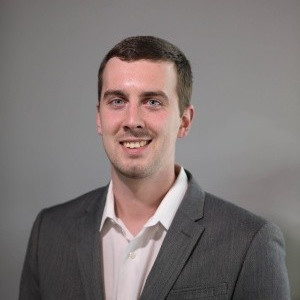 Tony Wolak is based in the Washington D.C. area and covers the Detroit Red Wings for THW. As a former junior and college hockey player, Tony has a unique perspective on Red Wings topics.