Beginning June 1, NWHL teams can re-sign players from their 2017-18 roster and their draft picks. Additionally, for those players who have completed their college eligibility and want to continue their hockey careers, NWHL Free Agency provides the best opportunity to continue playing at the highest level of professional women's hockey. The fourth season of the NWHL will begin in October as the Metropolitan Riveters defend their Isobel Cup championship, and with the addition of a fifth team – the Minnesota Whitecaps – this will be the most competitive season yet.
My colleague Dan Rice will keep THW readers up-to-date on Metropolitan and Connecticut's signings throughout the summer, while I post updates on Buffalo and Boston. Together we will be keeping readers informed of all of Minnesota's signings. 
Pelkey Returns to Pride With Olympic Gold
Pride Sign 2017 11th Overall Selection McKenna Brand
Hometown Hero Pfalzer Makes a Return to Beauts
The Boston Pride have kept a sizable portion of this past season's defense corps intact as they ready themselves for the 2018-19 NWHL season. Word was released in the late afternoon of Aug. 20, 2018 that defender Kaliya Johnson had re-signed with "The Pack". This will be Johnson's second year with the Pride, and her third year in the league. Her first NWHL season was with the Connecticut Whale for the 2016-17 campaign.
HOT OFF THE PRESSES: Kaliya Johnson (@kleaa42) re-signs with @TheBostonPride

🔗:https://t.co/C95hygLdgR pic.twitter.com/KZSxV32Gp7

— NWHL (@NWHL) August 20, 2018
"It's going to be a great year and we are ready to compete!" Johnson said in the press release about her signing. "I love playing with these girls and competing every day – not only the games but against each other in practice. I'm very excited to be back in Boston this season."
Johnson is the seventh defender to be named under contract for Boston with the start of the season just around the corner. She has demonstrated through her first two years that she is a steady blueliner who can be utilized in any situation and can be robust. THW takes a closer look  at Johnson's signing and what sort of an impact it will have for Boston in the year ahead.
Johnson's First Two Seasons in the League
Johnson spent her formative years playing at the North American Hockey Academy (NAHA). She is one of the many players to have graced the NWHL as products of NAHA. The elite girls hockey school has given us the likes of Taylor Holze, Kelsey Neumann, Colleen Murphy, Katherine Donohue, and Johnson's Boston teammate Amanda Pelkey.
After her four years of college hockey at Boston College, Johnson made the jump to the NWHL for the 2016-17 season. That was after a senior year at BC in which set career highs in games played (41), goals (four), assists (13), points (17) and plus/minus (plus-44). Playing her first season as a member of the Whale, she appeared in 14 of the team's 18 games. She did everything Connecticut needed her to do as a defender, as she was second overall on the team in blocked shots (16), trailing only Cydney Roesler's 18. Johnson rounded out her first year with three assists.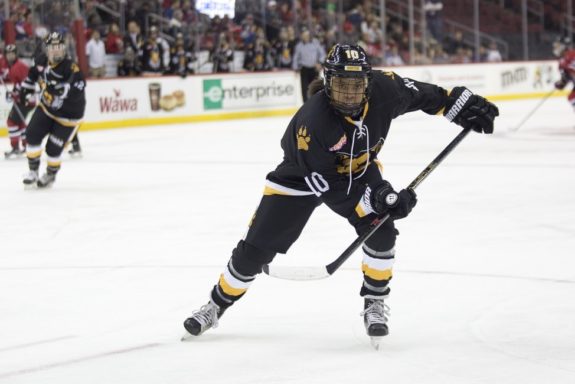 This most recent season she elected to sign with the Pride instead. It was a tougher season for Boston in general, and maybe particularly for Johnson. The team finished with a losing record of 4-8-4 for their 2017-18 campaign, and scored 33 goals in their 16 games while allowing 48. Johnson had not only a team-worst, but a league-worst minus-10 on the season.
Contribute it to a sophomore slump, if you will. Plus/minus is oftentimes a deceiving statistic, and both Johnson and Boston are far more capable than the numbers they put forth. Look for her to rebound and have a decisively better season for 2018-19.
Boston's Defense Has Been Tweaked for the Better
It would appear that the Pride are making just the right amount of adjustments to their back end. With the seven defenders that are signed so far there is likely going to be one more that will be joining them. Of the batch who are currently under contract, five are returnees. The two rookies – Toni Ann Miano and Lauren Kelly – can each bring a bit more offense to the mix.
With the 2018 PyeongChang Olympics eliminating major scorers such as Hilary Knight, Alex Carpenter, Brianna Decker, and Meghan Duggan from potentially being on Boston's 2017-18 NWHL roster, major blows were dealt to the team's overall offense – a high-scoring offense that they were accustomed to having. This was further compounded by the fact that only two defenders from the '17-'18 roster scored goals for Boston, and each only scored a pair. Offense needed to be added to rearguard while not losing the team's toughness. Boston has done a nice job of accomplishing that for the upcoming season.
My name is Kaliya Johnson.
California-born, Arizona-raised.
Played at Boston College, and now for the Boston Pride of the NWHL.
I used to be a minority in my sport, but no longer. #HockeyIsForEveryone pic.twitter.com/UjngZpmbSC

— NWHL (@NWHL) February 2, 2018
You might not want to go as far as saying that the Pride's defense can be punishing, but they're not far from it. Having physical defenders in the likes of Johnson, Miano, and Kaleigh Fratkin, Boston is the furthest thing from a walk in the park for opposing forwards trying to penetrate their zone. Each has sound positioning, and they do not hesitate to put a player in a different colored jersey onto her backside. In fact, in the case of Johnson and Fratkin, they truly excel at it.
Johnson still has yet to score her first NWHL goal – it could likely happen this season – but that is not really what the Pride need from her. They want her to play shutdown hockey and to prevent scoring chances. She has the skating ability too in order to keep pace with speedier forwards.
With Johnson re-signing with the team for a second year, here is how the Pride look as of Aug. 20:
Goalie: Katie Burt.
Defense: Alyssa Gagliardi, Toni Ann Miano, Lauren Kelly, Lexi Bender, Kaleigh Fratkin, Mallory Souliotis, Kaliya Johnson.
Forward: Emily Field, Dana Trivigno, Denisa Křížová, Haley Skarupa, Jillian Dempsey, McKenna Brand, Amanda Pelkey.