Beginning June 1, NWHL teams can re-sign players from their 2017-18 roster and their draft picks. Additionally, for those players who have completed their college eligibility and want to continue their hockey careers, NWHL Free Agency provides the best opportunity to continue playing at the highest level of professional women's hockey. The fourth season of the NWHL will begin in October as the Metropolitan Riveters defend their Isobel Cup championship, and with the addition of a fifth team – the Minnesota Whitecaps – this will be the most competitive season yet.
My colleague Dan Rice will keep THW readers up-to-date on Metropolitan and Connecticut's signings throughout the summer, while I post updates on Buffalo and Boston. Together we will be keeping readers informed of all of Minnesota's signings. 
Souliotis Returns to Pride for a Second Campaign
UNH Star Jonna Curtis Joins Hometown Whitecaps
Bolden Returns to NWHL With Beauts
If there was one most obvious signing that the Beauts would be making this summer, it would be bringing back their former captain Emily Pfalzer. On Aug. 16, 2018 word was officially announced that she was back with her hometown team. A native of the Buffalo suburb of Getzville, NY, Pfalzer was the original captain of the Beauts and was essential in the Beauts capturing the 2017 Isobel Cup championship as underdogs. Fresh off of earning the gold medal at the 2018 PyeongChang Winter Olympics, Pfalzer was on hand at the Beauts semi-final game this past March against the Boston Pride. As she posed for photos with fans and spoke to the media, it was evident that a return to the NWHL team was a likelihood, if not inevitable.
BREAKING: Emily Pfalzer is back in business with the @BuffaloBeauts. Pfalzer has re-signed with the team after winning Olympic Gold in PyeongChang.

🔗: https://t.co/493Zy7mHbi pic.twitter.com/poiTZFvdMB

— NWHL (@NWHL) August 16, 2018
"Emily arrives with championship experience both with the Beauts and with the United States national team," Buffalo General Manager Nik Fattey shared in the press release about Pflazer's signing. "Her presence will help solidify our already strong defense and having a local player of her caliber return to our club will be invaluable to the team both on and off the ice."
Pfalzer becomes the eighth defender to sign with Buffalo for the 2018-19 campaign, and essentially the last defender to be put onto the roster. THW takes a closer at the signing and what having the team's inaugural captain back in the fold will mean for the Beauts.
Pfalzer's Previous Successes With Buffalo
Through the first two seasons of the NWHL, Pfalzer not only was a consummate leader for the team – one who led them to the first two of three straight Isobel Cup Final appearances – but she was also one of the team's best offensive-defenders. In 32 career regular season games she scored three goals and added 16 assists for 19 points.
Despite not playing the 2017-18 NWHL season because of the Olympics, Pfalzer is still second overall in Beauts' history for points by a defender. She trails only former teammate Megan Bozek's 23 points (eight goals, 15 assists). Likewise, Pfalzer's 16 career assists tie her with fellow Buffalo blueliner Sarah Casorso for the second most all-time among the team's skaters. Only forward Kourtney Kunchika (26 helpers) has generated more assists in a career for the Beauts. Keep in mind too that Kunichika has played a full three seasons for the Beauts as opposed to Pfalzer's two.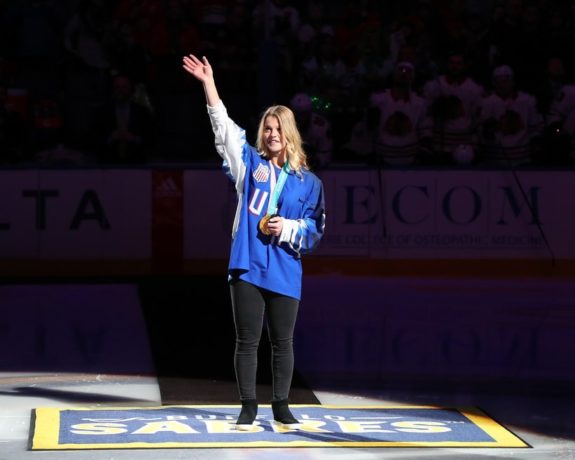 Those numbers are just scratching the surface of her overall performance with the team. A closer look at Pfalzer's statistics can depict how great of an impact she has had with the team. Take for instance the inaugural 2015-16 season. She was able to generate 10 assists in 17 games which tied her with Bozek and Meghan Duggan to lead the team in that category. Eight of Pfalzer's 10 assists came on the power play, which led the entire NWHL. No one else on the Beauts had more than half that many.
Continuing on into the 2016-17 season, Pfalzer put up a total of six assists in 15 games – three of which were earned on the power play. On a Beauts squad that struggled for offense that year, the three that came on the advantage tied her with Casorso for second most on the team behind Kunichika and Kelley Steadman who each had four. Even though they would win the Isobel Cup that year, Buffalo scored a league-worst 44 goals in 17 games. They were the only team in the league that year to not score above 50 on the season. That being said, capitalizing on specialty teams was more important for the Beauts than any of the other squads and Pfalzer was a vital cog for those opportunities.
How Will Buffalo's Defense Perform in 2018-19?
Buffalo's defense looks very different for the 2018-19 season as opposed to last year. One of the main reasons why the Beauts made it to the Isobel Final for a third straight year was because their defense was so interchangeable and cohesive. They functioned more so as a unit rather than individuals or pairs. Can that same unity be achieved for the upcoming season? Pfalzer is the type of player who can lead naturally and promote that unity from within.
Of the eight defenders signed more than half are returning from the 2017-18 team – Casorso, Lisa Chesson, Jacquie Greco, Sarah Edney and Jordyn Burns. It is important that those pieces are there. The newcomers are rookie and NCAA champion Savannah Harmon, as well as Clarkson Cup and Isobel Cup champion Blake Bolden. Though Pfalzer is certainly not a newbie, she was not on the team last year. However, Casorso, Chesson, Greco and Burns were teammates of hers when the Buffalo won the Cup. Should the "C" be bestowed upon Pfalzer once more she will be instrumental in ensuring that this batch of Beauts gels.
She's coming back as an Olympic gold medalist.

Emily Pfalzer will join us for her third season in #BeautsBlue! Welcome home, Pfalzy! pic.twitter.com/dHMlLsWpLX

— Buffalo Beauts (@BuffaloBeauts) August 16, 2018
A sizable portion of that onus will also fall upon the shoulders of co-coaches Ric Seiling and Craig Muni, particularly Muni who primarily ran the defense this past season. The coaching staff can take comfort in knowing that except for Harmon and Bolden, they have worked with all of these defenders before and for multiple seasons. Edney is the only returnee to not have played two or more previous seasons as a Beaut.
The Beauts have made the most signings of the five NWHL teams thus far. They are just about filled up, and their defense and goaltending are now squared away. With 21 spots now filled, look for Buffalo to add a few more forwards before the season commences. Here is a look at how their roster is currently shaping out as of Aug. 16:
Goalie: Nicole Hensley, Julia DiTondo, Shannon Szabados.
Defense: Lisa Chesson, Savannah Harmon, Jacquie Greco, Sarah Edney, Jordyn Burns, Sarah Casorso, Blake Bolden, Emily Pfalzer.
Forward: Hayley Scamurra, Corinne Buie, Maddie Elia, Dani Cameranesi, Annika Zalewski, Julianna Iafallo, Kelly Babstock, Jordan Juron, Emily Janiga, Taylor Accursi. 
General Manager of the Buffalo Beauts (NWHL). Hockey history writer "The Hockey Writers". Credentialed media for the NHL Combine and 2018 IIHF World Junior Championships in Buffalo, NY, USA. Born and raised in Buffalo, NY. Lifelong hockey fan for over 40 years. Proponent of the women's game.