Beginning June 1, NWHL teams can re-sign players from their 2017-18 roster and their draft picks. Additionally, for those players who have completed their college eligibility and want to continue their hockey careers, NWHL Free Agency provides the best opportunity to continue playing at the highest level of professional women's hockey. The fourth season of the NWHL will begin in October as the Metropolitan Riveters defend their Isobel Cup championship, and with the addition of a fifth team – the Minnesota Whitecaps – this will be the most competitive season yet.
My colleague Dan Rice will keep THW readers up-to-date on Metropolitan and Connecticut's signings throughout the summer, while I post updates on Buffalo and Boston. Together we will be keeping readers informed of all of Minnesota's signings. 
UNH Star Jonna Curtis Joins Hometown Whitecaps
Bolden Returns to NWHL With Beauts
All-Star Defender Boulier Signs With Whitecaps
NWHL fans got to see a brief glimpse of Boston Pride defender Mallory Souliotis during the 2017-18 season. A late-season signing, the Yale University graduate joined the team that had drafted her eighth overall in the 2017 NWHL Draft for "The Pack's" postseason run. Now Pride fans can be excited about having Souliotis on their roster for an entire season. She becomes the sixth defender to be announced as being on Boston's 2018-19 roster.
BREAKING: Mallory Souliotis re-signs with @TheBostonPride. Souliotis signed with the Pride and was able to play 2 games at the end of 2017-18 after finishing her senior season at @YaleWhockey.

🔗: https://t.co/H9B90m6WbO pic.twitter.com/DkSLcJmuz8

— NWHL (@NWHL) August 15, 2018
"The Pride was extremely welcoming and supportive from day one, and they showed me what it takes to play for the team and represent the NWHL," Souliotis said in the press release about her signing. "The pace and skill of the game was different from college, and was a huge motivating factor for me to not only return to the NWHL, but also to continue to work on my game on and off the ice."
THW takes a closer look at how the addition of Souliotis has rounded out Boston's defense corps very nicely. She has proven to be a shutdown defender throughout her hockey career, while also being capable of contributing offensively. The Pride seem to have a monopoly on this particular type of blueliner.
A Brief Look at Souliotis
Souliotis played in the final two regular season games for Boston last season, but did not appear in their lone playoff game in the semi-final against Buffalo. In her two appearances she fired three shots on goal, but would come away as a minus-two for plus/minus. One shot came in 3-2 win over the Connecticut Whale on Mar. 3, 2018, while the other two came during a 4-1 loss to the Metropolitan Riveters on Mar. 10, 2018. Souliotis feels that with a complete season ahead she will have much more opportunity to contribute.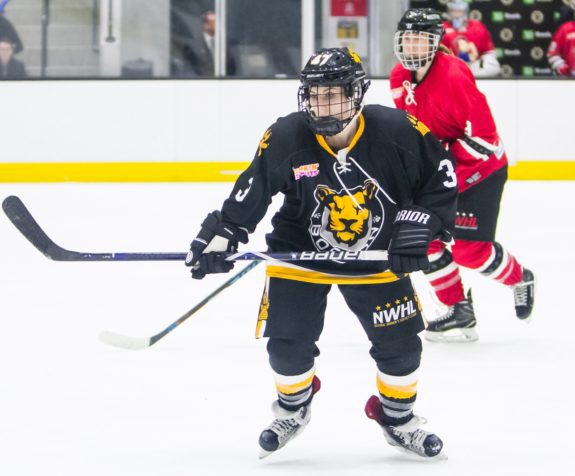 "I hope to contribute offensively from the blue line while also playing a strong defensive game," she went on to say in the release. "Although I am not a very big defenseman, I need to ensure that I play at a fast pace and be stronger in the defensive zone. I also have some experience at forward, and I am willing to play wherever Coach Mara thinks is best for the team. We were disappointed in last season's ending, and I know we want to bring Isobel back to Boston."
At 5-foot-5, Souliotis is in the middle for size among Boston's blueliners. Of the ones listed presently on the roster, two are shorter than she is and three are taller. It is somewhat of a different look for Boston's back end so far, as last season's team had six defenders who were at least 5-foot-7, with a couple pushing towards the 6-foot mark. More signings are still to come but for the time being this will be a faster moving back end for the Pride. Anything they might lack in size is more than made up for in sound decision making and quickness.
Prepared for the Pros by a Solid College Career
Souliotis played for the Yale Bulldogs from the 2014-15 season through 2017-18. Her finest offensive season was arguably her sophomore year when she came close to being a point-per-game defender. In 29 games that season she scored four goals and added 21 assists for 25 total points. Her senior year numbers were relatively similar with four goals and 20 assists in 31 games. Those numbers were solid enough to lead all Ivy League defenders for the 2017-18 season. When her time with the Bulldogs was said and done, Souliotis had compiled 12 goals and 58 assists in 117 games for 70 career points. Another interesting college tidbit about her is that she once broke a pane of glass with her shot.
Anyone have an extra pane of glass? Thanks to Mallory Souliotis we need one at Ingalls Rink. #IvyTop5 #SCTop10 @IvyLeagueNet @ESPN3 pic.twitter.com/k792oXFuBU

— Yale Athletics Video (@YaleILN) January 28, 2017
College hockey was the vehicle that brought her to where she is today, while she provided the fuel and the drive. Recognizing that, Souliotis is very much appreciative of the opportunity that the NWHL affords players to play hockey beyond college and at the highest possible level. She is excited for the continuation and growth of the league.
"Playing in the NWHL is a dream come true," she continued to say. "Playing in my hometown and inspiring the next generation of women's hockey players will continue to fuel my passion for the game I have loved for so long. Before I went to college, there was no NWHL, so I thought it would be final four years of competitive hockey, but then the NWHL was founded and I still can't believe how far the league has come. My sister is a sophomore in high school, so hopefully the league will continue to grow and prosper and I can watch her play some day."
With Souliotis' signing, here is how the Pride look as of Aug. 15:
Goalie: Katie Burt.
Defense: Alyssa Gagliardi, Toni Ann Miano, Lauren Kelly, Lexi Bender, Kaleigh Fratkin, Mallory Souliotis.
Forward: Emily Field, Dana Trivigno, Denisa Křížová, Haley Skarupa, Jillian Dempsey.