Beginning June 1, NWHL teams can start signing players for the 2018-19 season. For players who have completed their college eligibility and want to continue their hockey careers, the free agency period provides them an opportunity to continue playing at the highest level of professional women's hockey. The fourth season of the NWHL will begin in October as the Metropolitan Riveters defend their Isobel Cup championship, and with the addition of a fifth team – the Minnesota Whitecaps – as well as the inclusion of players who participated in the 2018 Winter Olympics, this very well could be the most competitive season yet. 
My colleague Nathaniel Oliver will keep THW readers up-to-date on Boston and Buffalo's signings throughout the summer, while I post updates on Connecticut and the Riveters. Together we will collaborate to keep readers informed of all of Minnesota's signings.
Bolden Returns to NWHL with Beauts
All-Star Bouiler Signs with Whitecaps
Riveters Add Rookie Blueliner Lexi Slattery
Elk River native and former #UNH Captain and leading scorer @Jonnacurtis6 Welcome Home! #RollCaps🌊

🔗 https://t.co/AU2Lfb7PiG pic.twitter.com/D0gseHka8e

— Minnesota Whitecaps (@WhitecapsHockey) August 15, 2018
On August 15 the NWHL's newest team signed talented forward Jonna Curtis who was the leading scorer at the University of New Hampshire in both her junior and senior seasons. This will be a homecoming for Curtis who is from Elk River, Minnesota and was once a member of the Minnesota Junior Whitecaps U-19 team.
"I'm lucky enough to get the best of both worlds – being a part of the NWHL and in my home state of Minnesota," Curtis proudly said in the press release announcing her signing with the Minnesota Whitecaps. "It's going to be great having my family, and especially my niece and nephews, watch me play. I hope it will instill in them, as with all younger girls, to dream big because you never know where your hard work will take you."
As a captain during her senior season at UNH Curtis put up 42 points (21g-21a) over 35 games and she finished her college career (2013-17) with 106 points (54g-52a) in 122 games. "I'm so excited and happy to have the opportunity to play in the NWHL, especially on the Minnesota Whitecaps."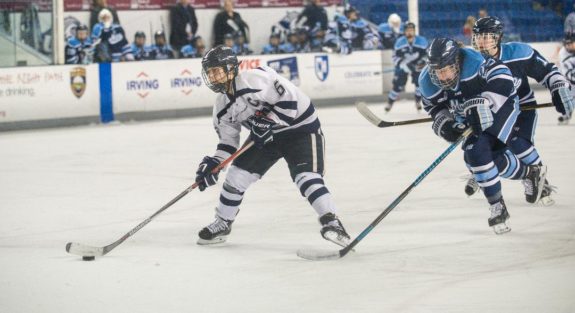 "A big part of my decision to join is the fact that I get to be a part of an organization that will have a big impact on women's hockey and inspires young girls," the 24-year-old Curtis said. "My goal this season is to be a player that everyone can depend on – from giving 100 percent every shift to supporting my teammates when I'm on the bench."
"I'm going to get to play with so many great players and I'm excited to see how we all blend together to create a winning team. I want to thank the Brodt family for their passion for the game and for keeping the Whitecaps going for all of these years. They have done so much for women's hockey and I would not have this opportunity without them."
Curtis is the sixth player from the state of Minnesota to sign with the NWHL expansion team this off-season, joining Allie Thunstrom, Kate Schipper, Meaghan Pezon, Hannah Brandt, and Lee Stecklein.
Dan Rice is in his 9th year of reporting for THW & has covered NJ Devils home games for 15+ years at various websites. He began his journey working for legendary broadcaster/writer Stan Fischler from 2002-04 & completed an internship at the ECHL; he also has been writing features for the NWHL (nwhl.zone) website since 2016.