There has been much talk about the promising young forward, Filip Zadina. Since being drafted sixth overall in this year's NHL entry draft, he's made waves across the league(s). With the Detroit Red Wings in the midst of serious changes, hockey fans have clung to the idea of a youth remodel, headlined by the Czech-native. Can he measure up to the pressure that's been placed on his shoulders? Are the fans justified in believing he'll be the Red Wings' saving grace or at least a big part of it?
Zadina Already Creating a Reputation
Prior to the draft, Zadina spent the majority of 2017-18 with the Halifax Mooseheads. During that time, he tallied an astounding 82 points. Along with regular season domination, he put up another 12 points in nine games during the playoffs. Following the end of the regular season, he joined the Czech Republic U20 team for the World Junior Championship where he continued to impress with eight points in seven games. Clearly, he can score.
To further assert his claim, he earned several notable distinctions in the QMJHL including most points by a rookie, most assists by a rookie and most goals by a rookie all with the Mooseheads. He also received the QMJHL Best Professional Prospect Award.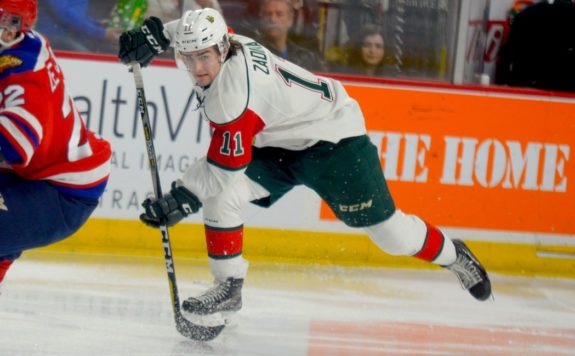 He's established a reputation for himself as a major producer on the ice. Prior to last season's impeccable run, he was tearing up the Czech leagues. In the 2016-17, he finished with 58 regular season points. He was in the top three on his team at the U18 World Junior Championship and won the Hlinka Memorial Gold Medal during the U18 World Junior Championship.
All that to say, he is undeniably good. Even when he isn't scoring goals, which is rare, he's assisting wherever possible. He's very quick on his feet and based on his comments to the Detroit Free Press regarding the teams that overlooked him in the draft when he said he was going to "fill up their nets with pucks," he's also quite confident. Is one amazing season enough to guarantee NHL success, however? I'm not prepared to sing his praises from the rooftops yet but he's had a good start.
Creating a Younger Red Wings Roster
Proving to be a capable player, Zadina has been a consistent scorer at the junior level but that doesn't always ensure success against the high-level competition of the NHL. However, he has immense ice-maturity which should translate well to the big leagues. My main apprehension is regarding his age and that he's only had one season of unearthly production. Youngsters have drive and passion but whether or not this can catapult them to the top is uncertain.
However, Zadina will have the advantage over the rest of the Red Wings picks, as he is all but guaranteed a roster spot next season. He will spend very little time in development in Grand Rapids, if at all. This will ensure that he doesn't get lost in the developmental void. On the flip side, he will not have the benefit of gradual conditioning in the AHL.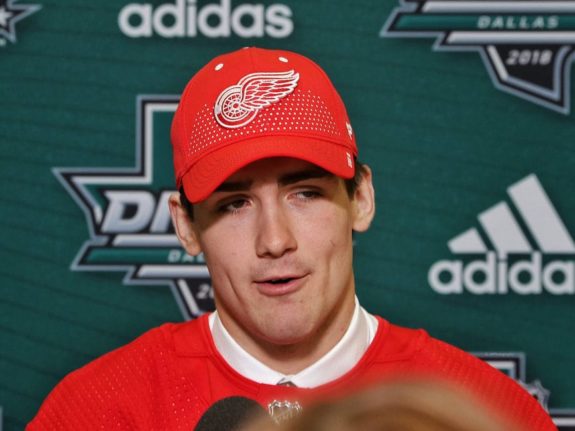 His skill and glistening record are all to his merit so I'm sure he'll find his place among the elite once he joins the Wings. If history can be repeated, he might follow in Dylan Larkin's footsteps and own his rookie season. With a similar style of play, it is likely that he will choose to latch onto Larkin as an example.
Will Zadina be an Yzerman and Larkin Repeat?
There have been a few legends in the Red Wings' long history, who burst onto the scene as young rookies to become some of the best players the team has ever seen. The greatest of those is Steve Yzerman. Like Zadina, he was 18 when he joined the Red Wings and put up a remarkable 87 points. Since then, Larkin is the only other 18-year-old to join the roster full-time.
In his junior career, Zadina proved he was knowledgeable about the game and he could be a 40-50 point player in his rookie year if he's given the ice time. Larkin and Yzerman were both allowed liberties because they proved themselves almost immediately. Zadina could follow in their footsteps given his track record, so the Red Wings fans aren't wrong to hope.
The pressure will mount depending on his ability to earn the privilege of ice time, so his ability to handle it will be something to look out for. He seems to address himself with confidence but that can quickly become arrogance. If he's able to keep his head on straight, even amid success, he could be the spark the Red Wings need to drive their development.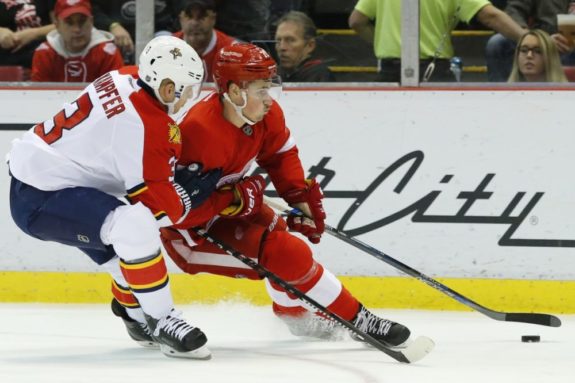 He's a good player, no one can deny that. I will be interested to see how his junior success translates to the NHL. I'm hoping to be pleasantly surprised with his production and self-management. I'm not ready to slap his name on every piece of Red Wings paraphernalia but I am excited to see how he gels with the other players.
The Red Wings need a fresh face to inspire the masses. Their first-rounder seems to be what fans have gravitated towards, and I can't blame them. He is a new generation of player and a new generation of fans are leading the league now. Pretty soon Henrik Zetterberg and Darren Helm jerseys will be collector's items while most fans will be youngsters who only know, well, the youngsters and I think Zadina could be equal to the challenge.
I am a Detroit Red Wings prospect journalist for Access Hockey MI covering the Grand Rapids Griffins and Toledo Walleye prospect development. Draft analyst for USHL hockey with the Muskegon Lumberjacks.