In today's rumor rundown, speculation is running wild as to what the Oilers will do after finding out they'd be losing Andrej Sekera for most of the 2018-19 season, things seem eerily quiet on the Erik Karlsson front and Vancouver is going to re-open talks with Brock Boeser next week. Finally, is Toby Entstrom going to make a decision on his hockey future soon?
Oilers Plans to Replace Andrej Sekera
The minute the news was announced that Oilers' defenseman Andrej Sekera would be missing most of the season after undergoing Achilles tendon surgery, insiders for the Oilers have been speculating as to what the next move for the team will be.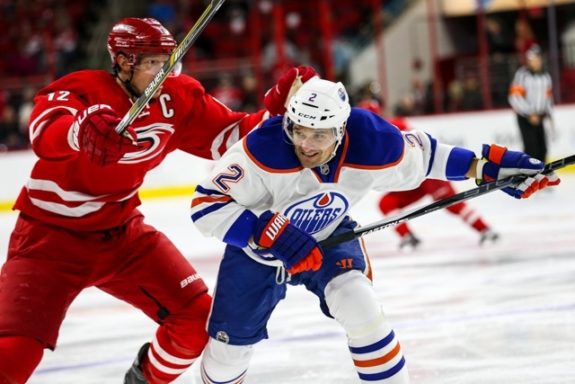 Jim Matheson wrote that he bets the Oilers bring in ex-Oiler Brandon Davidson in on a PTO. He also suggested left-handed Luca Sbisa may be the best bet, and it would mean Darnell Nurse moves into their top-four.
Other speculation is the team may look at moving shot-blocker Kris Russell over to his natural side and potentially calling upon recently signed Kevin Gravel, or recently drafted Evan Bouchard to fill some of the hole left in Sekera's absence. Cody Franson, Ryan Sproul, Frank Corrado, and veteran Kevin Bieksa are available as right-shot defensemen while Toby Enstrom, Alexei Emelin, Johnny Oduya could fill in on the left side.
In a long shot, the team could look to trading for a player like Carolina's Justin Faulk or Colorado's Tyson Barrie.
Related: Oilers Options to Replace Sekera on Defense
All Quiet on Erik Karlsson Front
Brent Wallace of TSN reports that contract talks between the Ottawa Senators and defenseman Erik Karlsson have gone "eerily quiet". This after general manager Pierre Dorion offered a contract that was deemed low by insiders and Karlsson early in July. Karlsson hasn't made any public comments about his situation in Ottawa nor has he talked about rumors on him being traded before the end of the season.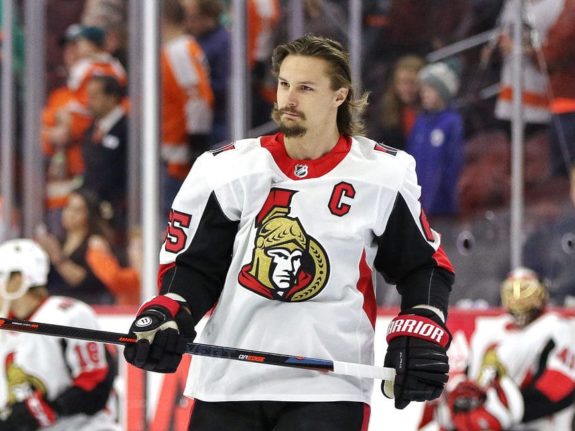 Wallace said things will likely stay that way and that the Senators captain has no intentions of speaking publicly until camp opens in early-September. There is speculation the silence is a telling sign that Karlsson expects to be traded in much the same way Matt Duchene was silent prior to being moved out of Colorado. That said, there is no report that Karlsson has asked for a trade or would hold out of camp until one was made.
Related: NHL Rumors: Haula, Drouin, Silfverberg, More
Brock Boeser and Canucks To Talk Extension Next Week
As is being reported by TSN and the Vancouver Province, Canucks general manager Jim Benning started talking with Brock Boeser's camp last month and plans to reopen those talks with Boeser's agent Ben Hankinson again next week. "We haven't got down to talking term," Benning told The Vancouver Province on Tuesday. "We plan to circle back and I'm not sure where it's going to go, but we want to see if we can get somewhere. There's no time frame on it.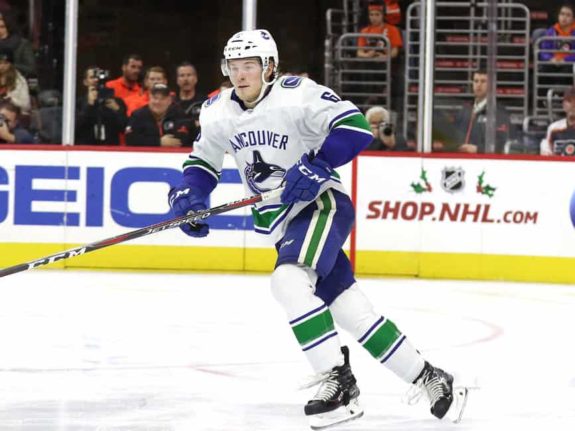 Benning said that he doesn't expect a drop-off from Boeser despite an increased role and tougher matchups. He also said that if Boeser plays well, he knows the landscape of the NHL and some of the contracts that may come up in the next six months will drive up the price.
There's a decision to made by the Canucks,. Should they try to sign Boeser before that price rises? Or, should they wait and see how he'll come back from a couple injuries that shortened last season. Currently, Boeser is playing in Minnesota's Da Beauty League and looking strong ahead of his sophomore season.
Related: NHL Rumors: Seguin, Rinne, Schmaltz, Duchene, More
Toby Enstrom Decision Coming Soon
When the Edmonton Oilers lost Sekera, Toby Enstrom was one of the names that popped into mind for some insiders as a replacement. But, there has been no reported communication between two sides and it actually looks like Enstrom may sign in Sweden.
Swedish news outlet Aftonbladet spoke with MODO GM Michael Sundlov, who wants to sign Enstrom and expects the veteran NHL defenseman to make a decision soon. Enstrom's brother Tommy Enstrom plays on the club and wore an "A" as an alternate captain last season, giving the team another bargaining chip to bring to the table. Enstrom is currently practicing with the team.