On July 3, the Toronto Maple Leafs traded forward Matt Martin back to the New York Islanders in exchange for minor-league goaltender Eamon McAdam. This move generated some joy and excitement in Islander country as Martin was a very popular player on and off the ice during his time on Long Island. He was drafted by the Islanders in 2008 but, in the summer of 2016, he left the team as an unrestricted free agent, signing a four-year $10 million deal with the Leafs.
Now he's back, which has created some anticipation that he might be reunited with former linemates Casey Cizikas and Cal Clutterbuck. The three of them enjoyed the best success of their careers when they played together from 2013-14 until Martin's departure after the 2015-16 season.
Another Best Fourth Line in Hockey
It has become a cliché to refer to any team's fourth line as "the best fourth line in hockey" when they are playing well. But the case is strong for the work put in by Cizikas, Martin, and Clutterbuck during their three years together when they were a tenacious checking line.
Of course, they only played fourth line minutes, but they gave quality effort to every shift. When they went down the ice, they made sure the puck went deep. If an opposing defenseman went into a corner or behind the net to retrieve the puck, he knew he was going to get hit, and it would be a memorable hit.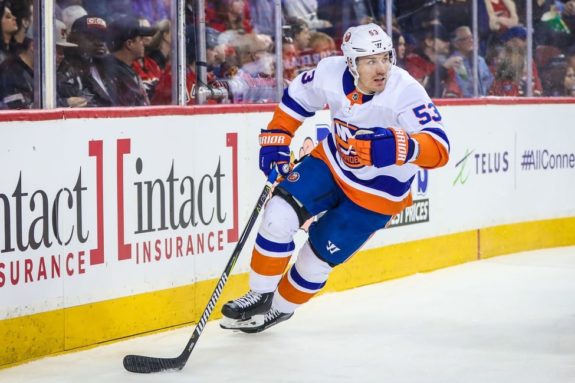 Martin led the league in hits all three years that this line played together (359 hits in 2013-14, 382 in 2014-15, and 365 in 2015-16). Clutterbuck was third in hits their first year together (270), and second in the league the two years after (343 and 288). Cizikas, who centered the line, did not hit as often as his wingers but his numbers were solid enough to keep him within the top twenty percent of the league for all three years (128, 144, and 158).
All of that hitting wore down opposing teams while energizing the rest of the Islanders and their fans. It became a favorite ploy of then-coach Jack Capuano to put the Cizikas line out on the ice at the start of a period and for the first shift after a goal by either team. He knew that Casey's line would keep the momentum going after an Islanders goal or prevent the opposition from gaining too much momentum after they scored a goal.
But Cizikas, Martin, and Clutterbuck were not just about hitting. Each year they grew a little stronger offensively. In 2015-16, their last season together, the trio combined for 33 goals and 79 points. What coach wouldn't want to have those kinds of numbers coming from their fourth line?
Matt Martin Leaves for the Maple Leafs
The summer of 2016 was a turning point for the Islanders. Kyle Okposo (Buffalo), Frans Nielsen (Detroit), and Matt Martin (Toronto) all left the organization via free agency, dramatically changing the core of the team. The best fourth line was no more.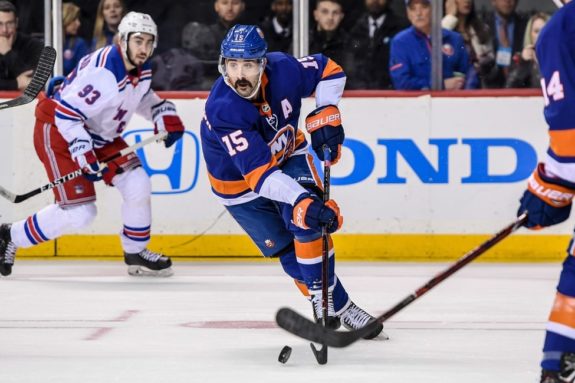 Cizikas signed a five-year contract extension that summer. Clutterbuck similarly signed a five-year extension a few months into the next season. But the Islanders did not offer to re-sign Martin. While his two linemates added value to the team as penalty killers, Martin was not used in that role and was deemed expendable. At the time, general manager Garth Snow was also thinking ahead about the cap space he would need to re-sign prized center John Tavares but we all know how that turned out.
Martin Returns to the Islanders
Martin's return to Long Island was a surprise but a welcome one. On the one hand, he is nobody's savior; on the other hand, why not bring him back? He is a popular, hard-working player who brings energy to his game. He was loved by fans during his first tenure with the team and they are excited to have him back. Besides doling out all those hits, he is a fan favorite for his charity work, which continued on Long Island even while he was with the Leafs.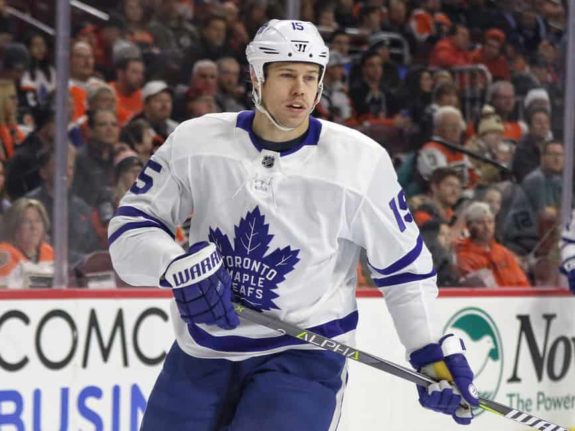 Martin also won the Bob Nystrom award in five consecutive seasons which is given to the player who most exemplifies leadership, dedication, and hustle in the mold of the legendary right winger from the Isles' early days through their Cup years.
Where Does Martin Fit In?
Reacquiring Martin was only one of a flurry of moves that took place earlier this summer. To the surprise of many, new GM Lou Lamoriello began stockpiling a veteran group of mostly bottom six forwards including Leo Komarov, Martin's teammate in Toronto. Komarov signed a four-year deal with the Islanders on the first day of free agency.
That same day, Lamoriello also signed Valtteri Filppula to a one-year deal. The next day he added Tom Kuhnhackl, also on a one-year deal. A week later, he picked up Jan Kovar from the Czech league on a one-year deal and then re-signed Islanders forward Ross Johnston to a four-year deal. Johnston started in Bridgeport last year but played fairly regularly with the big club towards the end of the season, sometimes playing on the wing with Cizikas and Clutterbuck.
All of these additions to the team decrease the odds of Martin being reunited with Czikas and Clutterbuck. Outside of Kovar, who is projected as a top-six forward, everyone else will likely be competing for third and fourth line duty. Until we start to see new coach Barry Trotz run some practices with this group, we will be speculating as to what the line combinations will be next season.