Now that the majority of the offseason has passed and the 2018-19 season is nearing, it's time to look at each team's goals for the season and how they can achieve them. One way to do this is by looking at each team's roster and determining which player is the X Factor, the player most vital for his team to succeed this season.
Starting with the Atlantic Division, the one with arguably the most disparity between its top and bottom teams, the Toronto Maple Leafs, Tampa Bay Lightning, and Boston Bruins are Stanley Cup contenders while the Montreal Canadiens, Detroit Red Wings, and Ottawa Senators could fight for last place in the league.
The division also had a lot of turnovers this offseason. The Maple Leafs added John Tavares, the Florida Panthers acquired Mike Hoffman, and the Buffalo Sabres drafted Rasmus Dahlin with the first overall pick. Despite how important each player will be to his team, only one is his team's X Factor and will be a difference-maker this season.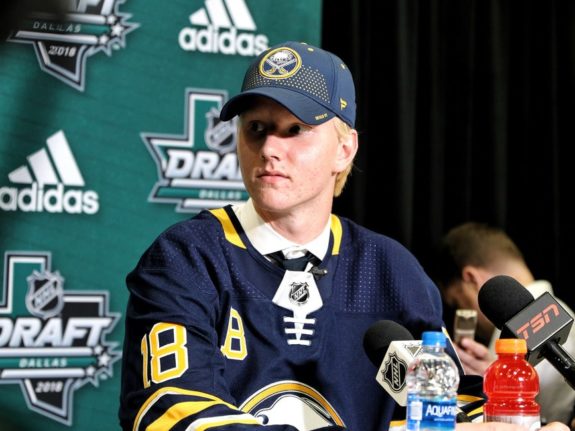 Let's take a look at each of the eight teams and who I chose to be the X Factor. Let me know in the comments below if you agree with the decisions or if you feel there is a better option.
Boston Bruins
David Backes
Sure, the Bruins are led by their top line of David Pastrnak, Patrice Bergeron, and Brad Marchand, the best players on the roster. And if any of them missed significant time, the Bruins' season would be in jeopardy. All three are consistent 25-to-30 goal-scorers and hover around a point per game each season.
But it's the lack of scoring depth that hindered the Bruins last season and could do again. That's where David Backes comes in. He played in 57 games last season, his lowest since his rookie season, and his 33 points were his fewest since the lockout year of 2012-13. He was one of a group of Bruins that included David Krejci, Danton Heinen, Jake Debrusk, and Riley Nash who had between 30 and 50 points, which was not enough production.
This season, Nash is gone and Backes needs to return to health and rebound offensively. The good news is that he still had positive five-on-five metrics, as he has the majority of his career. Last season, the Bruins controlled 57.1 percent of five-on-five shots with him on the ice and his only sub-50 percent metrics were control of goals and high-danger scoring chances.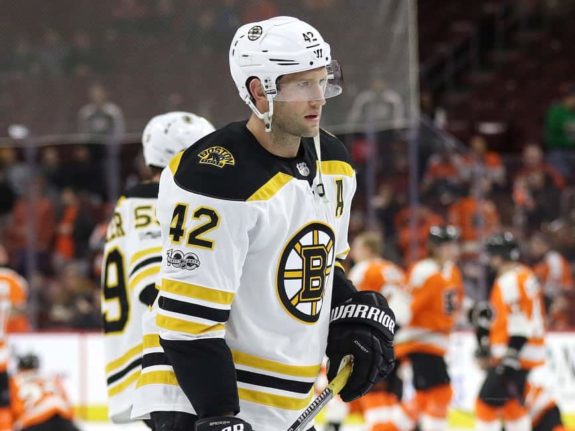 At 34, he is approaching the twilight of his career. While he has played in at least 80 percent of games every season except for his rookie year and last season, being healthy is no longer a given for him. The Bruins need him to produce in a middle-six role not only to provide depth offense but also because of his $6-million cap hit for the next three seasons, which makes him nearly unmovable given his age and health.
Other Options: Tuukka Rask, Jaroslav Halak, and Zdeno Chara
Buffalo Sabres
Casey Mittelstadt
Casey Mittelstadt, the Sabres' 2017 first round pick, had a magical 2017-18 season. As a freshman with the Minnesota Golden Gophers, he was second on the team with 30 points in 34 games. He also represented the United States at the World Junior Championships and had 11 points in seven games to tie for the tournament lead. After his collegiate season ended, he joined the Sabres for six games and posted a goal and five points.
He is expected to fill the void left by the Ryan O'Reilly trade, which makes Mittelstadt vital to the team's success. While he won't be as strong a two-way center as O'Reilly, Mittelstadt looked ready for the NHL last season. If he succeeds, he and Jack Eichel will give the Sabres a great one-two punch at center and, along with Rasmus Dahlin and improved goaltending, could propel the Sabres to a .500 record or better.
However, if he stumbles and needs time to develop, the team's center depth will be a problem. Sam Reinhart, a natural center, played on the wing last season and Patrik Berglund, one of the returns for O'Reilly, is one of the game's better third-line centers and should remain in that role. Mittelstadt should have a long and successful NHL career but the question of how long it takes to manifest is key.
Other Options: Rasmus Dahlin, Carter Hutton/Linus Ullmark
Detroit Red Wings
Dylan Larkin
Red Wings center Dylan Larkin has had three up-and-down seasons so far. He had 45 points in 80 games as a 19-year-old rookie in 2015-16 and regressed to 32 points in 80 games two seasons ago. Last year, however, he bounced back with 16 goals and a career-high 63 points, which led the team. He also took on a bigger role by averaging more than 19 minutes, was a consistent presence on the penalty kill, and started more often in the defensive zone.
The question that remains is what does Detroit have in Larkin? His inconsistency across three seasons makes predicting future output difficult and is one reason why contract negotiations continue. Despite those inconsistencies, it is evident that he is a key part of the team's future and has been the main piece of their rebuild since it began.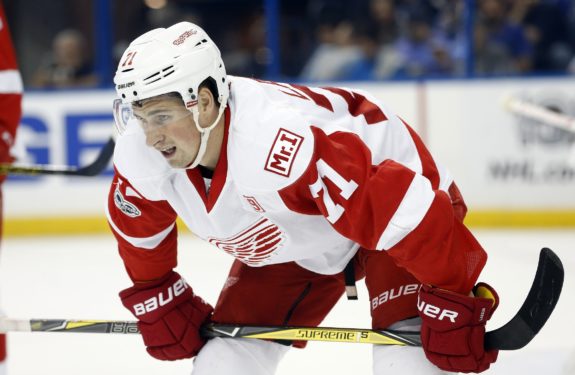 Is he a long-term top center? Larkin is the only Red Wings center under the age of 29 and Henrik Zetterberg is the only other candidate for top center. Future possibilities to take on the role include Michael Rasmussen, Joe Veleno, and Jonatan Berggren, but all are at least a year away.
For now, it remains Larkin. On a roster surrounded by aging veterans in or approaching the twilight of their career, he stands out, especially at his position. If Detroit begins climbing out of its rebuild, it will be because he took another step forward and laid claim to that top role. However, if he can't be their first line center, the Red Wings will have to acquire or develop one.
Other Options: Thomas Vanek
Florida Panthers
Mike Hoffman
The Panthers recently acquired Hoffman from the Senators by way of the San Jose Sharks following much-publicized off-ice events. They paid pennies on the dollar for him as the deal required only three draft picks. With Hoffman, Florida gets a top-line scorer with four straight 20-goal seasons, including a career-high 29 in 2015-16.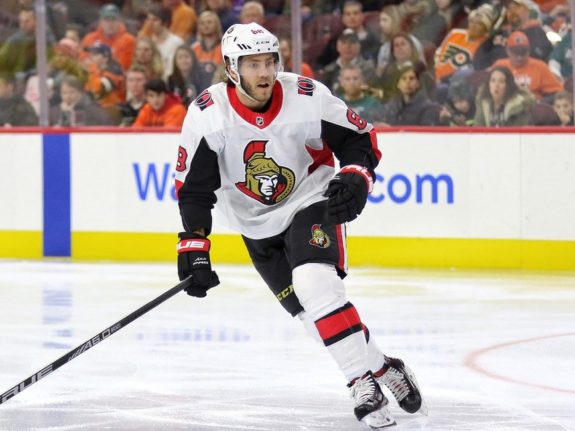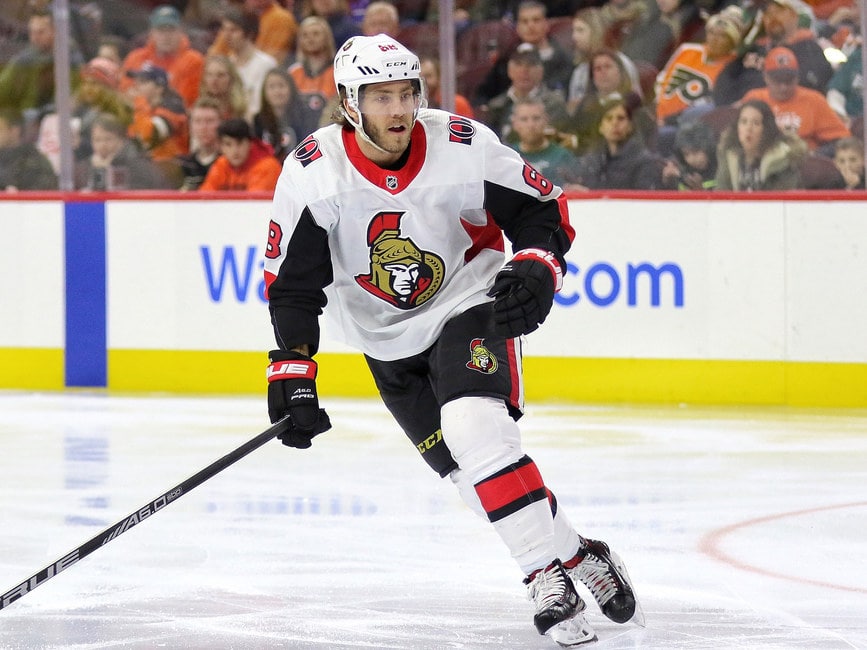 Last season, he had 22 goals with eight coming on the man advantage and 56 points in 82 games with the Senators. While he has yet to reach the 30-goal threshold, in Florida he will be surrounded by the most talent of his career and will have every opportunity to surpass that mark.
Given that the Panthers missed the postseason by one point last season, the result of tying for 14th in goals for and having the 21st-ranked power play with a plus-two goal differential, they will benefit from Hoffman's talent. He provides them with the borderline elite scoring abilities they've been missing despite their playmakers.
Of course, for those abilities to translate to on-ice success and for the team to return to the playoffs, it will take moving past his off-ice issues and for him and his fiance to be accepted off the ice.
Other Options: Roberto Luongo and James Reimer
Montreal Canadiens
Max Domi
After three inconsistent seasons with the Arizona Coyotes, the Canadiens acquired Max Domi for Alex Galchenyuk in a trade of two players who need a fresh start. With the Coyotes last season, Domi had nine goals and 45 points in 82 games. His nine goals matched his 2016-17 total and both were lower than the 18 he scored as a rookie in 2015-16.
He averaged the fewest goals and points per game of his career last season, and his 45.5 shots-for and 48.5 goals-for percentages at five-on-five were career-lows. His shots-for percentage would have been last among Canadiens players with at least 800 five-on-five minutes while his goals-for percentage would have been second-highest last season.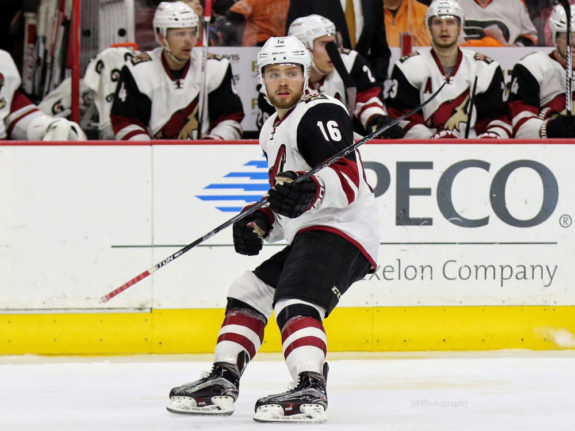 Domi is Montreal's most important player because the trade he was acquired in closed the door on Galchenyuk's tenure with them. It means that the controversy surrounding Galchenyuk and the question of whether he is a first line center are gone, but that doesn't mean they won the trade.
Domi is the less valuable player and doesn't have Galchenyuk's upside and there is a chance the Canadiens dealt a potential top-line center, the very player they need. For the trade to be a draw, Montreal needs Domi to become a 20-goal, 60-point player. But if he fails in that endeavor, they will have received the lesser value in a trade again and could be on the verge of a longer-than-expected rebuild.
Other Options: Carey Price
Ottawa Senators
Matt Duchene
Erik Karlsson is the Senators' best player and is most vital to the team's success this season but that's suggesting they have a chance to be competitive, which they don't. Since acquiring Matt Duchene last November, the trade has been a bust for the Sens. At the time, it made sense: they were one goal away from advancing to the 2017 Stanley Cup Final, had a 9-10-6 record, and Karlsson was close to returning from injury.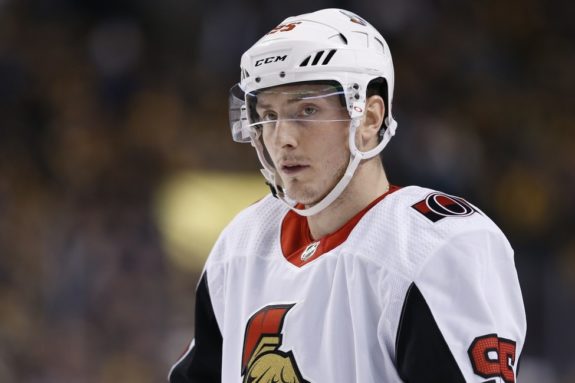 They gave up assets that suggested Duchene is a first-line center, which he isn't, and he was unable to save a team that overperformed in 2016-17. But, he was productive last season. In 68 games with the Senators, he had 23 goals, 49 points, eight power-play goals, and won 52.3 percent of his faceoffs. However, his five-on-five metrics were poor and he dragged down his most common linemates, Bobby Ryan and Mike Hoffman.
Now Hoffman's gone and it looks like Karlsson will follow suit and the Senators won't be competitive this season. This is a franchise in need of a rebuild that should start with a Duchene trade. They chose to keep their fourth overall pick this year and will have to send next year's first-round pick to the Colorado Avalanche unless a deal is struck.
Duchene needs to perform well so the Senators can deal him and get future assets in return, which would ideally include a first-round pick. There are rumors that the New York Islanders are interested in him. Trading him means Ottawa can wash their hands of this deal and move past their mistake.
Other Options: Craig Anderson and Erik Karlsson
Tampa Bay Lightning
Andrei Vasilevskiy
Russian goaltender Andrei Vasilevskiy had an excellent season in his first as a starter. In 65 games, he led the league with 44 wins and eight shutouts, and had a .931 five-on-five save percentage (SV%), 2.62 goals-against average (GAA), and 15.12 goals saved above average (GSAA). His season concluded with a third-place Vezina Trophy finish. But for as strong as his regular season numbers were, he struggled down the stretch and in the postseason.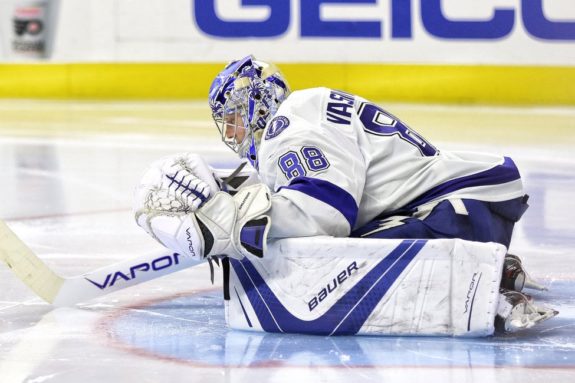 He allowed at least four goals in four of his final 10 regular season games and had a sub-.900 SV% in six of them. Of his 17 playoff games, he had four with a sub-900 SV% and allowed at least four goals in three of them. However, as a 24-year-old whose previous career high was 50 games, his regression was likely the result of tiring out.
The Lightning arguably have the most talented roster in the league and are going all-in on winning a Stanley Cup this season. They have enough depth to overcome the loss of a skater for even an extended period of time, but couldn't overcome an injury to Vasilevskiy.
Consistent production from players like Steven Stamkos, Nikita Kucherov, and Victor Hedman is expected but Vasilevskiy is a bit of a wild card. He went through a stretch last season in which he allowed one goal or less in six straight games and then followed it up by allowing four or more in five straight. The Lightning need more consistency than that from him to win a Cup.
Other Options: Victor Hedman and Brayden Point
Toronto Maple Leafs
Nikita Zaitsev
Defenseman Nikita Zaitsev missed 22 games in 2017-18, including 17 to a foot injury in December and January, and five in March with an illness. Those events naturally kept his counting stats in check but many of his rate stats regressed as well, including points and shots-per-game, and five-on-five points and shots per-60.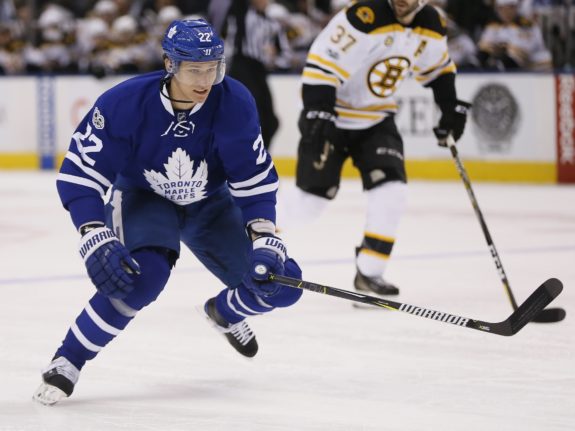 He also hindered Jake Gardiner's impact, whose shots-for percentage at five-on-five dropped 6.4 points when paired with Zaitsev. Zaitsev played slightly better in the postseason but was on the ice for one-third of the five-on-five goals allowed by the Maple Leafs.
Toronto needs Zaitsev to be better in 2018-19. He is in year two of a seven-year deal that carries a $4.5 million cap hit and is one of two right shot defensemen on the team. After signing of Tavares, the Leafs were unable to address their imbalanced blue line, making a bounce-back season from Zaitsev all the more vital.
Other Options: John Tavares and Frederik Andersen
*All stats came from Hockey-Reference, Natural Stat Trick, HockeyViz, KHL.RU, and Elite Prospects.