In today's NHL, with a hard salary cap and more money allocated to players at the top of the roster, having quality depth is as important as it has ever been. This is especially true of third-line centers. Take a look at teams with the most success in recent years and this proves true. The Penguins had Nick Bonino, Chicago had Antoine Vermette and Andrew Shaw, and the Kings had Jarret Stoll and Mike Richards. None of these players were considered elite scorers, but each served a pivotal role in helping their teams win a Stanley Cup.
Third-line centers are asked to play some of the most difficult minutes on a roster, often receiving the worst zone starts while matching up against prolific scoring lines. They are called upon to both shut down opposing offenses and to generate scoring chances. It's because of this that ranking this position is both important, as evident by Pittsburgh's search for one this season, and challenging as they cannot be measured like other forwards.
When I started ranking the best third-line centers, I determined a few categories I would factor in to get an objective result. Instead of only looking at point totals. I focused on points per 60 minutes at 5-on-5 because it gives a scoring rate that is comparable for all players. I looked at turnover and penalty differentials to see who were safest with the puck and didn't negatively impact their teams. Finally, I looked at general possession numbers, zone starts, and faceoff percentages. The latter two are connected, and, because third line centers typically take the toughest draws, I wanted to determine which were best at giving their teams possession by winning faceoffs. With those areas in mind, here are the top five third-line centers for the 2017-18 season.
5. Nick Bonino (Nashville Predators)
Nick Bonino is likely one of the first names that comes to mind in any discussion of third-line centers. Had this list been compiled last season, he would have been ranked higher, but a slow start this season limits him. That being said, he is still effective playing the role he does.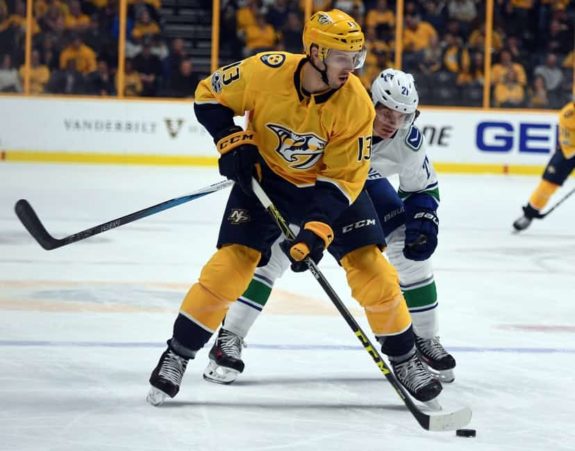 Bonino is coming off back-to-back Stanley Cups with Pittsburgh, where he served a key role in helping them win both Cups. After signing with Nashville this offseason, he has appeared in 18 games and has struggled with just six goals and one assist. He also has the lowest 5-on-5 Corsi among Nashville centers at 41.63 percent. A big reason for this has been starting in the defensive zone nearly 72 percent of the time of the time, leading to control of just 41 percent of scoring chances at 5-on-5.
Now to the good news. He is winning over 50 percent of his faceoffs, has a plus-nine turnover margin, and an even penalty differential. Despite playing his fewest minutes since the 2012-13 season, Bonino's 1.39 goals per 60 minutes are the highest of his career. A big reason is that he is generating more shots at 5-on-5 than the past two seasons and has a career-best shooting percentage of 20.7 percent. To understand Bonino's full value, it must be recognized that he is Nashville's most defensively-responsible center, and that counting stats don't tell the full story.
4. Adam Lowry (Winnipeg Jets)
St. Louis, Missouri product Adam Lowry is in his fourth NHL season and is playing a key role on the resurgent Jets. At six-foot-five and 210 pounds, Lowry is the ideal size teams look for in a third-line center. He is able to play a physical game while also being a good enough skater to not get caught out of position.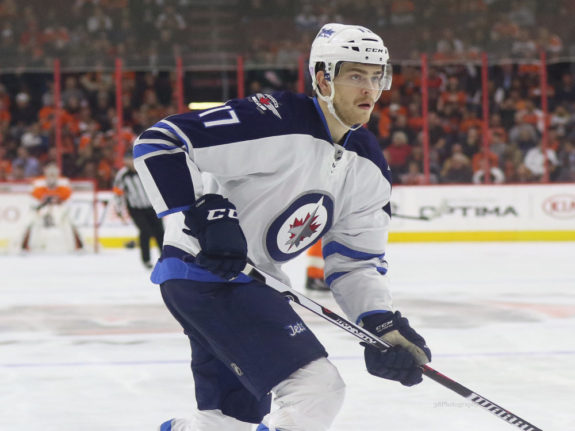 In 21 games, he has four goals and six points, all at even strength. Those scoring numbers aren't as high as others on this list, but Lowry is tasked with playing a defensive game this season and is thriving in that role. While starting in the defensive zone over 59 percent of the time, he has managed to win 53.8 percent of his faceoffs. When on the ice at 5-on-5, the Jets have a 56.81 percent Corsi and have positive percentages in control of shots, scoring chances, and goals. A big reason for this is the chemistry he has created with Brandon Tanev and Andrew Copp – this line has a 61 percent Corsi while receiving a majority of their zone starts in the defensive zone.
Individually, Lowry plays in all situations and is not a liability to his team. He has a plus-11 turnover margin and has only taken two penalties this season. His ice time has fallen this year, but he is producing at a higher rate per 60 minutes than at any point in his career. With the marquee names on the Jets roster, Lowry is a name that flies under the radar, but is one that remains a major part of the team.
3. Charlie Coyle (Minnesota Wild)
25-year-old Charlie Coyle has only played in 13 games this season but is scoring at a rate of 2.03 points per 60 minutes of 5-on-5 ice time, the second-highest total of his career. Of his nine points, just two are goals, with one occurring shorthanded.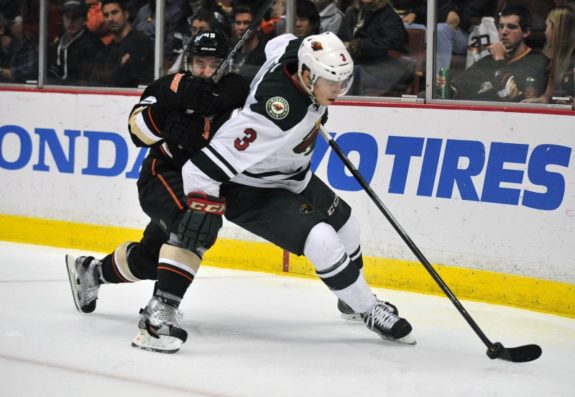 He plays a key role in generating offense for the Wild and head coach Bruce Boudreau is a big fan of Coyle's game:
"Not only is he a big body, but for us he gives an extra dimension," Boudreau told Chad Graff of the Twin Cities Pioneer Press. "He's an offensive player who can play both ends of the ice…I think in every game, he's doing something positive and doing it at center, which I think is as tough a position to play as there is."
Of Wild forwards with at least 100 minutes of 5-on-5 ice time, Coyle is first in assists and high-danger scoring chances per 60 minutes. His 56.9 percent success rate on faceoffs is also the highest among Minnesota centers, but he is starting in the offensive zone more than others.
Since returning from injury on Nov. 20, Coyle has appeared in 10 games and the Wild are 6-3-1 over that span. In his fifth full season, he is taking on a bigger role but is succeeding. It's likely that his time as a third-line center is limited and he'll move up the lineup as he develops further.
2. Patrik Berglund (St. Louis Blues)
Swedish-born center Patrik Berglund missed the beginning of the season recovering from shoulder surgery and has only appeared in seven games. In those games, he's been pretty good, with two goals and one assist, all coming on the powerplay. With a small sample size to work with this season, I'll use his stats from last season, when he played all 82 games for St. Louis.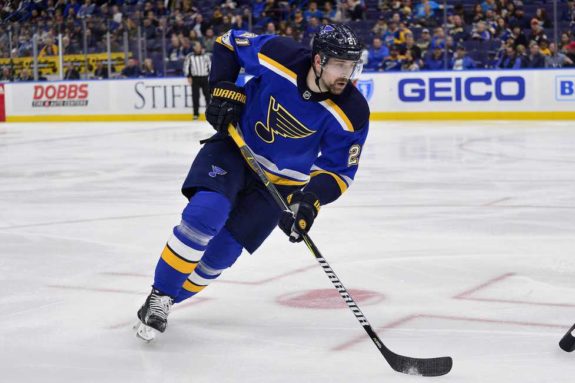 Berglund's 23 goals in 2016-17 were second-highest on the Blues, and 19 of them occurred at even strength. He was strong on the puck with a plus-20 turnover margin and the Blues controlled over 51 percent of scoring chances with him on the ice. He won exactly 50 percent on faceoffs, up from his career average of 46.4 percent entering last season.
This season, Berglund is producing at a higher point rate than he did last season and is on pace for 19 goals and 29 points. His production should increase as he gains chemistry with new linemates Magnus Paajarvi and Sammy Blais.
1. Radek Faksa (Dallas Stars)
Having Radek Faksa on this list, let alone topping it, is certain to draw criticism but his impact cannot be denied. Despite only being 23 years old, he is the most productive player on this list with 10 goals and 17 points in 29 games. Of those, eight goals and 15 points have occurred at 5-on-5, where 80 percent of his minutes have come. At 5-on-5, he is producing 2.93 points per 60 minutes while receiving 69 percent of his starts in the defensive zone.
There is really nothing not to love about Faksa, and this clip shows everything he is good at. He is great at creating space for himself, has good hands in tight spaces, isn't afraid to go to the net, and can win faceoffs.
When on the ice, the Stars have a 53.35 percent Corsi, are controlling 51 percent of scoring chances, including 57 percent at high danger, and have a plus-13 high-danger goal differential. Individually, Faksa has a plus-seven turnover margin and is winning 53.4 percent of faceoffs. He is succeeding while playing with Tyler Pitlick and Antoine Roussel, who have a combined 19 points.
Faksa may be young, but he's continued to improve in every season he's been in the NHL. He is currently on pace to set personal highs for goals, points, and shots all while playing fewer minutes than last season. If he continues to develop as a strong two-way center, a Selke Trophy could be in his future.
*All stats came from Hockey-Reference, Natural Stat Trick, Corsica Hockey, and HockeyViz