The New York Rangers have been very quiet this offseason. Except for a flurry of contract agreements with their restricted free agents prior to salary arbitration hearings, there hasn't been much news. General manager Jeff Gorton has remained focused to stay on course with his rebuilding effort.
Case in point, in past years, the Rangers would typically be first in line chasing Erik Karlsson, who seems to be the next big name to be traded this summer. Instead, the Rangers have refrained from getting into a bidding war with other organizations for the talented defenseman. From various media reports, it seems the Tampa Bay Lightning are one of three teams pursuing Karlsson, but they would need assistance from a third team in any proposed trade as they must take an existing contract off their hands. This will help to alleviate all financial restraints and make the Karlsson acquisition fit under their projected salary cap for the coming season.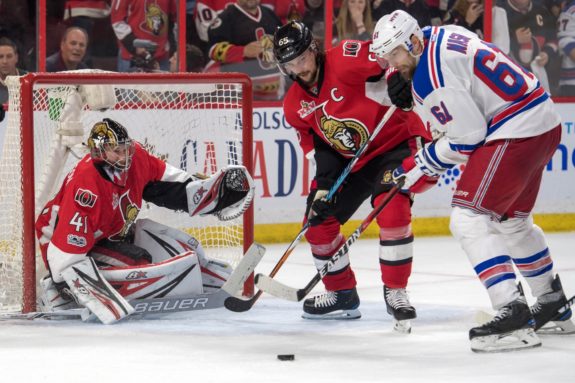 The Rangers have available salary cap space and have been linked as a logical trade partner for the Lightning. The key player rumored to be going back to New York has been Ryan Callahan, who has two years remaining on a $34.8-million deal, with a $5.8 million cap hit each of those seasons. Before the Rangers agree to any deal, they must use their leverage to force the Lightning to sweeten their offer. Gorton must come back with a package of Callahan, a top prospect and a high draft pick or run the risk of being heavily criticized by the tough New York media for handcuffing the Rangers' financial flexibility down the road.
Rangers Must Secure Right Package in Trade Talks
Why would the Rangers accept this type of package? Well, it's good business to eat a large contract if you can gain the necessary assets that help to achieve the goal of rebuilding your roster. Gorton must decide if it's worth taking on the salary of an often-injured but proven NHL commodity like Callahan, but it doesn't benefit him to acquire middle-of-the-road prospects in a bloated trade package. Instead, Gorton needs to extract a talented young player like Cal Foote or Taylor Raddysh, who are perfect fits for what he is trying to build in New York.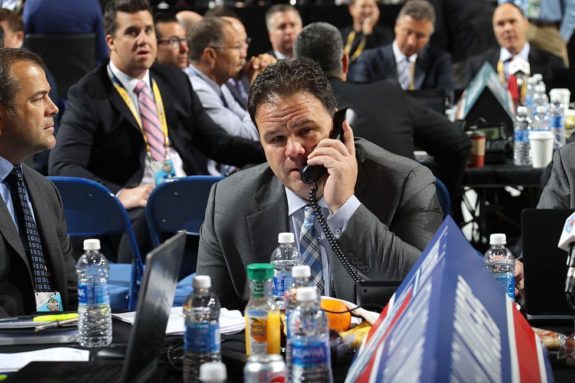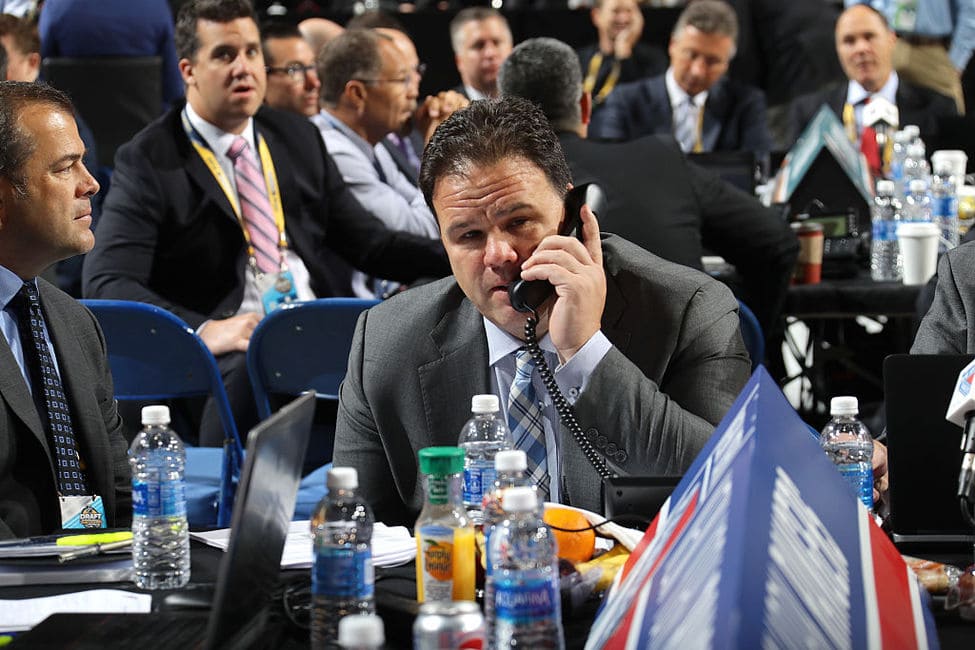 There are lingering questions if Callahan will start the season, as he is still recuperating from shoulder surgery last spring. When healthy, Callahan is a dependable point producer who can play anywhere in the lineup. He averaged 21 goals in six full seasons during his first tour of duty with the Rangers, but injuries over the last two seasons have hindered his production (seven goals and 22 points combined) considerably. No question that Callahan is primed for a bounce-back campaign, especially if he can remain healthy for an entire season. Returning to New York might be the right remedy to rekindle his career once again.
What Does Callahan Gain From a Reunion?
Callahan does have a modified no-trade clause in his contract, so he has some control over where he will play next season. He has to consider what the benefit is of returning to a team that shuffled him out the door in a 2014 blockbuster trade-deadline deal. The hope for Gorton would be that Callahan does not hold a grudge against the Rangers, as he was a pending unrestricted free agent who was going to command a big-money deal from the highest bidder. The organization couldn't meet his contract demands, so they cut their losses and moved him to Tampa Bay for Martin St. Louis.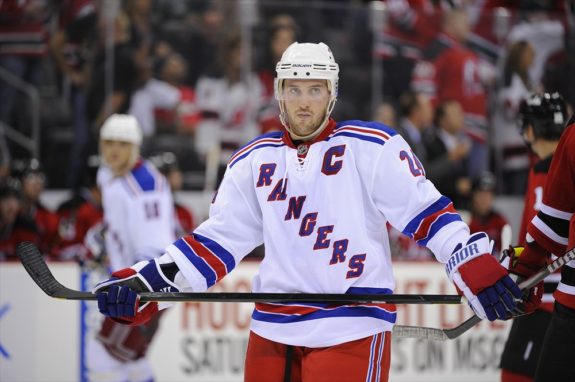 He might be swayed to return to New York because of a sense of familiarity and a feeling of it being the right time to come home to the organization that originally drafted him. On the business side, Callahan has to recognize his ice time could diminish in Tampa next season, but it could increase with the Rangers because of the uncertainty on their roster. He is the perfect candidate to assist with the rebuild, and it wouldn't surprise anyone if Callahan became the Rangers' captain once again should he return to the organization. Callahan is the ideal mentor for this inexperienced roster, as they can gain insight into what it takes to become an NHL player.
Collectively, this group can observe him inside the locker room as Callahan stands in front of his stall each night to answer the media's questions, regardless of the game's outcome. On the ice, he sets the tone by pressuring the opponent to turn the puck over in the neutral zone, which should increase the amount of scoring chances near the crease. Plus, no one can argue that Callahan sacrifices his body in the defensive zone, as he has blocked over 600 shots in 13 seasons played. Callahan is the perfect candidate to mold the Rangers' top prospects into reaching their full potential on and off the ice. It would be a fitting conclusion to an outstanding NHL career.
Chasing a Stanley Cup does come with a price. Too often, the Rangers tweaked their roster at the trade deadline to acquire that one player who could make a difference come playoff time, but it came at the expense of dealing away young talent and high draft choices. Trades of this nature put a tremendous strain on your minor-league system. Suddenly, the pipeline from Hartford ran dry.
In reality, the Rangers began their rebuilding process last summer with the blockbuster trade prior to the NHL Entry Draft. They sent Derek Stepan and Antti Raanta to the Arizona Coyotes for the No. 7 overall choice and Anthony DeAngelo, and the Rangers in turn selected Lias Andersson with that pick. From their perspective, it's important to continue adding more high-end prospects that to replenish the minor league system.
Patience will be needed as this rebuild of the roster will take some time, but the Callahan trade adds more young talent to the mix. Gorton's job will not be complete until Hartford begins to produce more impactful players who are ready to make the jump to the NHL.