In today's rumor rundown, Elliotte Friedman has a theory as to why the Erik Karlsson trade front has gone so quiet. He also thinks the Columbus Blue Jackets are re-opening discussions to trade Artemi Panarin.
Meanwhile, Devil's GM, Ray Shero is doing his best to be patient after failing to add some pieces in free agency and the Jets and Jacob Trouba have gone to arbitration. Could this signal the eventual split between the two sides?
Holding Pattern For Karlsson
Sportsnet's Elliotte Friedman appeared on the NHL Network and discussed a number of topics, including the status of an Erik Karlsson trade. Friedman doubts the trade rumors were ever as close as it was being reported, which if you asked a number of insiders a couple weeks ago, the trade was almost all but done. He reports things have changed and the situation is now in a holding pattern.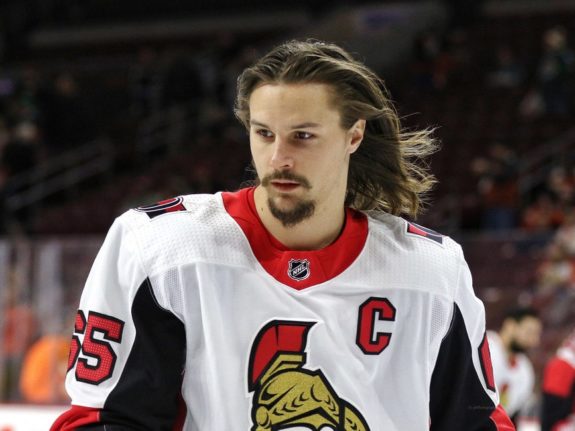 Teams like the Tampa Bay Lightning, Dallas Stars and Vegas Golden Knights are not as invested as some might think because of how difficult it would be to guarantee a future with the player. Tampa can't really afford Karlsson (at least not at his asking price), Dallas thinks he is a one-year rental and Vegas has more interest in Mark Stone than they do Karlsson at this point.
Then, oddly, Friedman said an NHL general manager told him last week that there was a sense Karlsson actually wanted to stay in Ottawa if the situation there wasn't so messy right now.
In short, all the factors that were obstacles in a Karlsson trade — his current salary, his next salary, dumping Bobby Ryan's contract and the return coming the other way — have made Karlsson almost untradeable at this moment and teams are going to simply wait.
Related: NHL Rumors: Seguin, Hughes, Pacioretty, More
Leafs Interested in Panarin?
Friedman also discussed the Columbus Blue Jackets dilemma with forward Artemi Panarin and said the Jackets have re-entered the trade market to see which NHL teams are really serious about adding the winger. Panarin's unwillingness to sign an extension and his notice that he'll refuse to talk business after September 13 has put a sense of urgency on a trade. Friedman wonders if teams that might be looking at a push this season to be competitive would have interest. Specifically, he noted San Jose and Toronto.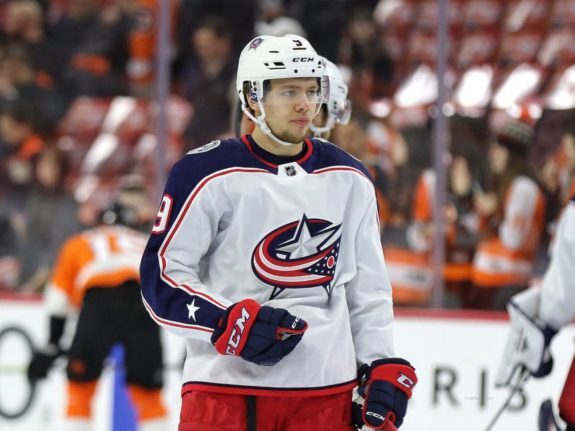 Friedman admitted that the Maple Leafs can't afford to extend Panarin's contract so they'd be picking him up merely as a rental but that they might be willing to explore the idea. The Leafs did lose James van Riemsdyk and could use a left winger but the problem with this theory is what the Blue Jackets would require back and if asking for someone like Mitch Marner or William Nylander would be a non-starter in any trade conversation.
What could Toronto possibly offer without subtracting from their core that the Blue Jackets would feel is a worthy return for someone of Panarin's skillset?
Related: NHL Rumors: Panarin, Montour, Nelson, More
Devils Wanted Maroon, Still Looking Around
Stan Fischler of MSG Networks reports New Jersey Devils GM Ray Shero has no choice but to be patient for the remainder of the summer and through free agency even if that wasn't his original intention. Fischler notes Shero struck out on Patrick Maroon, who left for the St. Louis Blues but the Devils had offered much more money to in an effort to keep him. "We wanted Maroon," Ray said, "but he wanted to return to his hometown and I respect him for that."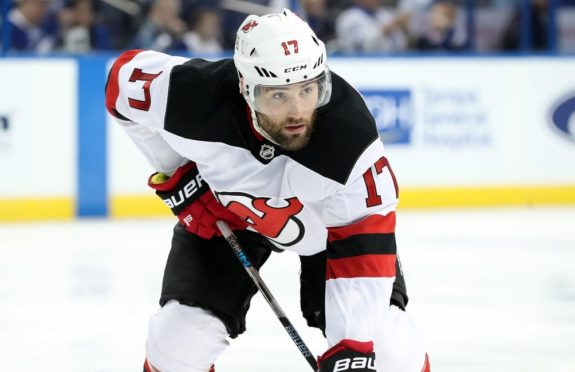 Right now, the Devils are looking at adding to their top-four defense and are getting set to announce their assistant coaches. "We still have to name assistant coaches," he added, "and that should happen in the next week or so."
Trouba to Be Traded?
Jacob Trouba and the Winnipeg Jets went to arbitration and while the process is not as negatively impacting on the relationship as some have described, there is a sense that a one-year deal around $5.5 million could mean the end of Trouba's time in Winnipeg.
The player and the organization have a history of not being able to amicably work out contract terms and Paul Wiecek of the Winnipeg Free Press thinks the lasting scars from so many failed attempts to come to terms without issue will eventually lead to the defenseman's departure out of Winnipeg. Wiecek wonders if Trouba has simply tired of the idea of playing in Winnipeg noting teammates such as Dustin Byfuglien, Mark Scheifele, Nikolaj Ehlers and Connor Hellebuyck had no problem accepting lucrative long-term deals with the club.